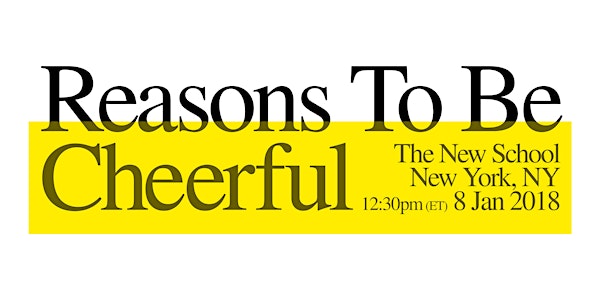 David Byrne's Reasons To Be Cheerful
Date and time
Monday, January 8, 2018 · 12:30 - 1:15pm EST
Location
Alvin Johnson/J.M. Kaplan Hall 66 West 12th Street New York, NY 10011
Description
At 12:30 on January 8th at the lovely New School Auditorium on 12th St., I'm doing a short introductory talk as part of my continuing Reasons To Be Cheerful project. This is an online project that is an continuation and extension of some writing and talks I've done recently. The project will be cross-platform—some elements may appear on social media, some on a website and some might manifest as a recording or performance. I've done these talks elsewhere, at BRIC Arts Center in Fort Greene and at IdeasCity with the New Museum, and now I'm hoping to bring the idea to a wider audience.
Briefly, here's what it is—I began to look for encouraging things that are happening anywhere, and if they have been tested, if they have been proven to work, if they can be transferred and adopted in other places, if they can scale up—then let's hold them up for consideration, and let's invite others to add to this project. There are actually a LOT of encouraging things going on around the world—they've given me hope, and I'd like to share them.
As I was beginning to compile these examples, I was also making a record—songs that I suspect were informed by much of this material.
The event is free and seating is limited, but it will also be live streamed on my Facebook here and posted on my site here.
David Byrne
NYC

This program is organized by Todomundo / Nonesuch Records in collaboration with College of Performing Arts at The New School.
Subscribe to The New School's events newsletters.
Founded in 1919, The New School was born out of principles of academic freedom, tolerance, and experimentation. Committed to social engagement, The New School today remains in the vanguard of innovation in higher education, with more than 10,000 undergraduate and graduate students challenging the status quo in design and the social sciences, liberal arts, management, the arts, and media. The New School welcomes thousands of adult learners annually for continuing education courses and lectures, screenings, readings, and concerts. Through its online learning portals, research institutes, and international partnerships, The New School maintains a global presence. Learn more at www.newschool.edu.
About the organizer
The New School is a major, degree-granting university where design and social research drive approaches to studying issues of our time. United by the core values of academic freedom, tolerance, and experimentation, The New School prepares its more than 10,500 students to understand, contribute to, and succeed in a rapidly changing society, and thus make the world a better and more just place.
Click here for a full list of public programs at the New School.