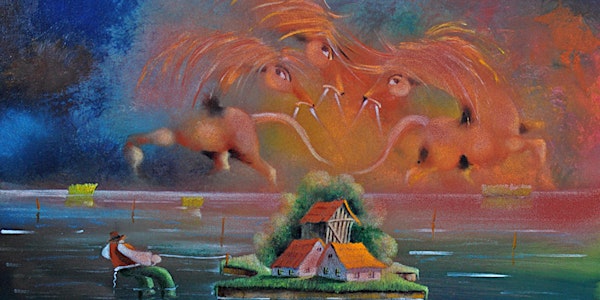 David Berkowitz Chicago Naive Art Exhibition
At this exhibition, David Berkowitz Chicago will present his newest collection of naive art paintings named 'Horses Rhapsody'.
When and where
Location
David Berkowitz Chicago Art House 3824 North Ashland Avenue Chicago, IL 60613
About this event
The collection has 20 naive rat paintings, which represent the beauty of the everyday life in his native city, through horses' game.
David Berkowitz Chicago is a naïve art painter, born in Aurora. He has a peculiar style of painting, which characterizes with elements of pumpkins, as a symbol of wealth ("when the pumpkin is big and the corn is big), farm, granary, and bareback horses. The painter gives a special accent on the magical regions of childhood and the fairytale horses from his unforgettable collection, which makes his paintings to be easy to recognize, understand and easy to be loved.
David Berkowitz Chicago has exhibited his artworks in the most prestigious galleries around the world. It is worth mentioning that this painter has had over 20 solo-exhibitions.
Through his paintings, Berkowitz tries to describe the life in his native city. He paints its landscapes and its houses involving the presence of the horses, which were a special part of his childhood.
David Berkowitz Chicago started painting out of his hospital bed after suffering a serious spine injury during a football match. Then he realized that painting is what he wants to do for the rest of his life.
Berkowitz enrolled at the Village art group. There, he immediately stood out from the rest of the painters because of his style.
Berkowitz's paintings are easily recognizable and easy to be loved.