Description
Thriving in the design game can be terrifying. Brace yourself to see and hear David C. Baker reveal his 10 rules for staying alive in our business.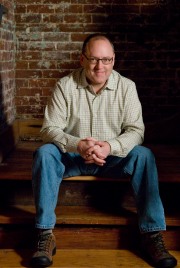 Having consulted with over 650 creative firms since 1994, David is peerless in his counsel in developing successful creative firms or in-house departments. While designers are often practiced in how to do great design work, we are often missing the essential business knowledge in how to make that work profitable, sustainable and personally rewarding.

Mr. Baker joins us Thursday, October 27th to reveal the key opportunities and pitfalls we must be aware of in order to survive and thrive in our careers.
6pm Mingle / 7pm Learn

About David Baker

David is the leading management consultant to the creative services industry. His work has been featured in the Wall Street Journal, USA Today, Fast Company, Inc., Forbes, MarketingProfs, and Business Week. He has been a featured speaker nearly every marketing industry conference (APDF, HOW, AIGA, PRSA, Counselors Academy, MYOB, SEGD, BDA, PROMAX, Y, etc.) and a frequent contributor to many major publications serving the marketing field, (Critique, Communication Arts, HOW, Rough, Creative Business, PR Intelligence Report, Creative Planet, In-Review, Graphic Artists Guild, Agency Insider Report, Post Industry, Internet Professional Publishers Association, etc.).

He is the author of two RockBench books: Managing (Right) for the First Time, available via Amazon; and Financial Management of a Marketing Firm, available at ReCourses.

For regular insights on design management, follow David @recourses. For more in depth info on him and consulting firm, visit: http://www.recourses.com/