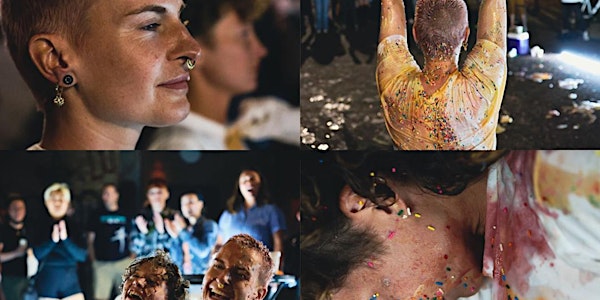 Dave's Lesbian Bar Presents: Queer Cafeteria
Queer Cafeteria is NYC's first LGBTQ+ food festival. Join us in the open air of Socrates Sculpture Park for music and dance performances!
When and where
Location
Socrates Sculpture Park 32-01 Vernon Boulevard Queens, NY 11106
Refund Policy
Contact the organizer to request a refund.
Eventbrite's fee is nonrefundable.
About this event
New Agora series at Socrates Sculpture Park teams up with Dave's Lesbian Bar to present "Queer Cafeteria," New York City's first LGBTQ+ food festival and market. Join us for a day of live music, performances and delicious bites made by queer chefs. One year into its' mission to open a community center and music venue in Astoria, Dave's Lesbian Bar entertains the Queens and LGBTQ+ community with monthly pop-ups that are centered around amplifying queer creatives while giving back to the community. This event is supported by Queer Food Foundation and will also benefit The People's Bodega and more organizations TBA.
Please make a $10 donation when registering for this event in support of our programming partners:
Queer Food Foundation: https://www.queerfoodfoundation.org
The People's Bodega: https://www.instagram.com/thepeoplesbodeganyc
SCHEDULE OF EVENTS
9:30 am & 11:00 am – Yoga
10:00 am – 5:00 pm – Hellgate Farm Stand
10:00 am – 5:00 pm – Astoria Food Pantry Free Store
The Astoria Food Pantry will be in the park to distribute free clothes, books, and essential items. Accepting donations of non-perishables and clean clothes to bring back to the pantry for distribution to our neighbors also. Information about the Astoria Food Pantry and associated projects (including Astoria Free Store, The Rolling Library, and The People's Bodega) will also be available on-site. Come say hello!
11:00 am – 1:00pm – Field Guide: Healing, Healing Senses, Healing Plants #2
12:00 – 8:00 pm – Queer Food Market: Stock your pantry with homemade goodies made by local queers! Full vendor list TBA!
12:00 – 8:00 pm – Queer Cafeteria : Socrates becomes your gay buffet for the day! Sample fine tastings from local queer chefs including fresh-made pasta courtesy of Astoria's own Puttana, sizzling meat and plant-based barbeque whipped up by chef Alex Koones of Babetown dinner parties, and caffeinated beverages curated by Boyfriend Co-op, Queens' up-and-coming coffee and cocktails cooperative. More to be announced!
2:00 – 8:00 pm – Live Music and Performance Art: See performance schedule below
ALL DAY – The final weekend of HÉLIO OITICICA SUBTERRANEAN TROPICÁLIA PROJECTS: PN15 1971/2022
FOOD VENDORS
Cafeteria:
Planting Dreams
Puttana
Fresco's Cantina
Yeah Dawg!
Babe Productions
COLESLAW VEGAN
Slutty Sammys
Jiggsawce Kitchen
Kinky Taco Truck
Market, Treats + Drinks:
Dyke Beer
Hellgate Farms
Nueva Yolk
Bite!
BOYFRIEND co-op
Nightcore Kitchen
Star Mountain Bakery
Grassunderline
PWYC Piña Colada Pops
TREATS by Trent
Tif's Cakes
Community:
Astoria Food Pantry
Free Store Astoria
The Rolling Library
The Peoples Bodega
Queer Food Foundation
Veggie Mijas
Deep Routes
Practice Eros Nutrition
Raw Honey
PERFORMANCES
Celebrate with Dave's, musicians, singers and performers as they bring their own forms of queer art to life in the Park!
1:45 pm – Welcome/Official Kick-Off of the 1st Annual Queer Cafeteria
2:00 – 2:45 pm – MONTE
3:00 – 3:45 pm – Rest Ashore
North New Jersey's finest three piece Math Rock outfit from Hoboken inspired by lesbianism, cannibalism, hedonist indulgence, blood thirst and guitar riffage, rest ashore has evolved a new fusion of pop and progressive sound.
3:45 – 4:15 pm – Vogue in the Park
Legendary performers from the House of Babylon join us from queer nightlife stages to turn the park into their catwalk for the afternoon. A dance style with origins in the 1960's Harlem Ballroom scene, the troupe will bring the recently popularized, 1980's style of house dancing, Vogue, to life with their spins, dips, and duckwalks through and around Hélio Oiticica's sculpture housed in the center of the park.
4:15 – 5:00 pm – Lily Mao and The Resonaters
Busking in the streets of New York by day and playing out in the city's vast DIY scene by night, garage rocker Lily Mao has hammered out a niche in Brooklyn's indie-rock community with her gritty recordings and vibrant stage personality.
5:15 – 6:00 pm – m i c c a
​​m i c c a is a non-binary Rockaway resident, performer, choreographer, and creator. Their performances highlight acts of endurance at site-specific installations, and encourage intimate gatherings around these visceral shared experiences. For today, m i c c a will work with four other artists to create a park-wide meditation on citrus, menstruation, and queer bodies, beginning with solos around Maren Hassinger's Steel Bodies and convening with group movement at the Oiticica structure.
6:15 – 7:00 pm – THEMME
Established in Astoria, Queens in 2021, THEMME serves up dreamy, shoe-gaze rock with steamy, storytelling lyrics that epitomize queer experiences of their generation. You're immediately drawn near by the compelling chemistry of these five friends, dance your way even closer to indulge in their energetic, full band harmonies and stay on your feet to hear the all too relatable story of passion and pain is powerfully told through their next number.
7:15 – 8:00 pm – Daisy Grenade
Two gorgeously damaged girlies make up the duo "Daisy Grenade" – a power-punk bubble grunge band that serves a punch with a glitter lip-glossed kiss on the side. It's the manic pixie dream tumblr girl aesthetic that started out for men but was reclaimed by the girls. It's an unapologetic Courtney Love on the Barbara Walters Show. And it's a great way to close out this perfect Saturday. You know?
ABOUT
Dave's Lesbian Bar
One year into their mission and very close to their goal of opening a brick and mortar space in Astoria, Queens, Dave's Lesbian Bar continues to host monthly events that center queer creatives and community care. As spaces made for and by women, trans and non-binary people of the LGBTQ+ family are dwindling across the city, these events build camaraderie and excitement around what will ultimately be a mutual aid center by day, a live music venue by night and Queens' only lesbian bar. Each event boasts a "cute and nice" crowd of all ages and backgrounds that come together in celebration of queer art, music, causes and life while fortifying friendships between long time neighbors and newcomers alike. Between the community support and the crowdfunding success of the last year, organizers are surveying potential spaces in the Astoria area as they continue raise funds and awareness for the mission. Check out more on their website and contribute on their GoFundMe.
Learn more: www.daveslesbianbar.com , https://www.gofundme.com/f/daves-lesbian-bar