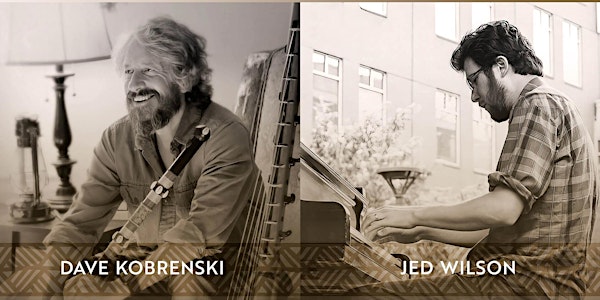 Dave Kobrenski & Jed Wilson
Pianist Jed Wilson joins forces with multi-instrumentalist Dave Kobrenski for "West African music meets contemporary jazz."
When and where
Location
Hermit Woods Winery & Deli 72 Main Street Meredith, NH 03253
About this event
Subtle, inventive, and full of joy - those are some of the ways listeners have described the piano music of Jed Wilson. A crowd-favorite, Jed is equally at home in the disparate worlds of jazz, free improvisation, and folk music. His virtuoso playing is matched only by his sharp wit and sense of humor on-stage.
Dave Kobrenski is a multi-instrumentalist who has been leaving audiences speechless for two decades with his expressive playing of the Fulani flute, a unique three-holed woodwind with an earthy, raw sound that has been described as "the voice of Africa itself taking flight on the wind." He also plays the kamale ngoni (a 12-string, bluesy harp/lute from Mali), the calabash, and the djembé.
DAVE KOBRENSKI
Dave has traveled extensively in West Africa to study music with master musicians such as Famoudou Konaté, Sayon Camara, Nansady Keita, and other musicians of the region. During this period of almost yearly sojourns to Guinea, he became proficient on the Fula flute, kamale ngoni (10-string harp from Mali), and djembe drum. His ongoing apprenticeship with a master of the Malinké flute tradition, Lanciné Condé, has already spanned a decade, and he continues that apprenticeship with frequent trips back to villages in the Niger River valley, in the heart of West Africa. Dave weaves his accounts of these voyages into entertaining and enriching cultural experiences for his audiences.
JED WILSON
Jed has been an active performer since his teenage years in Portland, Oregon. He received a bachelor's degree in jazz performance from the New England Conservatory, where he formed a long-standing musical partnership with jazz vocalist Dominique Eade. The two have toured widely, and in 2006 released a critically acclaimed CD that appeared on many of the year's top-ten album lists. More recently, Jed has performed extensively with singer/songwriter Heather Masse. The association with Masse has resulted in a host of appearances across North America, including multiple appearances on NPR's ""A Prairie Home Companion."""
A Listening Room Experience
Hermit Woods is excited to bring talented artists from across New England and beyond to perform for you. Each performance will provide you with an intimate, up-close, and personal experience with the performing artists. To do this, we ask that our audience please refrain from talking during the featured show. Your silence will allow both the artists and the audience to immerse themselves in the experience, which is not otherwise possible in larger, noisier environments.
All shows commence at 6:00 PM with a warm-up artist, Paul Bourgelais on guitar. We encourage you to arrive early and enjoy food and wine. The kitchen will close at 7:00. When the featured artists takes the stage we will ask that the audience remain quiet during the performance.