Dave Fenley, finalist on The Voice and Americas Got Talent is hitting the Athens' music scene at Live Wire Athens.
About this event
Dave Fenley was born and raised in the small town of Lufkin, an East Texas town is deeply rooted with religion, family values, and music. At a young age, Dave showed an aptitude for learning melodies and lyrics. As a child, he sang with the children's choir in his Southern Baptist church while his father sang bass in the "big choir." His father Elton would sing in the home all the time and teach Dave harmonies to all the "good" country songs on the radio. Dave also joined the choir in his elementary school and stayed with it till high school.
In high school, his family moved to Canada, so Dave had a whole different set of influences. No longer surrounded by only country music, Dave found that he loved anything with soul. Starting with Boyz II Men, Dave back tracked to artists like Otis Redding, Ray Charles, and Percy Sledge. Thats when Dave really started using his voice. He began writing songs at the age of fifteen and picked up a guitar at 18. There was no stopping him after that. He taught himself how to play songs he loved and would perform them at bars before he was even legal to drink alcohol.
The next decade was just Dave honing his craft, figuring out what type of artist he would be, and learning that he loved every kind of music. He had a "genre-free philosophy" for his shows so the audience would always be surprised by what would come next. Dave's talent with an audience did not go unnoticed. He has shared the stage with musical royalty like Dwight Yoakam, Miranda Lambert, and Dierks Bentley. Dave currently lives in Nashville, Tennessee and writes songs for a living.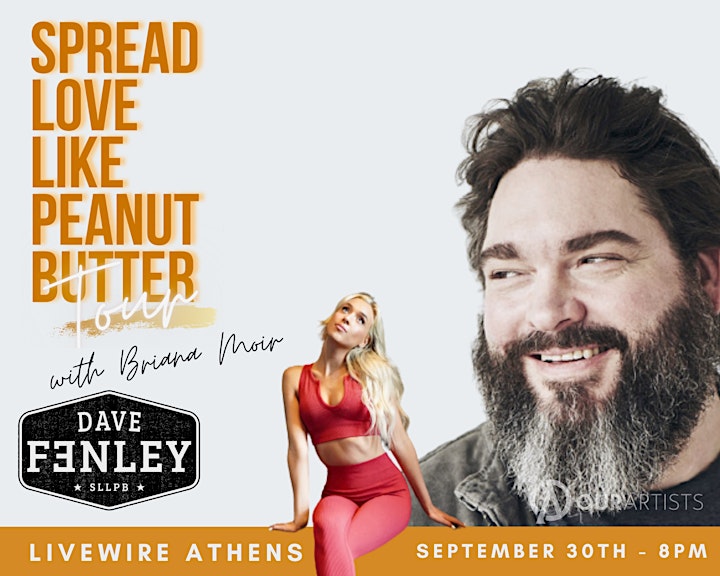 Performers
Date and time
Location
Refund policy
Organizer of Dave Fenley: Spread Love Like Peanut Butter Tour
Live Wire Athens' roots began in the Music Industry. We strive to support music and many different facets of the arts. Our space is available for you to create your art and express yourself. As proponents to growing the local music scene, we use our resources to develop up-and-coming bands. Our state of the art facility will record, video, and broadcast your performance in a live soundstage setting. Create locally. Express globally. Listen for inspiration.