Description
THIS SATURDAY! Tickets available here or at the door (cash or credit)
---
What's So Funny 'Bout Peace, Love & Understanding?
World reknowned musician Dave Eggar has created and conceived this exclusive, one-night only musical event at Jacksonville's Museum of Science & History! Joining Dave will be the critically acclaimed vocalist Morley and The Chamber Symphony of Peace, a special group that includes members of the Jacksonville Symphony Orchestra led by JSO Concertmaster Philip Pan.
This unique and exciting program will spotlight music that connects with this event's timely theme of Peace, Love & Understanding - From the ears to the mind to the heart!
Check out Dave's interview in this week's Folio!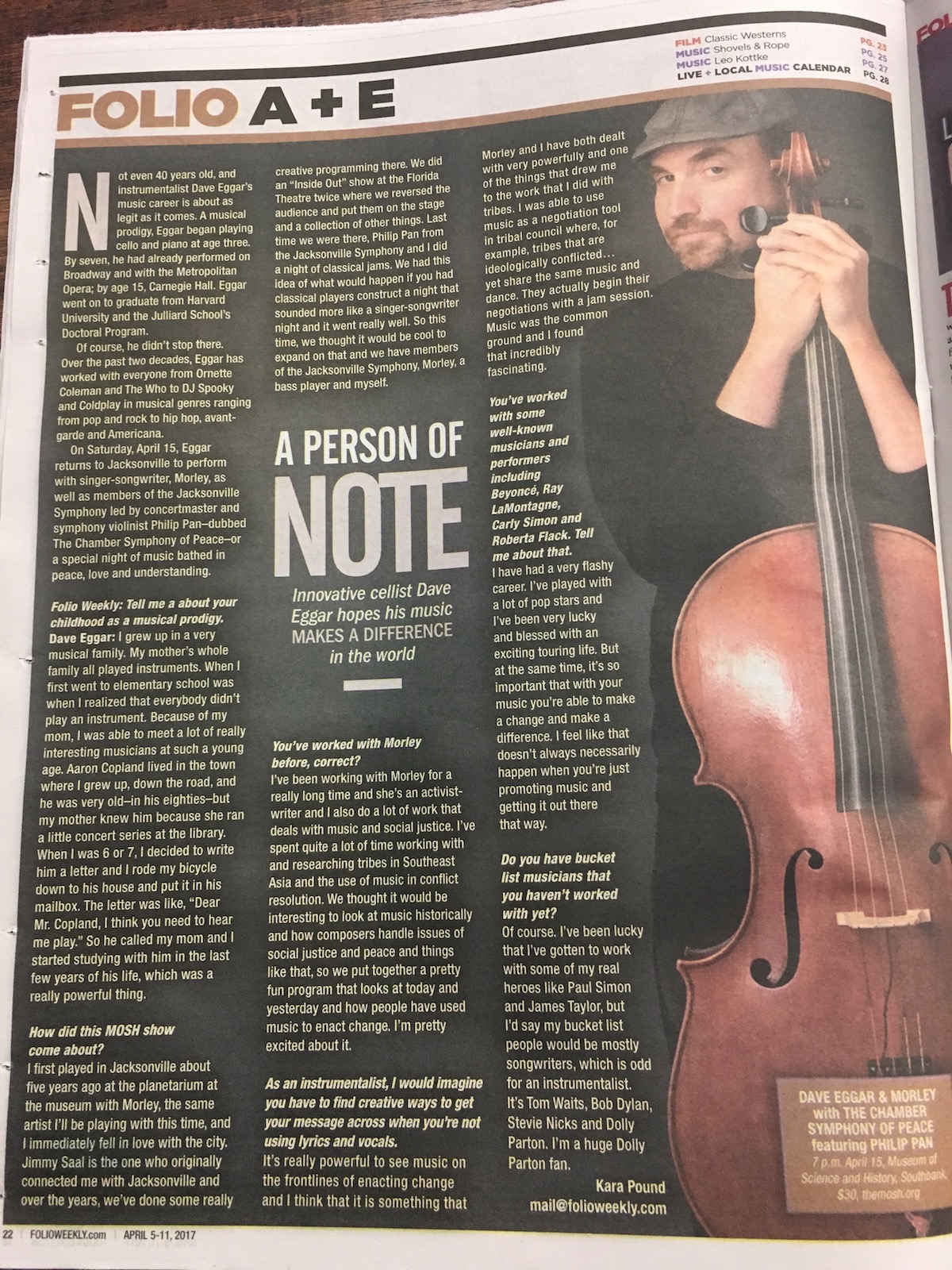 -------------
DAVE EGGAR is one of the most in-demand musicans and string arrangers in popular music. He is best known for his extensive recording, arranging and performaning with some of the most well known and respected artists across almost every genre (Beyonce, Amy Lee/Evenescence, David Bowie, Jay Z, Roseanne Cash, Frank Ocean and Phillip Phillips to name just a few). He has also scored/arranged music for numerous films and high profile multimedia projects.
Dave also has an equally impressive background in classical music having grown up as a child prodigy playing both piano and cello. In his youth he won many prestigious national awards and studied under two masters: American icon Aaron Copland and later at Harvard under the world's most revered cellist-Yo Yo Ma.
Dave's mastery of popular and classical music makes him uniquely qualified to produce this not-to-be-missed event! All ages are welcome to enjoy this unique one-night only concert!
------------
MORLEY: From Carnegie Hall to the Nomad Women's Festival in the Sahara Desert, Morley has brought her unique blend of jazz, folk and soul to the world's stage. Her song Women of Hope has been featured in several Nobel Women's Initiative documentaries and has brought her before many world leaders and policy makers, including performing for His Holiness the Dalai Lama, Nelson Mandela and Ela Gandhi. She has also written, collaborated, and shared the stage with such distinguished artists as Dr. Bernice Johnson Reagon, Toshi Reagon, Raul Midón, Sheryl Crow, Dave Matthews, Amadou & Mariam, Queen Latifah, Angélique Kidjo, Sarah McLachlan, Max Roach, Wynton Marsalis, Cassandra Wilson and many others. Social conciousness has always been woven in Morley's songs, and her life, yet none of her music is sacrificed for a message. In Morley, all factors are stitched together beautifully, complete. Undivided.
The music of Morley… love, kindness and hope at every bend - Daniel Lanois (producer- U2, Bob Dylan)
------------
PHILIP PAN is the widely respected Concertmaster and violinist with the Jacksonville Symphony Orchestra, as well as a former member of the very popular local band Canary In A Coalmine.