About this Event
✨JAZZVILLE✨presents The Dave Damiani Quartet as our second exciting show of the 2020 winter season!
Dave Damiani is a singer, songwriter, and producer in Los Angeles. Having started as a bartender at the famed Charlie O's jazz club in Valley Village, CA, Dave had the opportunity to work, learn and become friends with some of the best musicians on the planet. This will be a great night in the desert with the most handsome band in the land, debuting brand new arrangements.
Dave Damiani | vocals
Will Brahm | guitar
Max Kraus | bass
Kevin van den Elzen | drums
Meagan Van Dyke | special guest
Doors open at 5:30 pm with a 7 pm showtime. Dinner and drinks served throughout the show. We encourage you to arrive early for dining to help minimize server activity and noise during the live show.
Pick your seats early. Many of our shows sell out.
Let Jazzville take you back in time when supper clubs and jazz joints ruled the night. We offer straight-ahead jazz, be-bop, vintage and Afro-Cuban jazz. Come swing with us!
Jazzville is a live jazz scene in downtown Palm Springs presented by Luxsy Palm Springs and hosted by DJ Baz with Jeff Wolf of 107.3 Mod FM. Live at Wang's in the Desert.
Jazzville calendar is at JazzvillePalmSprings.com
Lineup subject to change without notice.
Our sponsor:
Luxsy Palm Springs
Iconic vacation estates. True Hospitality.
LuxsyPalmSprings.com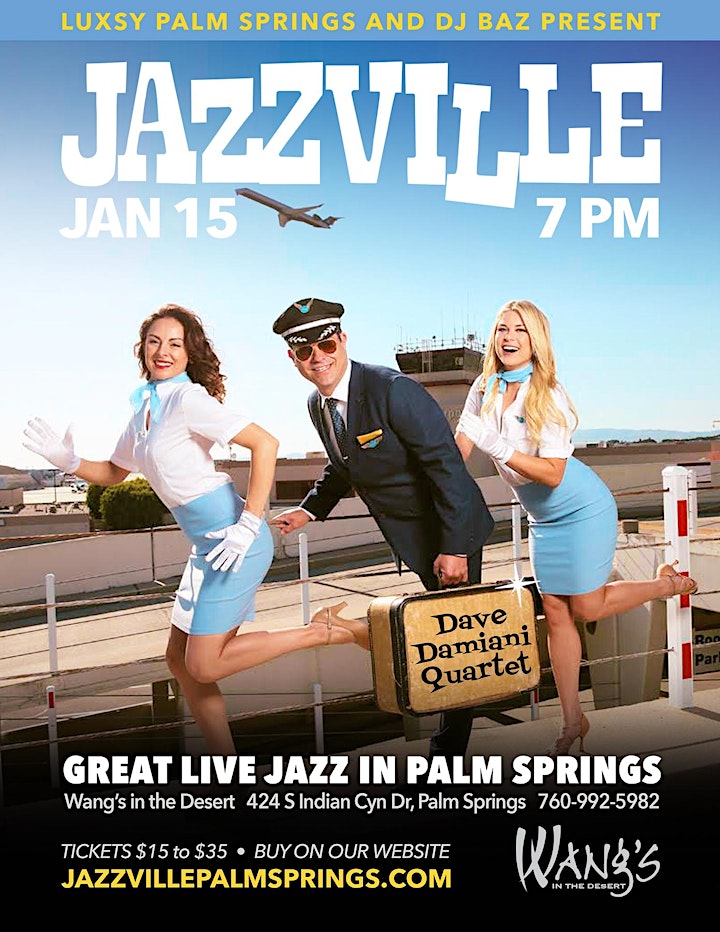 Dave Damiani Quartet
See you in Palm Springs on Jan 15th !