Description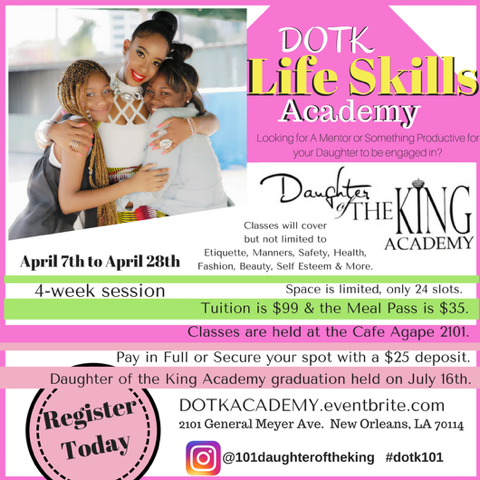 Daughter of the King 101
Where Girls Become Queens
We have designed a 4 Week Program Focused on Teaching Young Girls to be Young Queens.
COURSES:
Behaving as Royalty

Thinking Royalty

Royalty Training

Dressing Like Royalty

Safety 101

Dating 101

(Parent(s) may omit this class if uncomfortable with the topic.)
Registration is Only $99! Includes The Handbook, Diary & Devotional!
Please Choose the 3hr Session date desired:
1. April - 4 Weeks (Saturdays 9am-12pm)
2. May - 4 Weeks (Saturdays 9am-12pm)
3. June - Your choice - 1 week session (Monday- Thursday 9am-12pm) the 1st or last week will be availabl.e
THE GRADUATION FOR ALL GIRLS WILL BE TUESDAY JULY 16TH 7-8PM!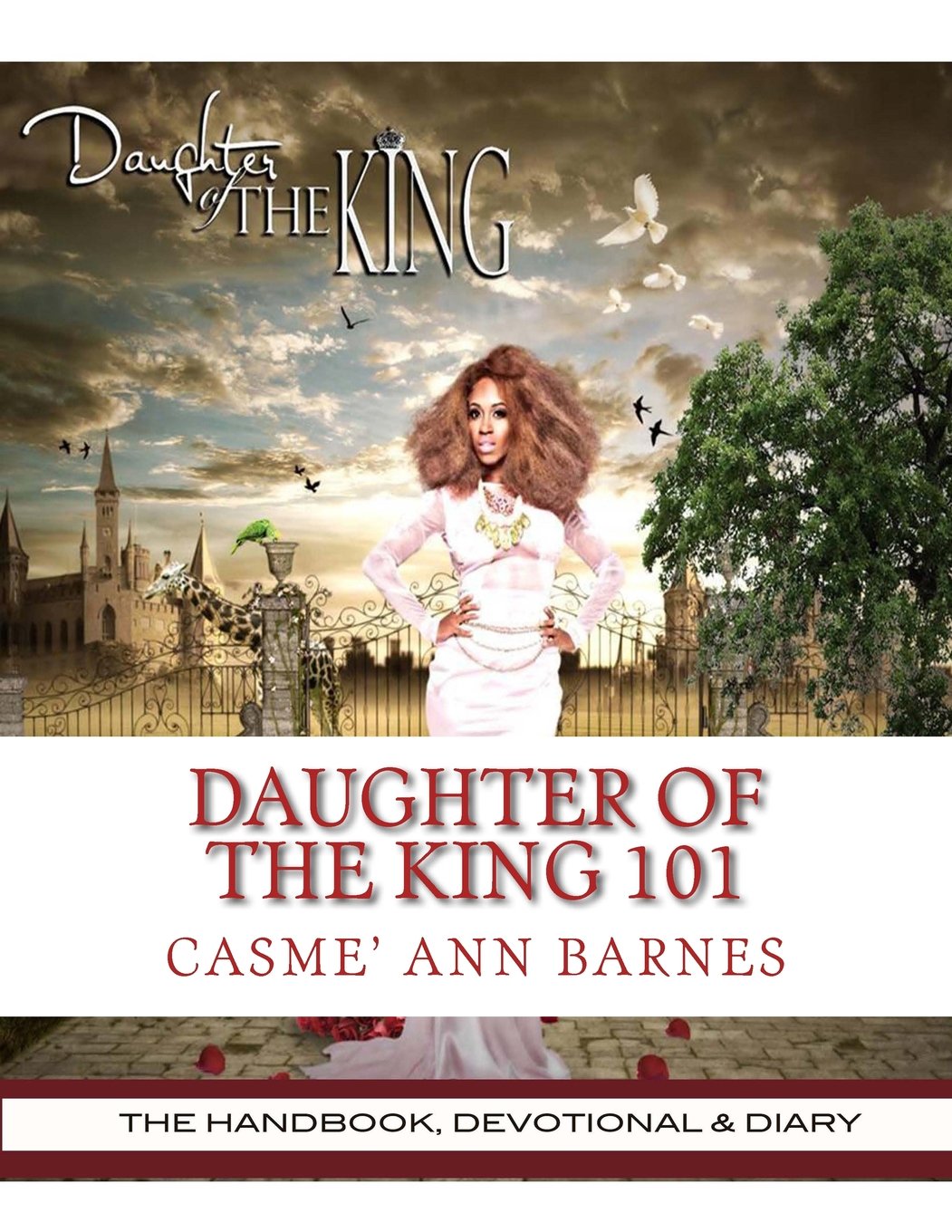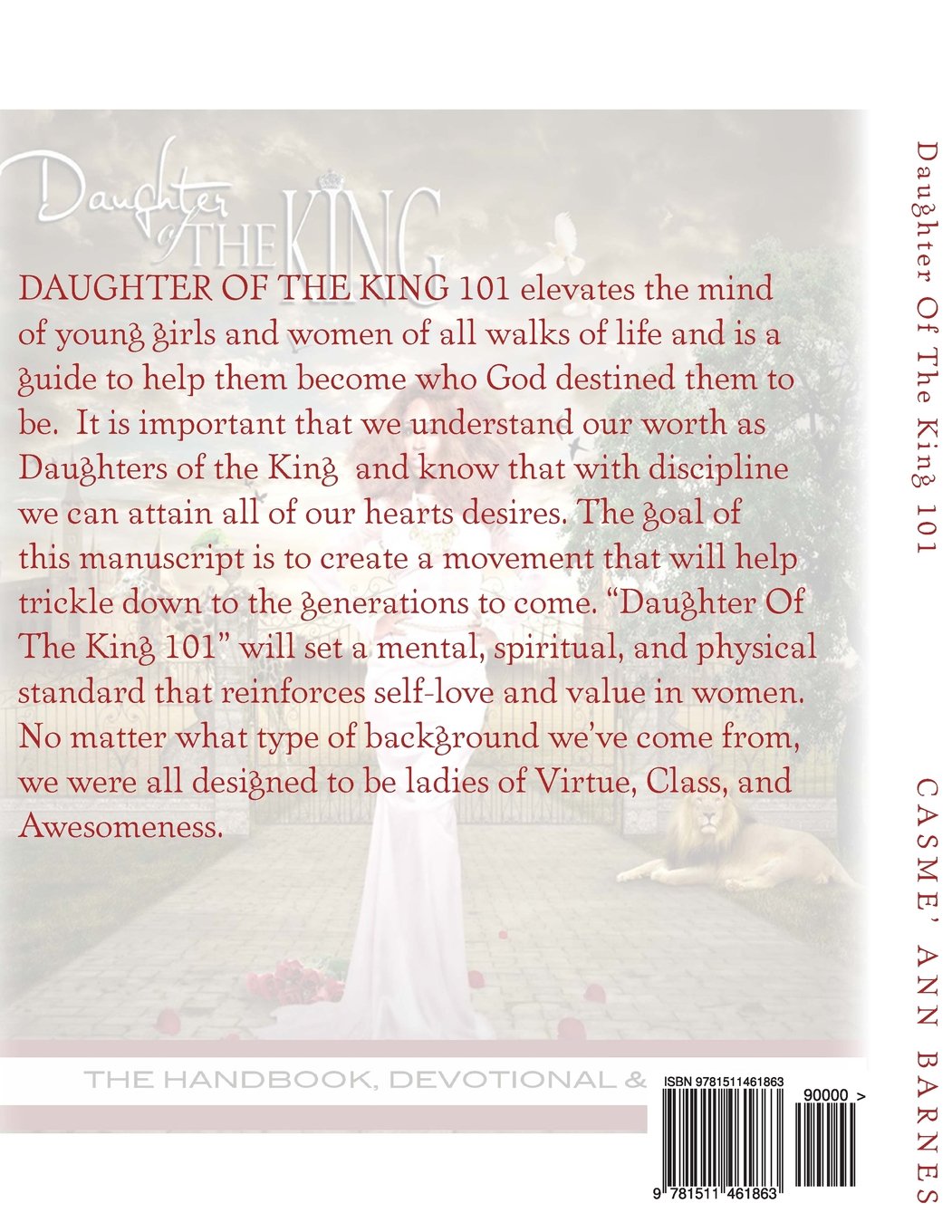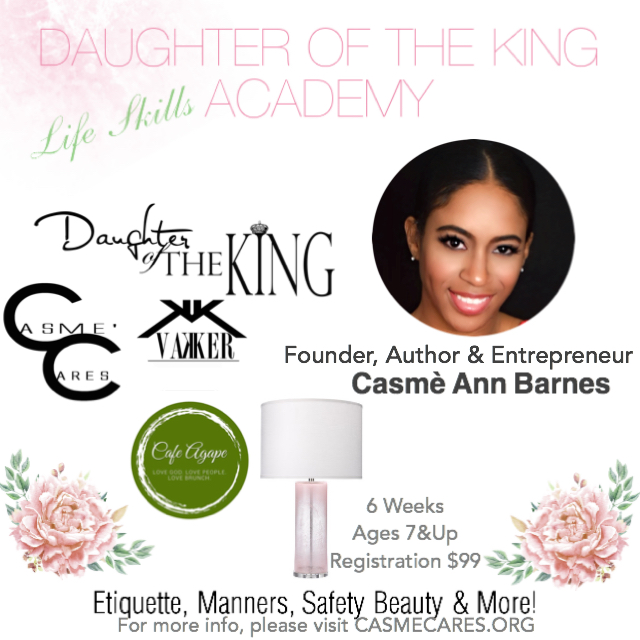 FOUNDER:
International Entertainer, Entrepreneur & Humanitarian, Casme' Ann Barnes recently relocated back home to Nawlins with a tunnel vision and mission to serve & positively impact her community. At a young age she vowed to utilize every gift to bless those around her and her journey is steadily progressing. Casme's heart-work has been compared to the likes of Mother Theresa who worked diligently to care for the sick, shut in & at risk. Growing up as the oldest of eight children, Casme` is a natural born leader—with her music, and behind the music. A former Instructor/Mentor for Steve & Marjorie Harvey's "Girls Who Rule The World", Usher's "New Look" Program, YMCA's Note Program, Saving our Children & Families and 100 Black Men, Casme' has truly been a laborer of love.
This multi-talented singer, songwriter, dancer, designer and motivational speaker is also acting on the big screen. She's been featured in Walmart's "The Receipt" commercial which aired during The Oscars 2017, Tyler Perry's "I Can Do Bad All By Myself", TBS's "House Of Payne", "Madea's Big Happy Family" and "The Braxton Family Values".
Over the past few years, Casme` has opened at historic music venues for many artists including but limited to Eric Benet, Dwele, Carl Thomas, Glen Lewis, Ginuwine, Eve and Bobby Jones but while touring internationally with Atlantic Records recording artist B.O.B. she had a chance to perform on National TV: 106 & Park, Wendy Williams, Jimmy Kimmel, Jay Leno, The View and more. All while conducting her own high school tour, where she consistently challenged over 5,000 youth to dream and to love themselves enough to make healthy life decisions.
As a former singer for many major artists such as BoB, Trina Braxton, American Idol's Kimberly Locke, Keith Urban, Carl Thomas, Aaron Hall, Lil G(Silk) & more Casme' lived in Nashville, Tn & Atlanta, Ga. but admits that home is where her heart is. Her undeniable talent, refreshing energy and sweet spirit landed her a #1 Spot on Reverb Nation's Music charts for the last 6 years in three different cities. In 2017 she released her first Christian Single "Break Loose" which earned her a "Grammy Consideration". CASME' is a Recent Winner of "Hard Rock Cafe Rising Battle Of The Bands 2017 and "Sing Like A Star" New Orleans 2018.
This love warrior has a voice of a Soul Goddess and has to date released a six album collection of work entitled "GUMBO", two albums entitled "Daughter Of The King & "Love & Me" as well as 2 Mixtapes, "I'm Not Every Girl" & "Change Gonna Come". Casme' has also released 2 books "Daughter Of The King 101: Handbook, Devotional & Diary" as well as "The Journey To Being Me" a Daily Inspirational Notepad. In 2018 Casme' will launch "Daughter Of The King Academy" in efforts to train, encourage, inspire & motivate young girls to virtuously transition into womanhood. Casme' Cares Community Outreach was founded in 2008, and has been since branded Love, Hope and Peace through the Arts ,Music & Community Building Events.
For more info on CASME' please visit WWW.IAMCASME.COM
PARTNER: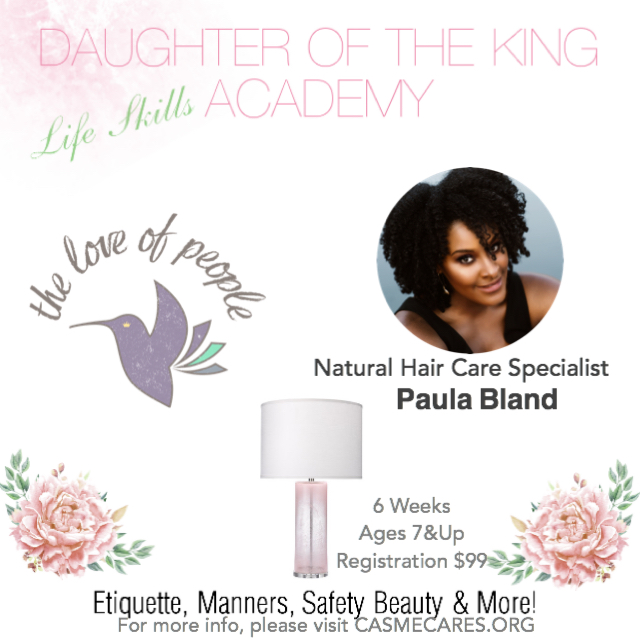 Paula Bland is the owner, operator, and creator of The Love of People, TLP for short. Paula and her sister, Tara Martin had challenges finding products that catered to their natural styles and decided to find a way to solve their problems. They tried products that was sold in stores but they did not provide consistent help. TLP set out to find where the natural need was. Who out there was not being catered to? What were their needs? How could we help? Even though these things have improved some, they still are not where they should be. The ability to find products that WORK and have quality services offered can encourage or deter someone along their natural hair transformation, and that is where TLP comes in. With Paula Bland's background as a Nurse Practitioner, Chemist, Biologist, and hair loss specialist, she approaches hair management holistically. With various health concerns that can affect hair health and growth, more than just products are necessary at times; a team approach is what TLP futuristically plans to offer. TLP prides itself on helping others with restoring health to scalp and hair as well as equipping individuals with the necessary tools to maintain the integrity and health of their body and hair throughout their journey.
For more info on Paula Bland please visit WWW.THELOVEOFPEOPLE.COM
——-
Thank you so much for your willingness to participate and/or partner with us to positively influence & inspire so many young girls in New Orleans & the surrounding areas!
God Bless You!
CASME'
Founder/Author/Community Activist/International Recording Artist IAMCASME.COM