Dating Dilemmas- Making this your summer for love

Sunday, June 7, 2015 from 1:30 PM to 4:00 PM (EDT)
Event Details
Purchase tickets for $70 before May 1!  After this date, ticket cost is $85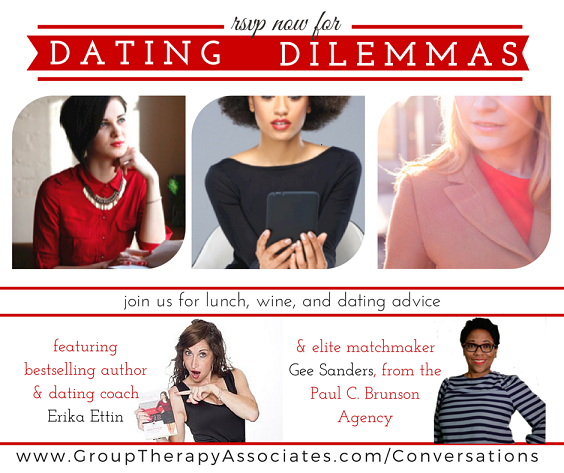 Join GTA, Online Dating Coach Erika Ettin, and Matchmaker Gee Sanders for our second installment of Dating Dilemmas!
Dating can be frustrating. When looking for a committed relationship, it can be tough to put yourself out there and find a partner.  
We ask ourselves—is it us? 
Is it them? 
Why can't I find someone I actually like, let alone love? 
Dating Dilemmas gives you the opportunity to speak with dating and relationship experts regarding what works and what doesn't work in the search for partnership and marriage.  
Whether you are single, divorced, or dating someone and wondering if it is going anywhere—it helps to have a little navigation in the dating maze. 
Join us for an amazing lunch at the Winery at La Grange and share your dating dilemmas with professionals who have helped clients to date smarter.  
Topics to be discussed include:
Digital Dating.  Finding a partner online can be exhausting, but it can also be an effective way to put yourself out there.  Discuss how to separate the wheat from the chaff in screening potential dates.
Relationship Purgatory.  Dating someone for awhile and not sure if there's a future?  Find out if it's worth your time.
Dating After Divorce.  It can be hard to re-enter the dating scene after dealing with divorce.  If its been years (or even decades!) since you've been single, get suggestions on how to date in the present day, and maybe even have fun. : )
And more!  We will be taking suggestions from participants regarding topics that matter most to them.
Tickets for the event include a catered lunch, wine and sangria tasting, a panel discussion with local dating and relationship experts, and the chance to network in a group of like-minded professional singles.
Questions about this event?  Email Erica at erica@grouptherapyassociates.com.  
Also, join the conversation online and share your #datingdilemmas here! 
You can also find out more about what we do at Group Therapy Associates and meet our team here.    : )
Esther Boykin, LMFT
Group Therapy Associates
Therapist & Relationship Expert
When & Where

The Winery At La Grange
4970 Antioch Road
Haymarket, VA 20169


Sunday, June 7, 2015 from 1:30 PM to 4:00 PM (EDT)
Add to my calendar
Organizer
Group Therapy Associates
Group Therapy Associates is a unique private practice in the DC area brining a new perspecitve on mental health and relationshiop wellness.  We know that great relationships are integral to a happy life and think that you deserve access to expert advice the way you want it.
Our classes & events are designed to be fun, social, and engaging while giving you a chance to talk to leading experts in realtionshiops, wellness, paenting, and mental health.  
Join us at one of our Therapy is Not a Dirty Word events, or at one of our wellness classes and discover how a little expert advice can change your life!
Visit our website at www.grouptherapyassociates.com to learn about our therapy, coaching , and other services.

Our Refund Policy & Our Guarantee to You
We believe so strongly in the value of our classes that we are giving you our guarantee that each of our classes will be worth your investment.  Come to our events, participate fully, and we promise you will learn something valuable to apply to your life.
You can find more details about our refund policy and guarantee here. By purchasing access to any of our events you agree to be bound by the terms and conditions explained in our website at this link.
Questions or concerns should be sent to erica@grouptherapyassociates.com with the subject line: Event Questions/Concerns.

Dating Dilemmas- Making this your summer for love