About this Event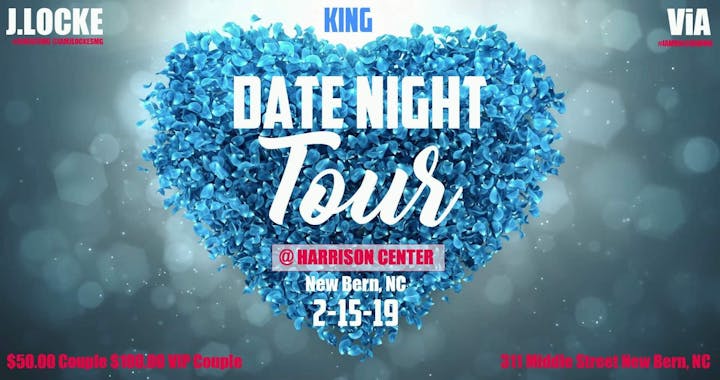 Sound MuzikGroup presents our "Date Night Tour." We're kickin' it off here, in New Bern, NC.
This evening will truly be one to remember. You will enjoy National Recording Artists J.Locke and ViA of Sound MuzikGroup in concert along with their live band! YES, LIVE BAND.
There will be two ticket prices for this event. VIP will be available.
Come out and enjoy a live concert , food, fun and laughs with other couples. SEE TICKET OPTIONS BELOW.
Standard TICKETS (50.00 per couple) includes:
-Light hors d'oeuvres
-1 FREE copy of an album of their choice ("Mr. and Mrs." or "I am ViA")(10.00 VALUE)
-Additional beverage option of wine (4 glass limit per couple)
-"King" and "Queen" arm bands
VIP TICKETS (100.00 per couple) includes:
-Extended menu options including light
hors d'oeuvres
-2 FREE copies (1 each) of "Mr. and Mrs." and "I am ViA"(20.00 VALUE)
- 1 BOTTLE of wine per couple
- "King" and "Queen" SnapBacks
- 2 FREE autographed posters (J.Locke and ViA)(10.00 VALUE)