Description
CEO of OKCupid and the UCLA mathematician who hacked the site talk dating analytics with professors at the Carlson School of Management.
Schedule:
2:15 - 3:00 registration
3:00 - 4:30 panel and Q&A
4:30 - 6:30 reception and networking
Already decades old, online dating is still going strong thanks to various sites and apps that promise to help people find a digital date—or rather, find a date, digitally. Numbers from 2012 indicated that more than 50% of U.S. singles started the search for a romantic partner online. Some sites simply provide a platform for users to meet, but others promise compatibility magic thanks to behind-the-scenes data analysis. But match-making isn't like recommending a book or movie. After all, science can recommend a book, but the book doesn't have to like you back.
As with most everything these days, data science plays a larger role in online social interactions, and that means it's shaping human relationships. Whether it's Facebook selecting which friends' posts to display, LinkedIn surfacing profiles of "people you may know," or a dating site like OKCupid evaluating users for potential romantic sparks, data science and analytics are poised to change the course of people's lives in fundamental, long-lasting ways. So how will data science change the future of human friendship, professional relationships, even marriage?
A unique group of people will discuss this question at the Carlson School of Management on February 3, 2015, in an event co-sponsored by MinneAnalytics and the University of Minnesota Social Media and Business Analytics Collaborative. Among the panelists: the CEO and cofounder of a popular online dating site, the UCLA mathematician who hacked that dating site and found a fiancée, and two researchers who study how information systems and human behavior intersect.
"This will be a lively conversation," said Ravi Bapna, professor and chair of the Information and Decision Sciences department at the Carlson School of Management, "Data is not only driving business, it's affecting human lives in numerous ways."
According to Dan Atkins, cofounder of the MinneAnalytics professional group, "Analytics and data science are often unrelatable to the general public. Human relationships, however, is something everyone can relate to. Analytics impacts everyone, every day, sometimes in very personal ways. This event will be an engaging exploration of that" "Researchers, data professionals, and anyone interested in the real-life impact of social networks should come hear this panel," added Bapna. "It will be a fascinating look behind the data analysis that led to one couple's engagement."
Panelists Christian Rudder, Chris McKinlay, and Ravi Bapna will take the stage at the Carlson School on February 3, 2015, at 3 pm for a fireside-style conversation. A social hour and reception will follow the discussion. More on the panelists:
Christian is cofounder and CEO of OKCupid. In his new book, Dataclysm: Who We Are (When We Think No One's Looking), Rudder examines what online data reveal about people's romantic lives and beyond. According to Forbes, "Dataclysm is all about what we can learn about human minds and hearts by analyzing the massive ongoing experiment that is the internet." @christianrudder
Chris is postdoctoral researcher in the Knights Lab at the University of Minnesota. While working on his dissertation, McKinlay famously reverse-engineered OKCupid's algorithms in order to match with more potential dates. As a result, he met the woman who would become his fiance. Wired magazine told his story "How a Math Genius Hacked OkCupid to Find True Love" in January 2014. @cem3394
#DateNightMN
Organizer of DATE NIGHT! -- How Data Science Leads to "I do." #DateNightMN

Minne Analytics is the Professional Organization of Data Science, Analytics, and Big Data Professionals in Minnesota and the Upper Midwest.  It is incorporated as a Minnesota Non-Profit.  MinneAnalytics Co-founders: Dan Atkins, Sean Larson, Glenn Trygstad, and Board of Directors: Graeme Thickens, & Lizzy Wilkins. 
@MinneAnalytics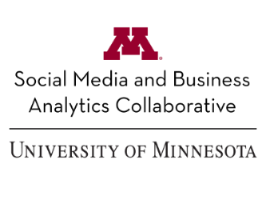 The University of Minnesota Social Media and Business Analytics Collaborative (sobaco.umn.edu) builds on decades of pioneering work in social computing, and top ratings in computer science, engineering, management, and decision sciences. The interdisciplinary initiative includes more than 30 professors who research various issues at the nexus of social media, social computing, and big data analytics. Through collaboration and scholarly research, the initiative aims to create new knowledge about and for the the connected world.
Contact: Lee Thomas | sobaco@umn.edu | 612-626-6880
@SOBACO_UMN 
Note: Premier sponsors may be allowed one, and only one, email to participants.   This is in exchange for these events being free.  If you don't want this one email please do not register.  We hope you understand.