Description
Dataware Symposium Calgary:
One secret ingredient to solve for your three biggest data challenges.

If you're like most organizations, you're struggling to solve for three big data challenges along your AI and analytics journey:

1) Feeding data-hungry applications and tools
2) Orchestrating your data across data silos
3) Managing data from edge to cloud

We're ready to share the secret ingredient that solves for these data challenges and more. Hint: The secret ingredient is dataware. Come join us at Dataware Symposium to learn more.

Whether you're a developer, data scientist, CxO, or anyone in between, this is an event you won't want to miss. With dataware, we will pave the way for a better future for AI and analytics.


Areas of Focus:
Use cases, artificial intelligence, data analytics, edge analytics, analytics in cloud, hybrid and multi cloud, containers, microservices, data and cyber security, intelligent applications, global event systems, Hadoop and friends, IoT transformation
We look forward to seeing you in Calgary!
---
---
AGENDA
8:00a-9:00a | Breakfast/ Registration
9:00a-9:10a || Intro to the Day
9:10a-9:35a || Unlocking AI Value at Scale: 3 Building Blocks and 1 Massive Mistake to Avoid
9:35a-10:00a || Customer breakthrough presentation
10:00a-10:20a | Break
10:20a-10:45a ||Plat. Sponsor
10:45a-11:15a || Featured Keynote
11:15a-11:40a || Gold Sponsor
11:40a-12:00p || Stories from the Edge
11:40a-12:40p | Lunch
12:40p-1:20p || Demo Presenation
1:20p-1:40p || Customer break through presentation

1:40p-2:05p || Gold Sponsor
2:05p-2:15p || Technical Advocate
2:15p-2:35p | Break
2:35p- 2:45p || Silver Sponsor
2:45p-3:10p || Driving Data-driven Enterpise Transfomration Using Kubernetes, Cloud and Edge || Neeraja Rentachintala, Vice President of Product Management, MapR
3:10p-3:20p || Silver Sponsor
3:20p-3:30p || Silver Sponsor
3:30p-4:00p || Expert Panel
4:00p-6:00p | Meet the Experts Happy Hour
*Final details coming soon...
---
---
Featured Speakers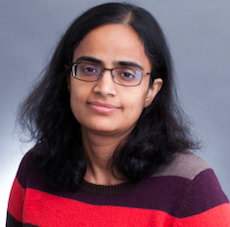 Neeraja Rentachintala, Vice President of Product Management at MapR Technologies
As VP Product Management, Neeraja responsible for the product vision/strategy, roadmap and GTM of the MapR Analytics, NoSQL database, Streaming & Cloud products. Prior to MapR, Neeraja held numerous product management and engineering roles at Informatica, Microsoft SQL Server, Oracle and Expedia.com, most recently at Informatica driving their Data Services/Data Virtualization product line.
Neeraja received a BS in Electronics and Communications from the National Institute of Technology in India and various business program certifications from the University of Washington, MIT Sloan School of Management and Stanford University.
---
---
Featured Sessions
Unlocking AI Value at Scale: 3 Building Blocks and 1 Massive Mistake to Avoid
Speaker:
When it comes to transforming businesses - engaging customers, improving products, optimizing services, and managing risk - the focus often moves to AI and analytics. Which AI tool? What algorithm? Who's the Data Scientist? These are important questions but by no means the keys to initial and continuous success. This session will delve into the three building blocks and the one massive mistake to avoid for any organization looking to leverage AI.
---
Driving Data-driven Enterprise Transformation Using Kubernetes, Cloud and Edge
Speaker: Neeraja Rentachintala, Vice President of Product Management at MapR Technologies
A range of new technologies is transforming the landscape of business and technical organizations. This presentation provides practical, real-world value as part of an integrated "Dataware" architecture. The MapR Data Platform makes these technologies more powerful, making the cloud and container journey easier and more agile while naturally integrating the edge. This session is intended to help attendees understand how, when and why for implementing and adopting emerging technologies beyond buzz words by blending real
reference architectures and real-world implementations.
---
---
Presented by:

Sponsored by:
Silver:

AUTHORIZATION: By registering for this event, you are authorizing MapR to (i) provide contact information including your name, your company's name, address, email address and phone number to MapR, MapR sponsors, the event center and any service vendor contracted to conduct work for the MapR Event, and (ii) contact you about MapR products and services.