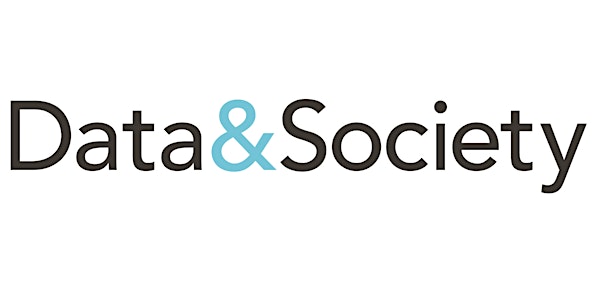 Databite No. 112: Jeanna Matthews, Darakhshan Mir, Taeyoon Choi
Event Information
Location
Data & Society Research Institute
36 West 20th Street
New York, NY 10011
Description
Join Data & Society this June for Fellows Talks, a three-part Databite series showcasing our 2017-2018 fellows cohort. Each Wednesday will feature 2-3 fellows speaking about their work, wide-ranging interdisciplinary connections, and a few of the provocative questions that have emerged this year. Our final talk in the series features:
Darakhshan Mir on Privacy from the bottom-up: Can technology empower community-based privacy governance?;

Taeyoon Choi on Distributed Web of Care <3; and

Jeanna Matthews on You're Just Complaining Because You're Guilty: Algorithmic Accountability and Transparency in Criminal Justice Software.
WHEN:
3:30pm Doors open.
4-5pm Public talk + Q&A.
5-7pm Reception: food and drink provided.
WHERE: Data & Society, 36 W. 20th St., 11th Floor
RSVP is required to attend.
Data & Society's Databites speaker series is geared toward engaging our network and the broader public on unresolved questions and timely topics of interest to the D&S community.
ASL interpretation will be provided. We welcome Deaf and Hard of Hearing Community to this event.
Questions about Databite No. 112? Contact Data & Society Research Institute.
About the Speakers
Jeanna Matthews is an associate professor of Computer Science at Clarkson University and a 2017-18 fellow at Data and Society. She is member of the Executive Committee of US-ACM, the U.S. Public Policy Committee of ACM and a founding co-chair of their subcommittee on algorithmic transparency and accountability. Her research interests are wide ranging from the security of virtualization and cloud computing systems to third-party review of software used in the criminal justice system to alternate models for offline data usage. Jeanna received her Ph.D. in Computer Science from the University of California at Berkeley and is an ACM Distinguished Speaker.
Taeyoon Choi is an artist, educator, and activist based in New York and Seoul. His art practice involves performance, electronics, drawings, and installations that form the basis for storytelling in public spaces. He co-founded the School for Poetic Computation where he continues to organize sessions and teach classes.@tchoi8 http://taeyoonchoi.com/
Darakhshan Mir is a Jane Griffith Faculty Fellow and Assistant Professor of Computer Science at Bucknell University, working on issues of data privacy. Prior to that, she was the Norma Wilentz Hess Fellow at Wellesley College and earned her PhD in Computer Science at Rutgers University. Her research consists of examining questions about privacy in algorithmic, information-theoretic, and more recently, in social contexts. She enjoys challenging herself and her students to think more deeply about our "nerd privileges" and question our "unbridled technological optimism." @sciencemeandyou
RSVP for the rest of the series here:
Date and time
Location
Data & Society Research Institute
36 West 20th Street
New York, NY 10011