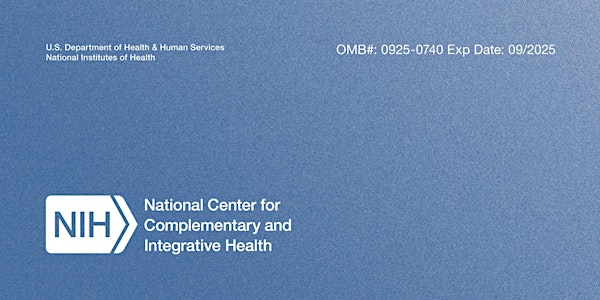 Database for Anatomical and Physiological Ontology of Acupoints Webinar II
Researchers Networking and Collaboration Webinar: Repository and Database for Anatomical and Physiological Ontology of Acupoints Webinar II
About this event
The National Center for Complementary and Integrative Health (NCCIH) is hosting a Networking and Collaboration Webinar focused on matching investigators with common aims so they can collaborate and prepare to successfully apply for this funding opportunity announcement (FOA):
Research Resource Center To Build an Open-Access Repository and Database for Anatomical and Physiological Ontology of Acupoints (RFA-AT-23-005).
Please read the FOA for full details. The application due date is November 30, 2022.
During the webinar, NCCIH program staff will facilitate discussions among potential applicants. If interested, please register to attend this webinar.
The first webinar of this 2-part series is a technical assistance webinar that took place on October 6.
NOTE: Investigators participating in the networking and collaboration webinar will agree during registration to share their contact information and important aspects of their background and interests to facilitate collaboration.
Attending this networking webinar is not a requirement for submission.
Reasonable Accommodation
Sign language interpreting services are available upon request. Individuals who need interpreting services and/or other reasonable accommodations to participate in this event should contact the NCCIH Clearinghouse at info@nccih.nih.gov or 1-888-644-6226 by Thursday, October 13, 2022.
OMB#: 0925-0740
Expiration Date: 09/2025
Public reporting burden for this collection of information is estimated to average 10 minutes per response, including the time for reviewing instructions, searching existing data sources, gathering and maintaining the data needed, and completing and reviewing the collection of information. An agency may not conduct or sponsor, and a person is not required to respond to, a collection of information unless it displays a currently valid OMB control number. Send comments regarding this burden estimate or any other aspect of this collection of information, including suggestions for reducing this burden to: NIH, Project Clearance Branch, 6705 Rockledge Drive, MSC 7974, Bethesda, MD 20892-7974, ATTN: PRA (0925-0740). Do not return the completed form to this address.