Description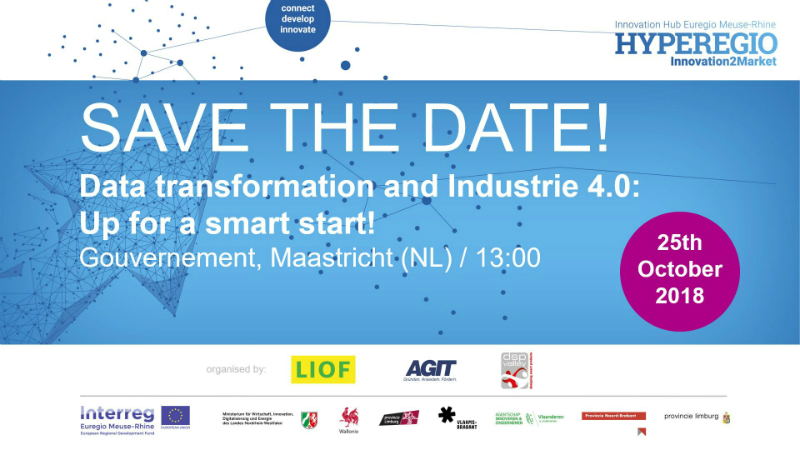 Industry 4.0 is a major challenge for all players in the manufacturing industry in our region. This so-called digital transformation offers plenty of opportunities for large companies, but certainly also for small and medium-size enterprises. Data plays an important role in this: it provides insight into the past and present, but also in the future.
As part of the Interreg HYPEREGIO program "Innovation2Market", LIOF, DSP Valley (Leuven, Belgium) and AGIT (Aachen, Germany) organize a special matchmaking event on this theme. You will be informed about which chances there are for your company, but you will also hear experiences from other companies on this topic. Dutch, German and Belgian companies will share their knowledge and challenges with you. During the event we will try to match the demand with the offering, the problem with a solution and this in a cross-border way of cooperation.
Programma
13.00 Welcome and introduction
13.35 Introduction Manufacturing Industry in Limburg
dr. Joost van den Akker, regional minister of Economic Affairs
13.50 Introduction Hyperegio
dipl.-ing. Ralf Meyer, projectleader Hyperegio
14.00 Data as vital part of digital transformation
prof.dr. Volker Stich, managing director FIR e.v.
14.25 Short Break
14.45 Pitching sessions
• AimingTools (NL)
• OpenPlus (NL)
• Mediaan (NL)
• AMEPA (D)
• Vectioneer (NL)
• Ivengi (NL)
• IM-Aces
• Probotics (NL)
16.00 1 on 1 Meetings
17.00 Networking.
If you would like more information, please contact Jorg van der Meij (LIOF): +31621313004
We are happy to meet you on October 25!

Team LIOF