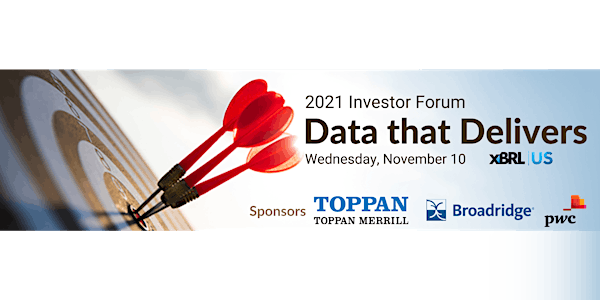 Data That Delivers - 2021 Investor Forum
Email info@xbrl.us to request replay details when they are available.
About this event
SEC Commissioner Caroline Crenshaw and Independent Corporate Director, former FASB Chair Leslie Seidman to provide keynote speeches.
12:30 – 12:40 PM Welcome & Introductions
Speakers:
Campbell Pryde, President and CEO, XBRL US
Mike Schlanger, Vice President Solution Sales, Toppan Merrill
12:45 – 1:15 PM Keynote Presentation: Leslie Seidman, Independent Corporate Director, Former Chair of the Financial Accounting Standards Board (FASB)
1:20 – 1:50 PM Keynote Presentation: Commissioner Caroline Crenshaw, U.S. Securities and Exchange Commission
1:55 – 2:15 PM How Data Standards Support Better Analytics
The structure of standardized data allows users to disaggregate to a highly granular level, and to combine and query facts in meaningful ways. Get a "bird's eye view" into the structure of XBRL-formatted data and why it is so valuable to app builders and data consumers.
Speakers:
Phillip Harrison, Director – Assurance Innovation, PwC
Jennifer J. Neglia, Partner, PwC
2:20 – 3:10 PM Delivering Value for Analysts & Investors
Analytics can involve querying and screening on vast amounts of data, as well as conducting highly granular research on individual company disclosures. Corporate financials must be timely, good quality, and easily accessible. Attend this session to hear securities analysts and investors provide examples to illustrate how access to machine-readable, detailed data available through SEC filings today has lowered the cost of analytics, delivering better value to the investment community.
Speakers:
Swathy Sekhar Anand, Vice President, Moody's Investor Service
Christine Cheng, Visiting Academic Scholar at the Securities Exchange Commission's Division of Economic and Risk Analysis Office of Structured Disclosure
Pranav Ghai, CEO, Calcbench
3:15 – 4:05 PM Conducting Better, More Effective Corporate Disclosure Research
Corporate financials are not just for investors. Auditors, public companies, academics, and regulators are all intensive users of public company financial statement data. Walk through real-world case studies to learn how data users leverage machine-readable data to perform better, faster, more effective analytics.
Speakers:
Aaron Astrachan, Director, Financial Planning & Analysis, MOOG, Inc.
Leslie Robinson, Professor of Business Administration, Tuck School of Business, Dartmouth College
Jenny Simpson, Financial Reporting Manager, Whiting Petroleum Corporation
4:10 – 5:00 PM Future of Machine-readable Data for Investors
Structuring "unstructured" data, improving outcomes from AI platforms, automating corporate Environmental-Social-Governance (ESG) data. These are all programs we will see in the very near future. Attend this session to find out where these initiatives stand and how soon we can expect to see them realized.
Speakers:
Christine Tan, PhD, Co-founder and Chief Research Officer, idaciti, Inc.
Madhu Mathew, Director of Technology, Sustainability Accounting Standards Board (SASB)