Description
In collaboration with Data Science Middle East, The School of Data Science, UK and Persontyle, UK excited to present Qatar's first professional workshop to learn the most demanded skills of 2016.
On October 18-20, 2016, Doha Qatar: DATA SCIENCE AND MACHINE LEARNING WORKSHOP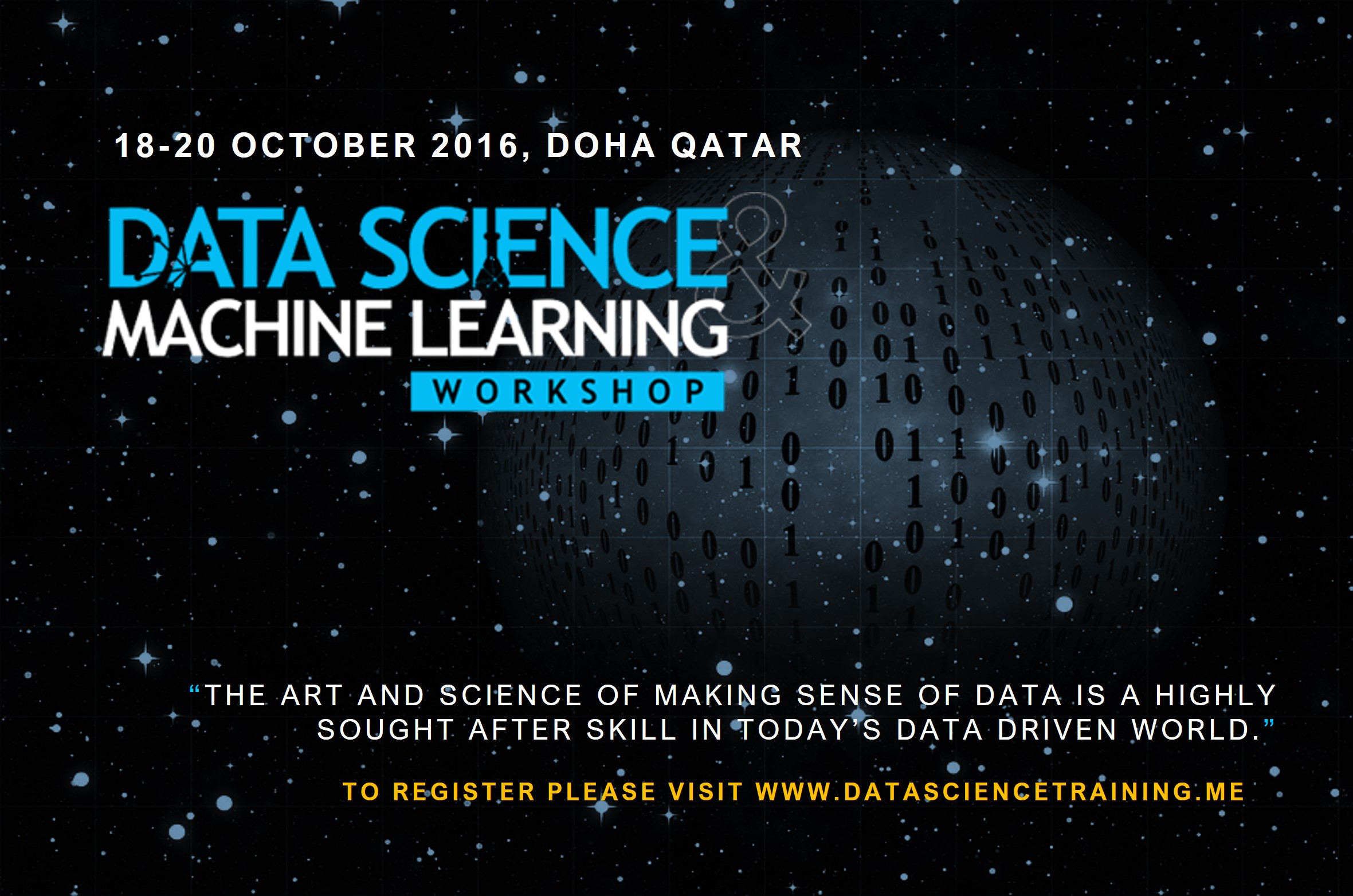 A comprehensive 3-day training program for hands-on introduction to big data, data science, and machine learning models, methods and algorithms.
The workshop will take participants through the conceptual and applied foundations of the subject. Topics covered include:
Data science and big data engineering
Machine learning theory, types of learning
Techniques, models and methods
Labs are developed to practically learn how to use the R programming language and packages for applying the main concepts and techniques of data science and machine learning.
The Workshop will provide participants with an applied introduction to data science industry practices and models of machine learning. The workshop has a strong focus on gaining hands-on experience implementing algorithms and building predictive models on real datasets. By the end of the workshop, participants will be ready to implement the machine learning algorithms using data science on their own data, and immediately generate business value.
For more details, agenda and to download the workshop brochure please visit http://datasciencetraining.me/
> REGISTRATION

You can also register by emailing Nitesh Marwaha at nitesh.marwaha@everati.com or by calling us on +971 558752588
For group discounts and corporate booking please email your requirements to hello@everati.com
> SPONSORS AND PARTNERS
Are you looking to showcase big data, data science and analytics technologies and services in front of the professional industry gathering? If the answer is yes, then get in touch!
To enquire about sponsorship packages and partnership opportunities, please contact our team! Email nitesh.marwaha@everati.com or call us on +971 558752588
> ABOUT DATA SCIENCE MIDDLE EAST FOUNDATION

Data Science Middle East (DSME) Foundation is an open collaboration programme for data talent and digital leadership development for Middle East and GCC countries. For membership details, collaborations and industry partnership opportunities, please email hello@everati.com