The Lawyers Hub presents a CPD Accredited lecture next week Wednesday 22nd January at 5:30pm. Topic: Data Protection Act and the GDPR.
About this event
Disclaimer: This is a paid event and attracts 1 CPD Point
The enactment of The Data Protection Act gives effect to Article 31 (c) and (d) of The Constitution of Kenya 2010 and thus shifts the entire outlook on the legal landscape surrounding issues of privacy, data collection and data handling. Join us as we dissect the Act's relevance to Kenya's ecosystem, its adequacy in comparison to the GDPR and other foreign legislation; and the various opportunities afforded to Kenyan lawyers as a result.
The Lawyers Hub presents a CPD Accredited lecture this Wednesday the 22nd of January at 5:30pm.
Topic: Data Protection and the GDPR: Opportunities for Kenyan Lawyers in Privacy and Data Protection
1 CPD point will be awarded. Cost is 2000/-
Payment details MPESA Paybill: 336885 Account: CPD Nairobi
For inquiries call 0794739001 / 0794739003 Email: trainings@lawyershub.ke
Lawyers Hub works on the confluence of law and technology as the first law focused policy innovation hub in Africa. (www.lawyershub.org ) and curates the Africa Law Tech Festival, sign up at ( www.africalawtechfestival.com )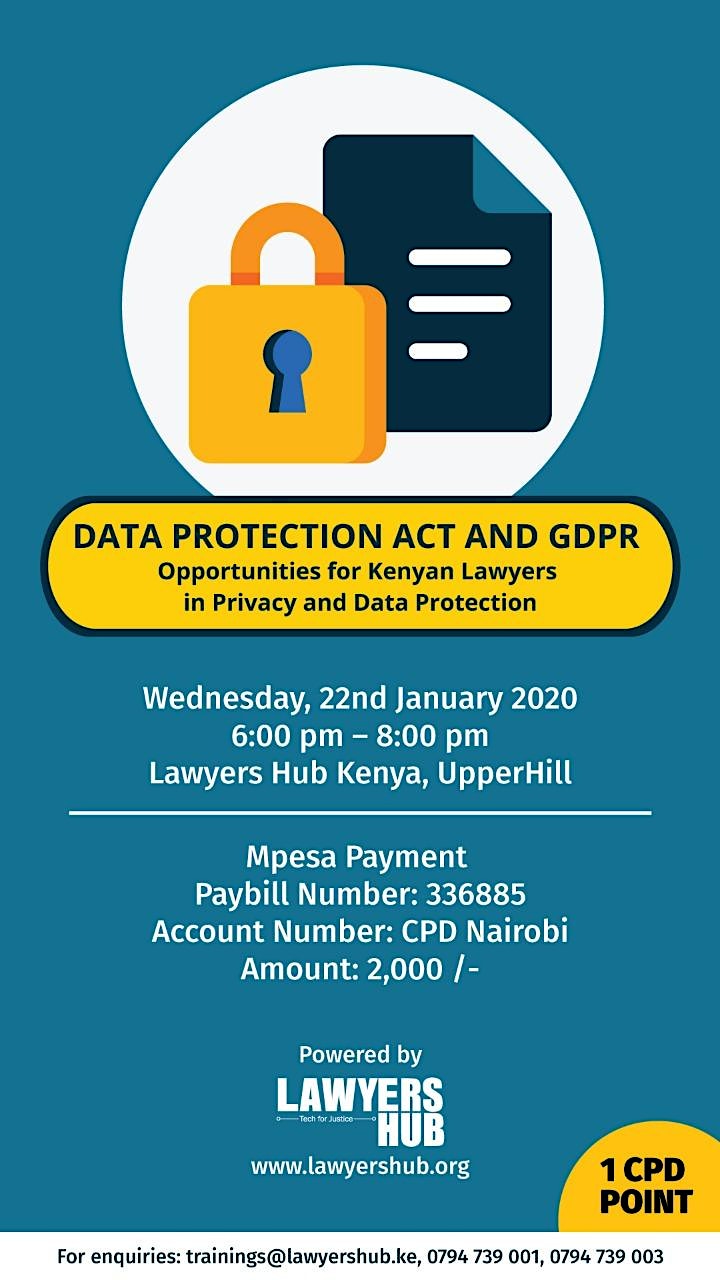 Organizer of Data Protection Act and GDPR
Based in Nairobi, Kenya; the Lawyers Hub is the first African Law innovation hub focused on the interplay between Law and Technology in Africa. We offer legal support to start ups through their entrepreneural journey and build capacity of Lawyers to better engage in Tech Policy.
Contact: info@lawyershub.ke Call: 0202840228