Exploring Data Science in Media, Entertainment and Technology
About this event
In the fast-paced world of the enterprise, artificial intelligence and machine learning are critical to staying ahead of the competition. How can you get the most out of your data? Learn the innovative approaches the world's leading companies are taking to solve today's key challenges in media, entertainment and technology sectors.
Data Points is a summit series around Data Science, Artificial Intelligence, and Machine Learning in enterprise applications. Join other senior practitioners and executives for immersive talks on use cases, trends, and the technical infrastructure powering the most sophisticated data practices. Learn from leaders in data who have implemented data practices at scale in a series of interactive presentations.
Find us on Social Media!
And on the official website.
Confirmed Speakers: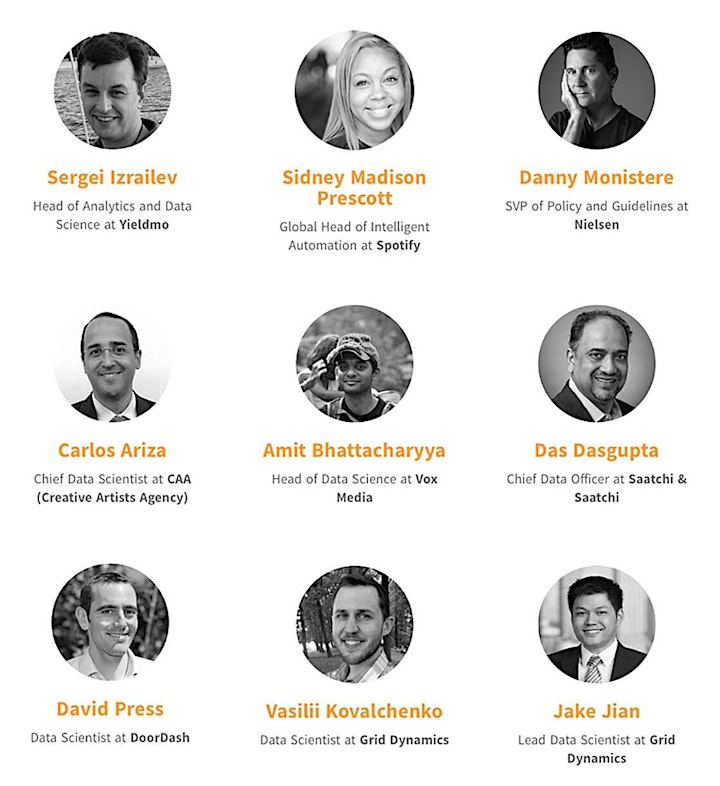 Schedule
(all times are ET)
11:00 - 11:10 AM
Introduction
11:10 - 11:35 AM
A Plug-and-play Personalization Platform Using Reinforcement Learning
Aleksey Aleev & Vasilii Kovalchenko (Grid Dynamics)
11:40 - 12:05 PM
Recipe Recommendations at The New York Times
Celia Eddy, Data Scientist (The New York Times)
12:10 - 12:35 PM
Balancing the fraud equation: How DoorDash optimizes fraud model thresholds and actions
David Press, Data Scientist (DoorDash)
12:40 - 1:05 PM
Ratings Transformation: Integrating Big Data
Danny Monistere, SVP of Policy and Guidelines (Nielsen)
1:20 - 1:45 PM
There are no shortcuts to any place worth going: The journey towards Enterprise AI
Carlos Ariza, Chief Data Scientist (Creative Artists Agency)
1:50 - 2:15 PM
A multi-faceted approach to optimizing digital advertising spend towards desired outcomes using attention measurement and machine learning
Sergei Izrailev, Head of Data Science and Data Analytics (Yieldmo)
2:20 - 2:45 PM
Sidney Madison Prescott, Global Head of Intelligent Automation (Spotify)
2:50 - 3:15 PM
Solving Customer Churn: A Prescriptive Modelling Approach
Jake Jian, Data Science Lead (Grid Dynamics)
3:30 - 3:55 PM
Consumer Segmentation, Targeting, and Positioning using Unsupervised Clustering and Distance Algorithms in Advertising
Das Dasgupta, Chief Data Officer (Saatchi & Saatchi)
4:00 - 4:25 PM
iOS14 or: How I Learned to Stop Worrying and Love the SKAdNetwork
Jacob Claussen, Manager, Marketing Analytics (Zynga)
4:30 - 4:55 PM
A nonlinear embedder framework with interpretable features for content personalization
Taeyoung Choi, Data Scientist (Condé Nast)
5:00 - 5:25 PM
Content-Driven Advertising using First Party Data
Amit Bhattacharyya, Head of Data Science (Vox Media)
5:25 - 5:30 PM
Wrap up
Be a Speaker !
Interested in speaking at a Data Points event? Click Here