Exploring Data Science in Manufacturing, Retail & CPG
About this event
Data Points: Manufacturing, Retail & CPG Summit is a virtual summit centered on Data Science, Artificial Intelligence, and Machine Learning in enterprise applications.
Join us to learn how you can get the most out of your data and hear firsthand how the world's leading companies like Amazon, Walmart Global Tech, Anheuser-Busch InBev, and others are solving today's key challenges in the Manufacturing, Retail, & CPG sectors.
We have a full agenda of Manufacturing, Retail & CPG talks on:
Optimizing recommendations for competing business objectives
Improving Manufacturing Quality Control Processes with AI in 2022
Building an MLOps Center of Excellence
Re-inventing CPG Product Development with AI
Boosting Conversions with AI
Transforming Backend Operations using AI & Delivering Great Value to the business
Be sure to tune in to our panel discussion about the Top Trends in Supply Chain Optimization in 2022. Register today to discover the latest advancements in Data Science & AI to get the most out of your data.
Confirmed Speakers: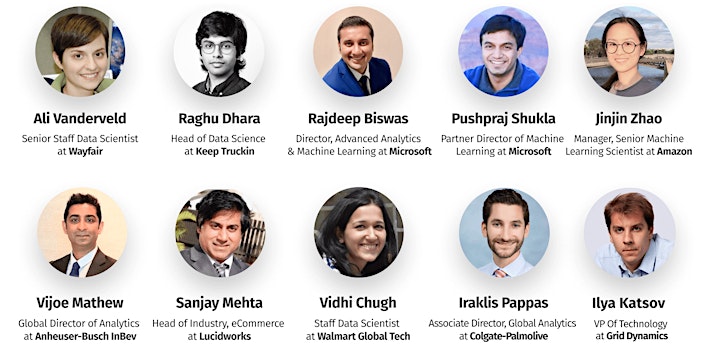 Topics:
Marketing spend optimization and attribution
Customer analytics and personalization
Fraud detection and risk scoring
ML for quantitative equity portfolio management
Price and promotion optimization
Churn prevention
AI/ML for IT Operations (AIOps)
Data science platforms and MLOps
Deep learning for enterprise applications
Reinforcement learning in personalization and trading
Computer vision for digital experience platforms
Data and ML engineering:
Data science platforms
MLOps and AI productization
Data platforms for self-service analytics
Advanced data quality control
Scalable data engineering
Cloud data platforms
About Data Points:
Data Points is a summit series around Data Science, Artificial Intelligence, and Machine Learning in enterprise applications. Join other senior practitioners and executives for immersive talks on use cases, trends, and the technical infrastructure powering the most sophisticated data practices. Learn from leaders in data who have implemented data practices at scale in a series of interactive presentations.
Find us on LinkedIn and on the official website!