Data Playground: Celebrating a Data Revolution for Sustainable Development

Monday, September 28, 2015 from 6:30 PM to 8:30 PM (EDT)
Event Details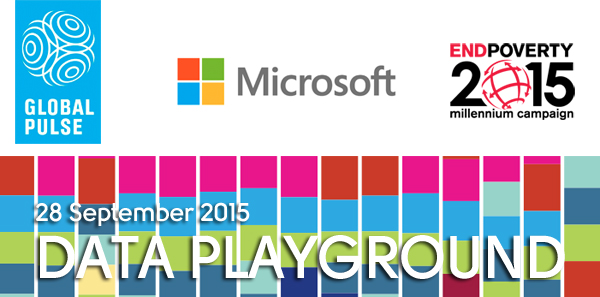 UN Millennium Campaign, UN Global Pulse & Microsoft, in cooperation with the Global Partnership for Sustainable Development Data invite you to join us for an evening reception on Monday, Sept 28th at 6:30pm, on the margins of the UN General Assembly to celebrate momentum around a 'Data Revolution" for sustainable development.

The event will showcase cutting-edge examples of citizen data collection, interactive data visualisations, big data analysis, and creative storytelling projects including a virtual reality showcase. Earlier this month, 193 Member States agreed on an outcome document that will constitute the new sustainable development agenda that will be adopted by world leaders at the Sustainable Development Summit in New York taking place between 25 to 27 September.
This agenda features 17 new sustainable development goals and 169 targets that will build on the success of the Millennium Development Goals and go much further, addressing the root causes of poverty and the universal need for development that works for all people.
But the new Global Goals cannot be achieved over the next fifteen years without data innovation. This interactive event will highlight new data communities and coalitions, showcase inspiring examples of data innovation in practice, and demonstrate how effective data collection, curation and utilization can enable a people-centered approach to sustainable development.
Organiser
Committed to fostering & expanding a global movement to support the implementation of the Sustainable Development Goals