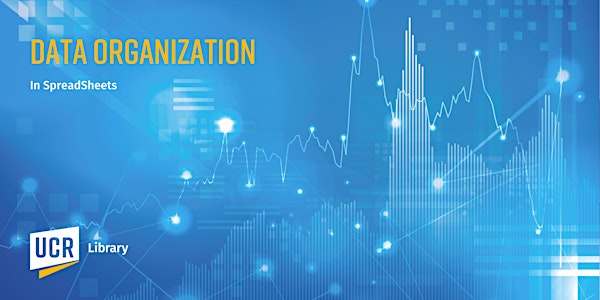 Data Organization in Spreadsheets
This two-hour workshop provides hands-on instruction, guiding you through the basics of organizing data in spreadsheets.
About this event
Working with Data Series
Working with Data is a workshop series focusing on skills, resources, and tools that help you take care of your research data. Workshops cover a variety of data topics that can be applied during different stages of the research data lifecycle, including version control, data cleaning, visualization, metadata, data storage, sharing, and preserving.
Good data organization is the foundation of any research project. Most researchers have data in spreadsheets, so it's the place that many research projects start. Typically we organize data in spreadsheets in ways that we as humans want to work with the data. However computers require data to be organized and structured in particular ways.
In this workshop, you will learn how to think about data organization and some practices for more effective data wrangling. With this approach you can better format current data and plan new data collection so less data wrangling is needed. This lesson will not cover data analysis with spreadsheets. Much of your time as a researcher will be spent in the initial 'data wrangling' stage, so that's where we will start!
This two-hour workshop provides hands-on instruction, guiding you the basics of organizing data in spreadsheets. Setup instructions will be emailed to participants prior to the workshop; this workshop assumes no prior knowledge of the skills or tools.
This workshop is the first in a two-workshop series on data and data visualization using spreadsheets. The next workshop is Prepare and Visualize Your Data in Excel .
Complete List of UCR Library Events - All UCR community members are welcome to attend. Make sure to register with your UCR email. Zoom link will be emailed to registered participants. Participants are expected to follow and uphold UC Riverside's Principles of Community.