Description
Health systems and providers are attempting to integrate and utilize a large volume of disparate data in clinical practice today. There are many road-blocks along this journey including: defining and prioritizing the strategic imperatives of the data effort, identifying the right pieces of clinical, non-clinical and social data that inform care decisions, aggregating, analyzing, and drawing insights from those data pieces, and finally, integrating all of this into a clinical workflow that enables actionable and meaningful outcomes for the patient, as well as quality and cost improvement for the health system.
As part of MATTER's Health Data Immersion Series, Dr. Andrew Bland, Vice President & Chief Quality Officer for Hospital Sisters Health System (HSHS) will share a specific use case related to a COPD risk-scoring model that was implemented at HSHS to better predict risk across the patient continuum. The case-study will highlight some of the early struggles with defining and adopting a data model, how data elements were selected and integrated into a model, and how this was ultimately implemented to drive patient quality. Through his experience, Andrew will share a behind-the-curtain user perspective of the challenges that health systems currently face in testing and implementing novel data analytics capabilities, and will share candid insights into how innovators can better position their solutions to sell into health systems.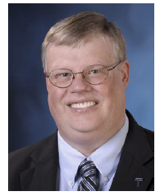 Dr. Bland currently serves as Vice President & Chief Quality Officer for HSHS. Prior to joining HSHS Medical Group in 2014, Andy served as the Assistant Dean for Faculty Development and Associate Professor of Medicine at the University Of Illinois College Of Medicine in Peoria. He has also served as the Chief Medical Officer and Vice President of Operations for Proctor Hospital. Andy earned a Bachelor of Science degree from the University of Illinois in Champaign and completed medical school at the University Of Illinois College Of Medicine at Peoria. He trained in a combined internal medicine/pediatrics residency at St. Francis Medical Center and a nephrology fellowship at the University of Iowa Hospitals and Clinics. Andy also earned a Master of Business Administration degree from the University of Massachusetts. He is currently completing his Masters in Predictive Analytics at Northwestern University.
HSHS Medical Group is the physician organization of Hospital Sisters Health System (HSHS). Launched in 2008, HSHS Medical Group focuses on bringing physicians, technology and patients together to improve the overall health of our communities. Today, HSHS Medical Group is comprised of over 1,000 colleagues in locations throughout central and southern Illinois.
Andrew will also be joined for a fireside chat with Balu Nair, Chief Technology Officer of Gray Matter Analytics, a MATTER Member company. Their discussion will highlight key decision points along the health system journey, and will offer a view into the tradeoffs, strategic decision-making processes, and the innovation tools and processes that are required for success.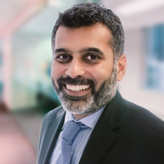 As the Chief Technology Officer, Balu leads Gray Matter Analytics' CoreTechs® Analytics as a Service delivering analytics solutions to Healthcare clients. He also helps Gray Matter's advisory clients in defining data and analytics strategy, and enabling business focused analytics capabilities. Over the last 20 years, Balu has held leadership roles with Booz & Company, Sutherland Global Services, BearingPoint, and SPSS in delivering global projects focused on strategy and implementation of information management and analytics solutions for Financial Services, Healthcare, Technology and Retail clients. Prior to joining Gray Matter Analytics, Balu was the Director/Head of Analytics Innovation at Sears Holdings.