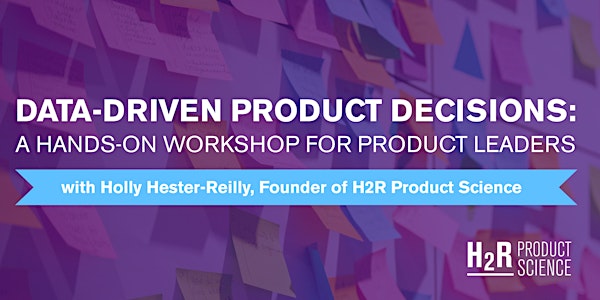 Data-Driven Product Decisions: A Hands-On Workshop for Product Leaders
Want to build products that make an impact, driving growth and outcomes for your users?
When and where
Location
San Francisco - Specific Location TBD Market Street San Francisco, CA 94103
Refund Policy
Refunds up to 1 day before event
Eventbrite's fee is nonrefundable.
About this event
Want to build products that make an impact, driving growth and outcomes for your users?
This hands-on two day workshop will help product managers and other product practitioners level up their product leadership skills. Expect to work through collaborative exercises alongside other smart, creative product leaders who want to level up their skills at both identifying the right products and features to build and developing the support to do so. 
What will participants learn?
Participants will learn the Product Science Method, a step-by-step process for evaluating product opportunities and laying the foundations for high-growth product development, including:
How to use a Pre-Mortem Risk Assessment to identify the most important areas for research
How to develop a High-Impact Experimentation Plan to kickstart your continuous product discovery
How to combine qualitative and quantitative research for best results
How to use customer mapping to build an outcomes-based product roadmap from your discovery research
How to develop a High-Growth Hypothesis, including selecting a north star metric
How to use the Built-Learned-Planning Demo to change minds without bruising egos
Why are you teaching this workshop?
Holly Hester-Reilly is the Founder and CEO of H2R Product Science, a product management coaching and consulting firm that teaches the science of high-growth product development, and the host of the Product Science Podcast. Holly is a former Columbia University research scientist and has spent the last 15 years leading product initiatives at startups, high-growth companies, and enterprises like FalconX, MediaMath, Shutterstock, The Lean Startup Co, Unilever, Capital One, and Weight Watchers. With those experiences she has developed the Product Science Method, a framework to discover the strongest product opportunities and lay the foundations for high-growth products, teams, and businesses.
Her team at H2R Product Science partners with startup founders and product leaders to share this framework, helping them to figure out which product growth opportunities they should pursue and build the product management skill to deliver on their goals.
Holly also teaches at NYU Stern School of Business as well as public and private workshops and has spoken about building high-growth products for events such as Lean Startup Summit Europe, ITX Product + Design Conference, Women in Product's Annual Conference, Parsons School of Design, and INDUSTRY: The Product Conference.
After interviewing Marty Cagan, legendary product management leader, for the launch of the Product Science Podcast, Marty had this to say about Holly "I have done a bunch of these podcasts but this was IMHO the best and most useful. Holly jumped right into the toughest topics in product, and it's clear that she truly gets this stuff. I've known Holly for a while but this discussion made me even more impressed."
How is the workshop structured?
The majority of this two-day workshop is made of group exercises, interspersed with product principles, examples, and case studies. We'll work together through a fictional product initiative, going from initial vision through planning product discovery research, developing evidence-based product strategy, defining the MVP, and getting stakeholder buy-in along the way. 
What have past participants said about the workshop?
I appreciated the small group dialogue, and the content around influencing stakeholders, which took the course beyond the typical product dev frameworks. Holly's personal examples sprinkled through the day affirmed her credibility and added to the course.
- Jeff Reiser, Sr Director for Strategy and Business Intelligence, Fitch Solutions
This is the kind of workshop I'd do on my own, even if my company doesn't sponsor me. I felt the workshop was structured well, dividing us into groups, having us work silently and then collaboratively. We were constantly building on top of the previous work. I found it very useful! I think it would also be beneficial for strategists and product marketing managers. 
- Moises Eskinazi, Columbia Business School MBA Graduate and DigitalOcean Product Manager
I really enjoyed meeting the other workshop attendees and getting an extended view into Holly's product opportunity assessment process. I especially liked how Holly broke the guidelines down into digestible chunks for the break out sessions and built them back up together in the discussion. I also liked the format of a case study with her work at Shutterstock as examples. Felt free but not scary!
- Grace Tuttle, Design Researcher & Strategist
I really enjoyed the workshop - the topic was one I feel like I am faced with more and more these days. I liked the way Holly did the product opportunity assessment, so I walked my team through some of the exercises to apply to a project we're working on now. It helped us to focus our experimentation.
- Joe Lalley, Head of Product Management and User Experience Design at PwC, User Experience Design Instructor at General Assembly
Who should attend this workshop?
The workshop is ideal for startup founders, general managers, product leaders, marketing leaders, product managers, product designers, product marketers, user experience designers, user researchers, engineering leaders, data analysts, and other product practitioners looking to level up their skills at product strategy and design or driving internal change.
 Are there other ways I can attend this workshop?
I also host workshops like this for companies. If you are interested in an in-house workshop or can't make the date on this public workshop, contact me and I'll be happy to talk with you.