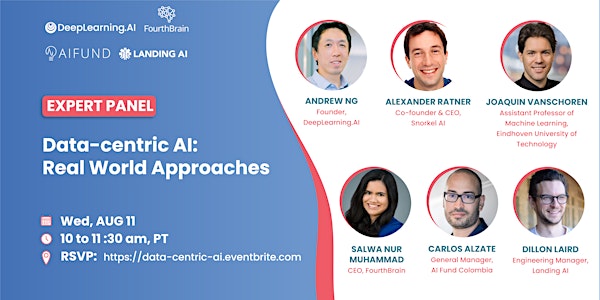 Data-centric AI: Real World Approaches
A virtual event on how to elevate data-centric approaches to improving the performance of machine learning models in the real world.
About this event
When an AI system isn't performing well, many teams instinctually try to improve the algorithm. But for many practical applications, it's more effective instead to focus on improving the data.
Earlier in March, Dr. Andrew Ng spoke to the ML community on shifting from a Model-centric approach to a Data-centric approach to AI: MLOps: From Model-centric to Data-centric AI. In an effort to help move the AI community toward the use of good data when using MLOps tools, we are excited to invite you to join us at the live event Data-centric AI: Real World Approaches.
In this event, industry experts will be joining Andrew to share their views as well as real world use cases on how they have elevated data-centric approaches to improving the performance of machine learning models.
Our speakers will be talking about:
Programmatic Supervision for Data-Centric AI
NeurIPS Datasets and Benchmarks Track
OpenML
Text classification without annotated data
Zero-shot-learning and data-centric approaches
LandingLens as a Data-Centric AI platform
And more!
This event is a special collaboration between DeepLearning.AI, FourthBrain, Landing AI and AI Fund (all founded by Dr. Andrew Ng and/or backed by the AI Fund).
Event agenda (*subject to change):
10-min: Keynote speech: Andrew Ng, Founder, DeepLearning.AI; Founder and CEO, Landing AI; Managing General Partner, AI Fund
15-min: Presentations from the panel speakers on their work and the real world approaches of data-centric AI
45-min Panel discussion:
*Join our community on Discourse to discuss with others on Data-centric AI. If you have already created an account on our Discourse forum, you can log in and find the Data-centric AI sub-category by going to "General Discussion" category on the homepage.
How to access the event:
This is a virtual event. Below is where you can find the online access link:
You will find the access links in a reminder email 3 days before the event.
Alternatively, on the day of the event, you can log in to your Eventbrite account and access the online event page under the event.
Can't attend the live YouTube event? Don't worry. Register now to get the recorded session.
Resources:
Data-centric AI competition: Landing AI and DeepLearning.AI recently launched the competition where the algorithm is fixed and entrants must manipulate the data. Currently most data science and AI competitions are focused on manipulating an algorithm with a fixed set of data. This competition will be the first to focus on data manipulation instead, marking a new chapter in the AI world. Join the competition before the submission deadline on Sep 4.
Machine Learning Engineering for Production (MLOps): Offered by DeepLearning.AI, the Specialization provides learners a chance to delve into leading-edge machine learning engineering for production techniques and concepts to be prepared for building and scaling complex integrated systems.
MLOps and Systems: Offered by FourthBrain, this 12-week program prepares students with MLOps tools, skills, and best practices for deploying, evaluating, monitoring and operating production ML systems. Using a data-centric approach, you'll learn to manage ML pipelines and infrastructure; deploy, test, and monitor ML models in production; and extend existing models to new use cases. Apply now for the next available program starting on Sep 21.
About the speakers:
Andrew Ng is the Founder of DeepLearning.AI and CEO at Landing AI.As a pioneer both in machine learning and online education, Dr. Ng has changed countless lives through his work in AI, authoring or co-authoring over 100 research papers in machine learning, robotics and related fields. Previously, he was chief scientist at Baidu, and the founding lead of the Google Brain team. Dr. Ng now focuses his time primarily on his entrepreneurial ventures, looking for the best ways to accelerate responsible AI practices in the larger global economy.
Joaquin Vanschoren is an assistant professor of machine learning at the Eindhoven University of Technology (TU/e). His research focuses on the automation of machine learning (AutoML) and Meta-Learning. He co-authored and co-edited the books 'Automatic Machine: Methods, Systems, Challenges' and 'Meta-learning: Applications to AutoML and data mining', published over 100 articles on these topics, and received an Amazon Research Award, an Azure Research Award, the Dutch Data Prize, and an ECMLPKDD demonstration award. He founded and leads OpenML.org, an open science platform for machine learning. He is a founding member of the European AI associations ELLIS and CLAIRE, chairs the Open Machine Learning Foundation, and co-chairs the W3C Machine Learning Schema Community Group. He has been tutorial speaker at NeurIPS and AAAI, and has given more than 20 invited talks, including ECDA, StatComp, IDEAL, and workshops at NeurIPS, ICML, and SIGMOD. He is datasets and benchmarks chair at NeurIPS 2021, program chair of Discovery Science 2018, general chair at LION 2016, demo chair at ECMLPKDD 2013, and he co-organizes the AutoML and Meta-Learning workshop series at NeurIPS and ICML from 2013 to 2021.
Alex Ratner is the co-founder and CEO of Snorkel AI, Inc., which develops Snorkel Flow, a data-centric AI development platform, and an Assistant Professor of Computer Science at the University of Washington. Prior to Snorkel AI and UW, he completed his PhD in CS advised by Christopher Ré at Stanford, where his research focused on applying data management and statistical learning techniques to emerging machine learning workflows, such as creating and managing training data, and applying this to real-world problems in medicine, knowledge base construction, and more.
Salwa Nur Muhammad joined FourthBrain as the CEO after executive leadership roles at Udacity and Trilogy Education Services (acquired by 2U Inc). She has over 10 years of experience leveraging technology to develop scalable education programs at higher-ed institutions and edtech companies, building new business units, and hiring and training cross-functional teams.
Carlos Alzate is a Senior AI Advisor at AI Fund and General Manager of AI Fund Colombia. He leads the technical developments, PoCs and MVPs during the initial stage of the portfolio companies. Before that, he was a research scientist and manager at the IBM Research Lab in Dublin, Ireland where he was managing the AI for Health and Social Care group. For 5 years, he served as technical lead of the Dublin's lab contribution to IBM Project Debater and worked in argument detection. Prior to joining IBM Research, Carlos was a postdoctoral fellow of the Research Foundation Flanders (FWO) in Belgium. He received a PhD in Engineering and a Master degree in Artificial Intelligence from the KU Leuven (BE) in 2009 and 2004 respectively. He also holds a degree in Electronic Engineering from the Universidad Nacional de Colombia. His scientific interests are in machine learning and explainable AI in diverse domains including computational argumentation, natural language processing and health care.
Dillon Laird is currently an Engineering Manager at Landing.AI and was previously a machine learning engineer there as well. He did his masters in computer science at Stanford where he worked in Andrew Ng's lab and he did his undergraduate at University of Washington where he worked with Emily Fox and majored in mathematics and computer science.