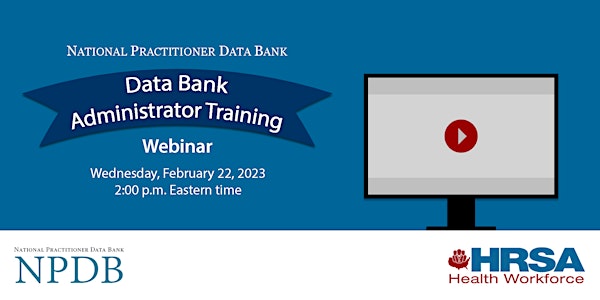 Data Bank Administrator Training Webinar
This webinar will provide an explanation of the roles and responsibilities of the Data Bank administrator and NPDB account management.
About this event
Please join us on Wednesday, February 22, 2023, 2:00 p.m. Eastern Time for an interactive webinar for Data Bank administrators. You will learn how to determine who can serve as a Data Bank administrator and to apply time-saving best practices for common tasks that involve accounts, passwords, and more!
Audience:
Data Bank administrators
Objectives:
At the completion of the course, attendees will be able to:
determine who within an organization is eligible to serve as a Data Bank administrator
create and delete new Data Bank administrator and user accounts
comply with password requirements including time frames for expiration
use password self-help to resolve issues
learn best practices and helpful hints to support overall account administration requirements
The webinar is designed to be interactive, with numerous examples. It will include a Q&A session with NPDB staff members.
Attendees of the live webinar will qualify to receive 1.0 NAMSS-approved Continuing Education credit. Certificates will be sent out 1–2 weeks after the webinar.