Data Analysis and Information Visualization: Sampling Emerging Technologies in the Surge of Big Data

Thursday, June 8, 2017 from 6:00 PM to 8:00 PM (EDT)
Event Details
Overwhelmed by big data or just curious to learn more about it?
On June 8th, join us to hear Mari W. Buche, Associate Professor of Management Information Systems at Michigan Technological University, address:
Data Analysis and Information Visualization: Sampling Emerging Technologies in the Surge of Big Data
A large variety of tools and techniques are currently available that are designed to assist information workers with the vital task of analyzing complex, mountainous data sets. Traditional technologies (e.g. Excel spreadsheets) tend to be ill-equipped to handle this challenge, lacking adequate scalability. At the same time, demands from stakeholders present greater pressure due to rising expectations. Informational output needs to be intuitive or easy to interpret, as well as aesthetically pleasing. A balance between ease of use and usefulness will determine the next successful wave of technologies.
Thursday, June 8, 2017. 6pm
Program: 6:30pm
Cost: $20 
Register by: Monday, June 5th
Refreshments will be served. Vegetarian option available.

About the speaker: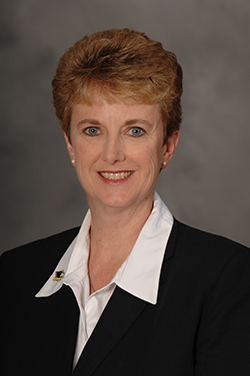 Mari W. Buche is an Associate Professor of Management Information Systems at Michigan Technological University (USA). She recently served as the inaugural Graduate Program Director for Data Sciences. She earned her Ph.D. in Business Administration/Management Information Systems and Masters in Accounting and Information Systems (MAIS), both from the University of Kansas. Her previous professional experience includes military service, U.S. Air Force Missile Launch Officer (Titan II and Minuteman II ICBM nuclear weapon systems); retail experience (Super Target Price Change Team Lead and Payless Cashways Accounting Clerk/Computer Specialist); health care (Optometric Technician); and, early childhood education (Founder/Director/Instructor Non-profit Preschool). Dr. Buche investigates issues related to the impact of technology change on information systems/technology employees within a business context. Currently, her interests involve improved decision making using "big data" business intelligence/analytical techniques. Her work has been published in the Communications of AIS, Information Technology and Management Journal, Journal of Information Systems Education, International Journal of Networking and Virtual Organisations, Mid-AmericaJournal of Business, and numerous conference proceedings.
This program is generously sponsored by EBSCO Information Services. Thank you for your support!
When & Where

University of Michigan – Dearborn
Mardigian Library – R1216
4901 Evergreen Road
Dearborn, Michigan 48128


Thursday, June 8, 2017 from 6:00 PM to 8:00 PM (EDT)
Add to my calendar
Organizer
Michigan Chapter Special Libraries Association
Data Analysis and Information Visualization: Sampling Emerging Technologies in the Surge of Big Data