Description
DASpedia's Wireless Technology Leadership Forum will focus on cellular coverage and capacity for commercial real estate, campuses, venues, hospitals, malls, casinos and hotels and stadiums. Reliable in-building wireless coverage is rapidly becoming a top priority for tenants and landlords alike, and is often a line-item requirement in the lease along with electrical and plumbing. T-Mobile addresses the demand with its Build Your Own Coverage (BYOC) program, which helps building owners, operators and commercial developers who are ready to invest in their own wireless infrastructure, by designing the right indoor wireless network and bringing the radio signal to the door.
The event will also highlight T-Mobile's progress toward delivering on its nationwide 5G network in time for the launch of the first 5G smartphones early next year. We will discuss T-Mobile's multi-spectrum strategy for initial rollout in New York, Los Angeles, Dallas, and Las Vegas, and the planned build-out in 30 cities in 2018.
This event is hosted by DASpedia and featuring T-Mobile.
This invitation-only event is exclusively for wireless (DAS ecosystem) professionals/vendors, enterprise customers representing various verticals, CRE professionals, and T-Mobile National/Area Network Engineering & Operation team members.
DATE & LOCATION
Date: June 11, 2018
Time: 8:00 am – 7:30 pm
Location: The Cosmopolitan of Las Vegas – Level 4 of Chelsea Tower – Nolita Ballrooms 1 -3
AUDIENCE
Approx. 160 – 200 total:
T-Mobile Region/Market and National ACS/BYOC Teams
Vendors,System Integrators, & General Contractors
Commercial Real Estate and Enterprise Customers

SPEAKERS & GUESTS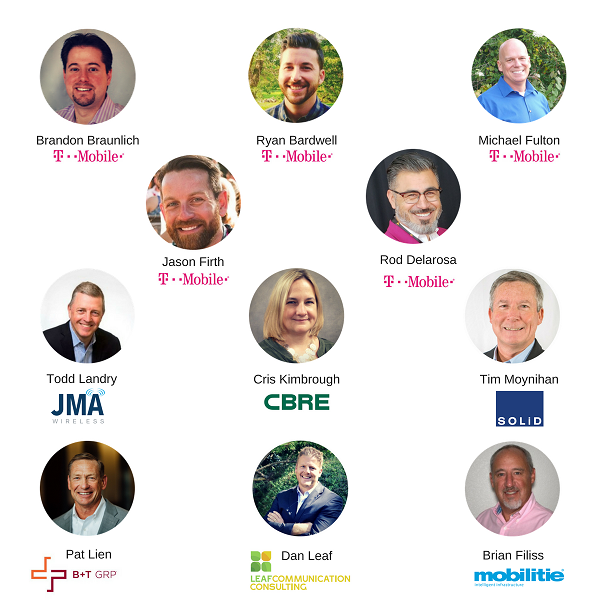 EVENT AGENDA
8:00 am – 9:30 am: T-Mobile Team Breakfast (

TMO Employees Only

)
9:30 am – 11:25 am: T-Mobile Area Market Team Leadership Summit Meeting (

TMO Employees Only

)
11:30 am: Vendor Exhibit Open (Open to All Attendees)
12:00 pm – 1:00 pm: Vendor Networking Lunch (Open to All Attendees)
1:00 pm – 1:10 pm: Conference Starts/Opening Remarks by DASpedia
1:10 pm – 1:40 pm: 5G & IoT Outlook for T-Mobile, presented by Brandon Braunlich – Area Director, Network Engineering & Operations, T-Mobile
1:40 pm – 2:10 pm: Small Cell Deployments and T-Mobile Difference, presented by Michael Fulton - San Diego Market Manager, T-Mobile
2:15 pm – 2:55 pm: T-Mobile Team Panel Discussion (5G/IoT/Small Cells)

Brandon Braunlich - Area Director Network Engineering & Operations, T-Mobile
Michael Fulton - San Diego Market Manager, T-Mobile
Jason Firth - Sr. RF Manager, T-Mobile
Rod Delarosa – Site Advocacy Manager, T-Mobile
Moderated by Todd Landry, JMA Wireless

3:00 pm – 3:40 pm: Vendor & Refreshment Break, sponsored by Corning
3:45 pm – 4:15 pm: T-Mobile In-Building Wireless Solutions Overview, presented by Ryan Bardwell – National Director ACS, T-Mobile
4:20 pm – 4:40 pm: Enterprise Wireless Solution Discussion, by Tim Moynihan from SOLiD with Cris Kimbrough from CBRE
4:45 pm – 5:05 pm: Wireless Industry Guests Part I – Todd Landry from JMA Wireless and Pat Lien from B+T Group
5:10 pm – 5:25 pm: Wireless Industry Guests Part II – Dan Leaf from Leaf Communication and Brian Filiss from Mobilitie
5:25 pm: Closing Remarks by DASpedia
5:30 pm – 7:30 pm: Vendor Networking Reception, sponsored by Mobilitie
FAQs
How do I get invited to this event?
The event is open to DASpedia annual sponsors and members.
What's the refund policy?
Attendees can receive refunds up to 7 days before your event start date.
Do I have to bring my printed ticket to the event?
Yes
Can I update my registration information?
Yes
Is my registration fee or ticket transferrable?
Yes
How do I contact organizer/DASpedia?
You may contact us via email info@daspedia.com OR call us at 310 845 6458