Description
This event is full. General registration is now closed. See you on Monday, Nov 12th. Safe Travels!
DASpedia is back in the Bay area to host its 5G Wireless Technology Forum on Nov 12, 2018. This event highlights the development and planned deployment of 5G wireless technology by US Mobile Network Operators (MNOs). This event will bring together professionals involved in wireless network infrastructure (DAS, Small Cells, Macro Networks, etc…) from Northern California and nationwide.
It will be held at the San Ramon Marriott hotel in San Ramon, CA. This is a convenient location for local MNO attendees and industry professionals interested in learning about 5G wireless technology and connecting with fellow professionals.
Verizon Wireless closed vendor training sessions will be held between 9:00 and 11:00 am. 5G Wireless Technology Forum will be held from 11:00 am until 7:30 pm.
DASpedia's 5G Wireless Technology Forum is supported by Verizon Wireless, Sprint, and AT&T. The event also includes attendees from all major US Mobile Network Operators (MNOs).
DATE & LOCATION
Date: Nov 12, 2018
Time: 11:00 am – 7:30 pm
Location: San Ramon Marriott – Bishop Ranch Ballroom – San Ramon, CA


AUDIENCE
Approx. 200 Attendees
US Mobile Network Operator (MNO) Local and National Teams
Wireless Technology Solution Providers & OEMs
Enterprise & Commerical Real Estate (CRE) Customers



OUR SPEAKERS/GUESTS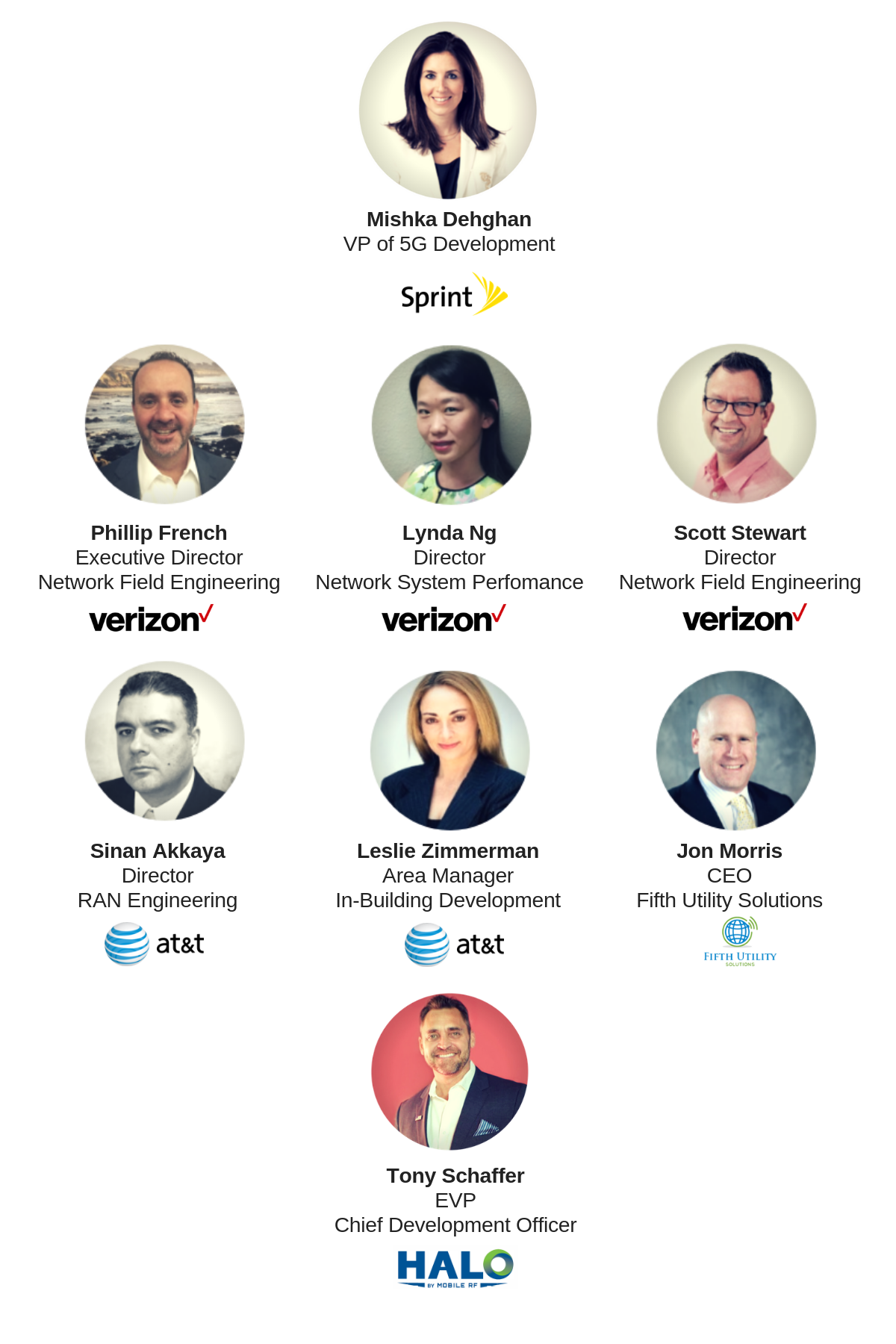 WHY SHOULD YOU ATTEND?
5G is no longer just a talking point; it's starting to become a reality. Verizon Wireless is using home broadband/fixed wireless as an entry point for its 5G and launching services in select markets. AT&T announced 19 cities that it will be launching 5G - 12 by the end of this year and seven at the start of 2019. Sprint is leveraging its 2.5GHz spectrum to launch 5G using massive MIMO.
These MNOs are signing multi-billion dollar deals with equipment vendors and solution providers to launch its 5G networks. Come to DASpedia's 5G Forum to learn about opportunities and implications for professionals involved in wireless network infrastructure.


EVENT AGENDA
9:00 – 11:00 am: Verizon Vendor Training hosted by Ivan Mitkov/VZW (Invitation required) - This session is full.
11:00 am – 12:00 pm: Vendor Exhibits and Networking Hour
12:00 – 1:00 pm: Luncheon sponsored by Leaf Communications
1:00 pm: DASpedia Opening Remarks - Event Host/Emcee is Tony Schaffer - EVP of HALO by Mobile RF
1:15 – 1:45 pm: 5G Forum Part I - Keynote Presentation by Mishka Dehghan – VP/5G Development of Sprint
1:50– 2:50 pm: Verizon Wireless Speaker & Team Panel Discussion
Phillip French – Verizon Wireless – Speaker/Moderator
Lynda Ng – Verizon Wireless – Panelist
Scott Stewart – Verizon Wireless – Panelist
3:00 – 3:55 pm: Networking/Vendor Exhibit Break sponsored by CAMP & ASSOCIATES, INC
4:00 – 5:00 pm: 5G Forum Part II - AT&T Team Panel Discussion
Leslie Zimmerman – AT&T – Panelist
Sinan Akkaya – AT&T – Panelist
Jon Morris – Moderator
5:00 – 5:10 pm: Closing Statement by DASpedia
5:10 – 7:10 pm: Vendor Exhibits &Networking Reception sponsored by ADRF
7:15 pm: Event Concludes

EXHIBIT & SPONSORSHIP OPPORTUNITIES
A few sponsorship opportunities are still available. If your company is targeting MNOs and interested in meeting new wireless professionals or exploring new opportunities, then DASpedia's 5G Wireless Technology Forum - San Ramon, CA is a must attend event. Our sponsor prospectus is available to download from HERE. Please send your sponsor inquiries to info@daspedia.com


FAQs
How do I get invited to this event?
This event is open to DASpedia's annual sponsors, members, and invited MNO guests only . You may contact us via email info@daspedia.com OR call us at 310 845 6458 for more info.
What's the refund policy?
Attendees can receive refunds up to 7 days before your event start date.
Do I have to bring my printed ticket to the event?
Yes
Can I update my registration information?
Yes
Is my registration fee or ticket transferrable?
Yes
How do I contact organizer/DASpedia?
You may contact us via email info@daspedia.com OR call us at 310 845 6458