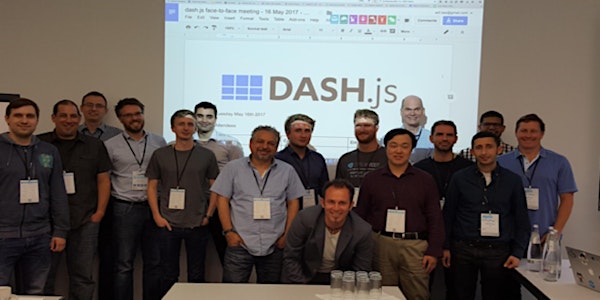 dash.js European Face-to-Face meeting 2018
Date and time
Monday, May 14, 2018 · 9:30am - 5pm CEST
Location
Fraunhofer-Institut für Offene Kommunikationssysteme FOKUS Kaiserin-Augusta-Allee 31 10589 Berlin Germany
Description
This meeting is the European face-to-face meeting of the dash.js project on GitHub. dash.js is an open-source MSE/EME-based DASH player, designed to be highly performant while still providing reference playback capabilities for the DASH standard. This meeting is open to all dash.js contributors, committers and interested parties to present/discuss architectural, feature, scope and planning input for the project. The meeting is free to attend. Lunch will be provided.

09:00 - 09:30 – REGISTRATION, WELCOME COFFEE
09:30 - 12:30 – MORNING SESSION
12:30 - 13:30 – LUNCH, NETWORKING
13:30 - 17:00 – AFTERNOON SESSION
18:00 – 21:00 - GROUP DINNER
This meeting is being hosted by Fraunhofer FOKUS in the same facility as the Media Web Symposium which is held the two days following this dash.js meeting. This makes for a 3 days packed with the latest in OTT/Media technology. This is a fantastic opportunity to meet industry experts around media and explore the industry context in which dash.js resides.
This event is strictly registration-only and first-come, first served. You must pre-register in order to attend. Once we reach the capacity limit of 30 attendees, we will close registration. Please be respectful and if you do register, you must attend. If you register and are then unable to attend, please cancel your registration to enable a fellow community member to take your place.
We look forward to meeting and working with you in Berlin.

Cheers,

Jesús and Will