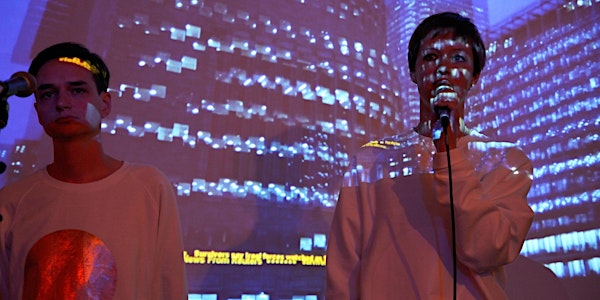 Das Hund – Alternative Living Tour
When and where
Location
Hauser Wirth & Schimmel 901 East 3rd Street Los Angeles, CA 90013
Description
Samuel Levack and Jennifer Lewandowski present Das Hund – Alternative Living Tour. The tour begins with a two-week residency at the Wagon Station Encampment in Joshua Tree, artist Andrea Zittel's high desert experiment in outdoor living. Whilst there, Levack and Lewandowski will shoot footage for their new film set in the Californian landscape and write poetry and lyrics for their band Das Hund's debut record, due for vinyl release in 2017. The tour then moves to Los Angeles for two art and music performances with Das Hund, where they will be joined by guest musicians: guitarist Nicholas Pankhurst and musical director Bryan Mills.
Das Hund's performances feature spoken poetry and songs – accompanied by live instruments and looped drumbeats remixed using analogue tape delays, with the artists' films projected across the set. They reimagine radical ideas that are returning to the popular imagination and reflect on concerns about the place of art in our contemporary society that increasingly seeks to commodify creativity. Amidst the growing political turmoil in the world today, Das Hund present a visionary exploration of the modern world.
The Alternative Living Tour will take them on a journey through the desert landscape of Joshua Tree and the city of Los Angeles, inspired by activist Nicholas Saunders's counterculture guidebook 'Alternative England and Wales' (1975). Travelling with them will be writer Ellen Mara De Wachter, who they have commissioned to write the script for their new film, contextualising the journey against the backdrop of the concurrent US presidential election.
Samuel Levack and Jennifer Lewandowski 's collaborative practice includes performance, installation, music, poetry, video, painting and sculpture. Their work has been shown across the UK, in Europe and the USA. Current and recent exhibitions include 'East Wing Biennale', Courtauld Institute, London (2016-7), 'Wysing Polyphonic', Wysing Arts Centre, Cambridge, UK (2016), 'Now Age', Garage Rotterdam, Netherlands (2015). Their ongoing artist commission in ArtReview continues in the October issue of the magazine.
Das Hund is a performance project by artists Levack and Lewandowski plus a changing line-up of invited guest musicians. Recent performances include Somerset House, London (2016), Serpentine Galleries, London (2015) and Whitstable Biennale, UK (2014).