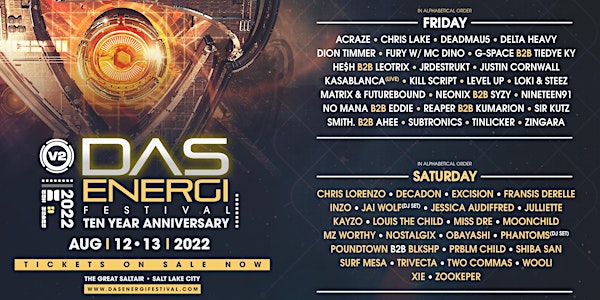 Performers
deadmau5, Excision, Louis The Child, Subtronics
1991, ACRAZE, Ahee, Chris Lake, Chris Lorenzo, Decadon, Delta Heavy, Dion Timmer, Eddie, Fransis Derelle, Fury + MC Dino, G-Space, HE$H, INZO, Jai Wolf, Jessica Audiffred, Kasablanca, Kayzo, Kill Script, Kumarion, Leotrix, Level Up, Matrix & Futurebound, Miss Dre, Mz Worthy, Neonix, No Mana, Nostalgix, Phantoms, Reaper, Shiba San, Smith., Surf Mesa, Syzy, tiedye ky, Tinlicker, Trivecta, Wooli, Xie, Zingara, Zookëper
Location
The Great Saltair
12408 W Saltair Dr
Magna, UT 84101
An advanced experience awaits on August 12th & 13th at the Das Energi Festival 10 Year Anniversary!
About this event
Das Energi Festival 2022
Featuring:
Friday August 12th
Deadmau5, Subtronics
Plus In Alphabetical Order:
Acraze, Chris Lake, Delta Heavy, Dion Timmer, Fury + MC Dino, G-Space b2b Tiedye Ky, He$h b2b Leotrix, JRDestrukt, Justin Cornwall, Kasablanca (LIVE), Kill Script, Level Up, Loki & Steez, Matrix & Futurebound, Neonix b2b Syzy, Nineteen91, No Mana b2b Eddie, Reaper b2b Kumarion, Sir Kutz, Smith. b2b AHEE, Tinlicker, Zingara
Saturday August 13th
Excision, Louis The Child
Plus In Alphabetical Order:
Chris Lorenzo, Decadon, Fransis Derelle, INZO, Jai Wolf (DJ Set), Jessica Audiffred, Julliette, Kayzo, Miss Dre, Moonchild, Mz Worthy, Nostalgix, Obayashi, Phantoms (DJ Set), Poundtown b2b Blkshp, Prblm Child, Shiba San, Surf Mesa, Trivecta, Two Commas, Wooli, XIE, Zookëper
-The Current That Connects Us All-
Re-watch the Das Energi Festival 2021 after movie below!
2-DAY Wristbands
2-DAY Passes will be exchanged for wristbands. Multiple opportunities will be provided to exchange your pass for a wristband leading up to the event, or you can exchange your pass for a wristband when you arrive to the venue.
VIP
Enhance your Das Energi Festival experience with a VIP pass.
VIP passes are for Ages 21+ Only.
Das Energi 2022 VIP Passes include:
VIP only line at the front gates, quick seamless entry into the festival.
VIP Lounge at Synergy Station - Private VIP only bar with areas to hang out and chill.
VIP viewing area at Energi Field - Viewing area in the middle of the crowd, with plenty of room to dance.
VIP Zone at The Galactic Flats - Free water + VIP only bathrooms on the beach. Plus areas to sit and hang out with friends.
VIP viewing area at The Temple of Boom on The Galactic Flats- Viewing area in the middle of the crowd on the beach stage; The Temple of Boom.
Single Day Passes
Single Day GA passes will be available starting April 29th at 10AM MT.
Single day pass holders will NOT receive a cloth festival wristband.
Shuttles Passes
Our convenient shuttles run loops from Downtown Salt Lake City and from hotels near Salt Lake City Airport.
Shuttle Passes are being sold on our partner website, go HERE to buy your shuttle pass now.
Mobile Charging Lockers
Keep your items safe and secure throughout the weekend—and your phone fully charged—by renting a mobile charging locker. Find lockers under "Add-Ons" when you're selecting your tickets here on Eventbrite.
What Time Does The Festival Start and End?
Das Energi Festival hours are 5:00pm – 2:00am each night.
Additional Frequently Asked Questions
Find more answers to frequently asked questions at https://dasenergifestival.com/faq