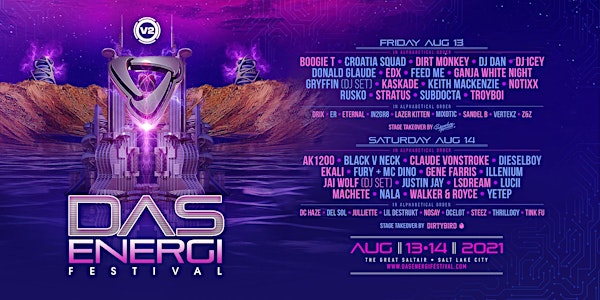 Performers
Ak1200, Black V Neck, Boogie T, Claude VonStroke, Croatia Squad, Dieselboy, Dirt Monkey, DJ Dan, DJ Icey, Donald Glaude, EDX, Ekali, Feed Me, Fury + MC Dino, Ganja White Night, Gene Farris, Gryffin, Illenium, Jai Wolf, Justin Jay, Kaskade, Keith Mackenzie, LSDream, Lucii, Machete, Nala, Notixx, Rusko, Stratus, SubDocta, TroyBoi, Walker & Royce, Yetep
DelSol, Drix, ER, Eternal, In2gr8, Julliette, DC Haze, Lazer Kitten, Lil Destrukt, Mixotic, Nosay, Ocelot, Sandel B, SL Steez, Thrillogy, Tink Fu, Z&Z
Location
The Great Saltair
12408 W Saltair Dr
Magna, UT 84101
Join us on Aug 13th & 14th, 2021 for the much needed return of Das Energi Festival!
About this event
For the most up to date information available - RSVP ON FACEBOOK
Das Energi Festival 2021
Featuring:
AK1200 x Black V Neck x Boogie T x Claude Von Stroke x Croatia Squad x Dieselboy x Dirt Monkey x Dj Dan x DJ Icey x Donald Glaude x EDX x Ekali x Feed Me x Fury x MC Dino x Ganja White Night x Gene Farris x Gryffin (DJ Set) x Illenium x Jai Wolf (DJ set) x Justin Jay x Kaskade x Keith Mackenzie x LSDream x Lucii x Machete x Nala x Notixx x Rusko x Stratus x Subdocta x Troyboi x Walker & Royce x Yetep
Delsol x Drix x ER x Eternal x Ingre8 B2B Vertekz x Juliette & DC Haze x Lazer Kitten x Lil Destrukt x Mixotic x Nosay x Ocelot x Sandel B x SL Steez x Thrillogy x Tink Fu x Z&Z
-The Current That Connects Us All-
Visit DasEnergiFestival.com for FAQs & more.
Re-watch the Das Energi Festival 2019 aftermovie below & get hyped up for the return of live events!
2-DAY Wristbands
2-DAY Passes will be exchanged for wristbands. Multiple opportunities will be provided to exchange your pass for a wristband leading up to the event, or you can exchange your pass for a wristband when you arrive to the venue.
No wristbands will be provided for Single Day Passes.
Shuttles Passes
Please read more about Shuttle Passes at dasenergifestival.com/travel before making your shuttle purchase. Additional details will be sent in your confirmation email after placing an order for a shuttle pass regarding parking and bus rules.
Mobile Charging Lockers
Charge your phone & store your belongings safely with a mobile charging locker while enjoying the show. Lockers are available to pre-order.