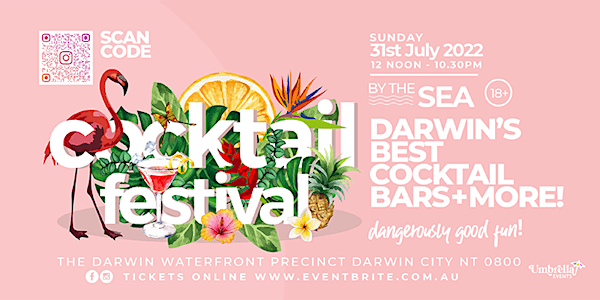 Darwin Cocktail Festival 2022
Location
Darwin Waterfront Precinct
19B Kitchener Drive
Darwin City, NT 0800
Australia
Showcasing the best restaurants, cocktail bars, food stalls, entertainment and over 40 locally inspired cocktails on offer + More!
About this event
Darwin Cocktail Festival 2022
Showcasing the Best Restaurants, Cocktail Bars, Food Stalls, 3 STAGES of Entertainment and over 40 locally inspired Cocktails on offer + More!
Paradise Stage :
Think Funk, Reggae, Soul and a Splash of Disco
General Island Bar, Daiquiri Shack, The lost Arc , Bella Darwin and The Pimm's VIP Picnic & Cocktails
Mambo Stage : NEW!
Think Salsa, Samba, funky jazz
Mayberry Bar & Nightclub - Ebb & Flow Darwin
Mexican street eats, Cocktails, Mojito's & Margaritas
Splash of Disco Beach club: NEW!
Think Disco Beatz, Beach Cabana's, Sunbeds, Cocktails and Asian Eats .
Chow Restaurant & Bar -Beach Club Bar & Bannsang Restaurant
Splash of Disco BOAT CRUISE , 3 levels of entertainment ,bars, cocktails ,rocking it out on the the Darwin Harbour and finishing off at the Splash of Disco Beach Club! (Limited tickets due to boat capacity.)
Downunder Land :
Australian Locally inspired cocktails, Dom's Bar & Lounge, Phat Mango ,Willing Distilleries - One Mile Breweries
Keep in tune for more Cocktail stalls to be announced.
Dangerously good fun!
18+ event
What you need to Know :
Darwin Cocktail Festival may vary these Terms and Conditions at anytime. By making a purchase after the terms and Conditions have being varied, you agree to the variation. Please read these Terms and Conditions carefully before confirming your purchase. By making a purchase you agree to the following Terms and Conditions, and any variations as per the above.
COVID-19: How will you make the event as safe as possible for attendees?
The event organisers have a COVID-19 Event Safely Plan in place and will follow the guidelines set out by the Department of Health.
How can patrons assist?
• We ask that if you are feeling unwell or displaying COVID-19 symptoms (such as fever, cough or shortness of breath, sore throat or tiredness) to not attend the event.
• Practice social distancing by keeping 1.5 meters between you and a person not known to you and keeping close contact to under 15 minutes.
• Practice hand hygiene by washing your hands or using hand sanitiser.
• We encourage patrons to pay using the eftpos facilities to minimise cash handling.
Patron Ticketing and Entry Conditions:
• All patrons must have a valid ticket to access the event.
• This is a 18years+ event.
• The promoter reserves the right to refuse any patron without appropriate identification.
• The only forms of valid photo ID that will be accepted for persons wishing to drink alcohol are a current Australian driver's licence, a current passport or a current state issued proof of age card.
• All persons, bags and containers are subject to a full search at entry to ensure the safety of patrons. Prohibited items will be confiscated (and only returned at Promoters discretion) except for illegal drugs, which will be handed over to police. The Event organisers do not take any responsibility for confiscated items.
• Every person entering the event will receive a wristband if this wristband is removed for any reason you will be removed from the event or you will need to purchase an admission ticket.
Venue Terms & Conditions:
• Entry is at own risk. The right to refuse entry is reserved.
• Alcoholic beverages must not be taken into or out of the Venue.
• Anyone found to be supplying or buying alcohol for a minor will be evicted from the Venue and will possibly face criminal charges.
• During the Event, patrons must remain on designated pathways and follow official directions by Venue Staff and Security.
• Trespassers and anyone assisting trespassers will be evicted from the Venue.
• Smoking is only permitted in marked designated smoking areas.
• Pass-outs may be issued at the discretion of the Door Manager.
• The Promoter and the Venue shall not be held liable for any loss, injury or damages sustained entering or within the premises.
• Small still cameras (including those with a recording function) and mobile phones are permitted for personal use only. Please respect the privacy of all other patrons, artists and service providers when using your camera or mobile phone.
• As members of the audience, ticket holders' consent to being included in photos, sound and live video recordings that can be used by the promoter approved media outlets for promotion of the event.
• It is a condition of entry that all patrons agree not to behave in a manner that interferes with the enjoyment of other patrons. Promoters and Security reserve the right to eject any person contravening this.
• DANGEROUS ACTIVITIES WILL NOT BE TOLERATED. This includes aggressive moshing, stage diving, crowd surfing and climbing. Patrons participating in these dangerous activities will be evicted without right to re-entry or refund. The Promoter accepts no liability for any injuries or damages caused by these activities.
• In the case of an emergency evacuation or situation, please follow all official directives.
• The Promoters or the event will not be held liable for any hearing damage or loss. Use earplugs if necessary.
• The Promoter reserves the right to change the line-up without prior notification. In the event of a change of lineup, refunds will not be available.
What items can't be brought into this event.
• No BYO alcohol, soft drinks and non-alcoholic beverages are permitted.
• No illicit drugs are permitted.
• No glass, knives, weapons, lasers, fireworks, umbrellas, prams, bulky items (such as eskies, sunshades, tents, tables) or animals are permitted.
• No outside food is to be brought into the venue.
• Offensive clothing
• Professional still cameras (such as an SLR), professional video cameras (including go-pros), sound recording equipment and professional lighting and tripod set ups are not permitted without written authority Umbrella Events.
What can be brought to this event?
• Special requirement food that can not be reasonably purchased inside the venue.
• Sealed bottled water
Picnic Blanket and towels
What's your stance on antisocial behaviour?
We have a Zero Tolerance approach for any antisocial, aggressive, dangerous or intimidating behaviour, vandalism, theft, underage drinking, supply of alcohol to minors, consumption and possession of any illicit substances. Any of these activities will result in immediate eviction from the venue.
Is there an ATM and EFTPOS at the event?
There will be an ATM at the event. Eftpos facilities will only be available at the front gate to purchase entry tickets.
Is First Aid available?
There will be a First Aid Marquee with trained First Aid personnel on site.
Where is Lost Property?
Lost property will be kept at the box office throughout the event and will be held by the Promoter for three days after the event before being taken to the local Police Station. No responsibility is accepted by the Promoter for property.
Contact us through our Facebook page for inquiries.
Are Companion Cards accepted?
Carers accompanying a disabled or restricted mobility person will be admitted free in the company of the ticket holding person they are caring for. This is valid for one carer per person.
Can lost tickets be replaced?
No. Once the ticket sale is processed the purchase is final. While obviously we sympathize with you if you lose your ticket, we are unable to reissue. Even if we have a record of your purchase, we cannot be certain that other less scrupulous members of the public will not use the ticket. Please treat your ticket like cash, as they are irreplaceable.
What if I purchase tickets from a third party?
The official ticketing agency for this event is eventbrite.com.au Validity of your Tickets can only be ensured by purchasing the Tickets directly from this Authorised Seller.
Invalid or fake tickets are tickets that do not allow you admission to an Event (for example, because there are multiple versions of the same Ticket or the tickets are not genuine).
Tickets purchased through third parties such as Viagogo, Ebay, Gumtree, Facebook, etc are done so at the customers own risk. Fraudulent tickets will not be honoured
Can I get a refund or Exchange?
No refunds or exchanges except as required by and/or specified by the Entertainment Industry Code of Fair Practice. Incorrect purchases are NOT guaranteed a refund and are at the discretion of the promoter. If the event is cancelled, patrons will receive a ticket refund .The Eventbrite's booking fees are nonrefundable.
If you are asked to leave the event for any reason or you choose to leave for any reason you will not be entitled to a refund.
EVENT NOTES:
PLEASE NOTE: Only the first scan of each ticket will allow entry to the festival. Duplicate ticket holders will be refused entry to the festival.
THIS IS A 18 YEARS+ EVENT ONLY.
Do not purchase tickets from unknown parties - they may not be legitimate.
Darwin Cocktail Festival .