Sales Have Ended
Ticket sales have ended
Please visit the Tasting Room for draft pours and follow our Facebook + Instagram for news about our next bottle release!
Sales Have Ended
Ticket sales have ended
Please visit the Tasting Room for draft pours and follow our Facebook + Instagram for news about our next bottle release!
Description
We're thrilled to announce the annual return of Darkstar November, the Bourbon Barrel Aged Imperial Stout that started it all!
Decoded images from Eve's transmissions unveil snippets of sweet molasses and spicy rye. Velvety vanilla and bourbon-soaked chocolate oak have been detected and will prove to have thoroughly infiltrated the fifth batch of this 14% ABV Imperial Stout.
This release also marks the third bottled batch of our legendary RedEye November, a Level II variant which features an exclusive blend of Brazil Oberon and Sumatran beans from our friends at
Mostra Coffee.
Flavors of dark fruit, baking chocolate, and caramelized sugar meld with the spicy rye malt and bittersweet molasses of Darkstar November, our original barrel-aged beer.
Ticket Purchase Details
Academy of Exploration Bonus Bottle Sale will run from 12:00am 11/11 -11:59pm 11/17.
Public Bottle Sale: Sunday 11/18

12:00pm: Darkstar November 2018 bottle tickets go live. $22.95 each, limit three per person.

12:15pm: RedEye November 2018 bottle tickets go live. $23.95 each, limit two per person.

12:30pm: Branded glassware tickets go live. Limit two per style per person. The DSNB5 glass is $8 12oz, the metal/enamel RENB3 4oz espresso mug is $4.

These prices do not include Eventbrite tax + processing fees.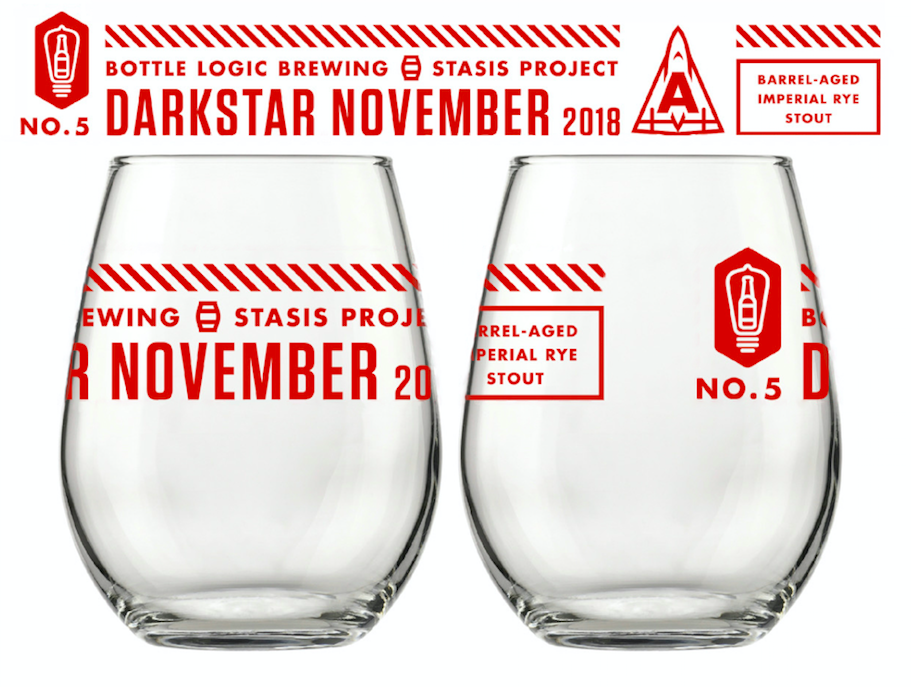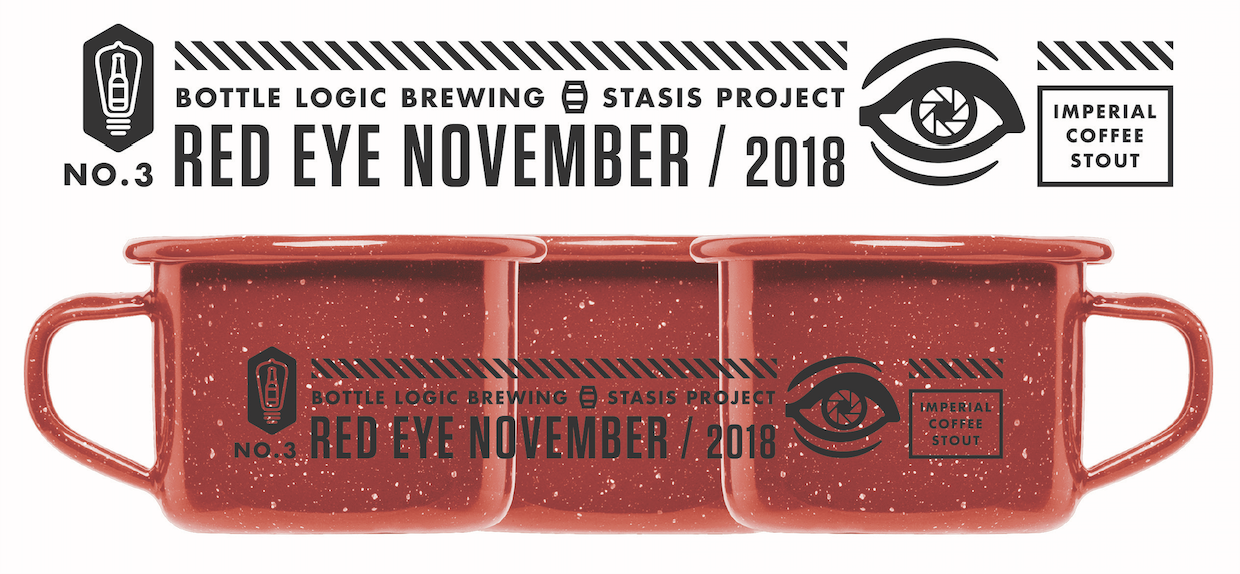 Pickup Details
Tickets may be redeemed at the Bottle Logic Tasting Room beginning at 12:00pm 11/20 - 8:00pm 12/9 during regular Tasting Room operating hours only.


The Tasting Room will open for extended holiday hours [12:00pm - 11:00pm] on both 11/20, and 11/21.


Bottle Logic will be closed on Thanksgiving, 11/22.


Please visit bottlelogic.com for holiday closures, operating hours, and location details.
---
---
Please pay very careful attention to all of the listed details and stipulations. There will be no exceptions to the release structure outlined below -- your purchase signifies your thorough understanding of the following:
---
---
Once you've selected your desired ticket quantity and clicked "Checkout," Eventbrite treats the registration page as a waiting room with a six-minute time limit, but it does not hold your tickets! Have your Government Issued ID (drivers license, passport, or military ID) and form of payment on hand and ready to go. Move through that screen as quickly as possible - the tickets are officially yours once the credit card payment has been processed.


In the interest of ensuring our local patrons don't get shut out of online sales, we do not permit 'proxy' pick-ups.
The name entered as the Ticket Buyer must match the name on the credit card used for purchase. Conflicting orders will be deleted. When retrieving your bottles you must present your valid ID and the information must match. You may be asked to present the credit card used for your purchase upon pick-up.
To exchange your tickets for your purchases, you must bring your tickets (printed or mobile) and show your VALID ID that matches the name and ID number on the ticket. Expired, hole punched or otherwise damaged IDs will not be accepted, even with DMV paperwork – this has been and will continue to be our house policy.
If tickets do not sell out online, bottles may be available for purchase in the Tasting Room after the sale concludes.
Release Party
We're hosting the Darkstar November + RedEye November release party on Tuesday, 11/20, where you will be able to enjoy draft pours of this beer as you exchange your Eventbrite tickets for your purchases at a convenient pick-up station. No tickets are necessary to attend, everyone is welcome!
---
Logistics
To reiterate, the absolute FINAL day to pick up purchases made in this online sale is Sunday, 12/9. Items not retrieved from the Tasting Room by 8:00pm on Sunday, 12/9 will be surrendered back to the brewery and immediately resold through our distribution channels. Ticket holders seeking refunds for abandoned purchases must contact us directly at refund@bottlelogic.com.
---
Bottle Logic Brewing – Policies, Terms and Conditions
Shipping Policy
Bottle Logic Brewing does not ship purchases to consumers. All purchases are only available for pickup at the Bottle Logic Tasting Room during standard hours of operation during the stated pick-up window. For location and hours, visit bottlelogic.com!
Returns & Exchanges
No returns or exchanges will be made; all sales are final. Purchases abandoned at the brewery after the pickup window closes will be immediately resold, all claims will be forfeited. Ticket holders of abandoned bottles may inquire about refunds by emailing refund@bottlelogic.com.
Order Acceptance Policy
Your receipt of an electronic or other form of order confirmation does not signify our acceptance of your order, nor does it constitute confirmation of our offer to sell. Bottle Logic Brewing reserves the right at any time after the receipt of your order to accept or decline your order for any reason or to supply less than the quantity you ordered of any item.
Privacy on Other Websites
Other sites accessible through our site have their own privacy policies and data collection practices. Please consult each site's privacy policy. Bottle Logic Brewing is not responsible for the actions of third parties.
Links
This site may contain links to other sites on the Internet that are owned and operated by third parties. You acknowledge that Bottle Logic Brewing is not responsible for the operation of or content located on or through any such site.
Copyright and Trademark Notice
Unless otherwise specified, all materials appearing on this site, including the text, site design, logos, graphics, icons, and images, as well as the selection, assembly, and arrangement thereof, are the sole property of Bottle Logic Brewing, LLC ® 2013, ALL RIGHTS RESERVED. You may use the content of this site only for the purpose of shopping on this site or placing an order on this site and for no other purpose. No materials from this site may be copied, reproduced, modified, republished, uploaded, posted, transmitted, or distributed in any form or by any means without the prior written permission of Bottle Logic Brewing. All rights not expressly granted herein are reserved. Any unauthorized use of the materials appearing on this site may violate copyright, trademark and other applicable laws and could result in criminal or civil penalties.