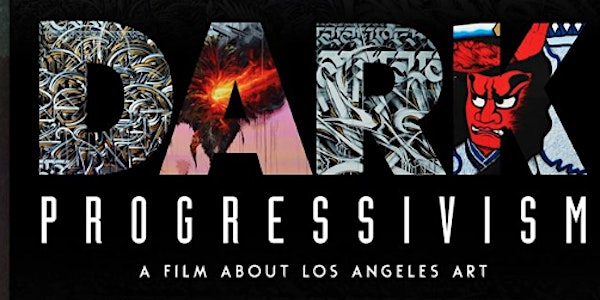 Dark Progressivism documentary pre-screening // Q & A with Greg Escalante // Mural and neighborhood tour with Steve Grody
When and where
Location
The Container Yard 412 Seaton Street Los Angeles, CA 90013
Description
Join Cartwheel Art in our neighborhood of the Downtown Los Angeles Arts District, to celebrate World Art Day IAA-UNESCO, hosted by Downotown LA Art Walk!
Dark Progressivism pre-screening and Q & A at The Container Yard:
Ticket price for the film and Q & A: $15.00 // Time: 1:00pm - 3:30pm // Location: The Container Yard
Cartwheel Art and Dark Progressivism film writer/director Rodrigo Ribera d'Ebre, have partnered with The Container Yard to bring you the firrst LA pre screeing of the highly anticipated full length documentary, Dark Progressivism.
An official selection of the Newport Beach Film Festival,"Dark Progressivism" is a riveting inside look at the Los Angeles history of graffiti and tattoo art, the street gangs' influence on these arts, and the social conditions experienced during a specific time period. Featuring artists like Big Sleeps Alex Kizu (Defer), Joe Prime Reza, Heaven (Juan Carlos), Willy Heron, and Chaz Bojorquez, authors, academics and law enforcement officials,
"Dark Progressivism" explores the artists' urge to create and the forces working for and against their desire for self-expression, set against one of the most turbulent periods in Los Angeles' modern history.
Check out the trailer for Dark Progessivism here.
Following the film, there will be Q & A with director/writer, Rodrigo Ribera d'Ebre hosted by the legendary Greg Escalante, co-founder of Juxtapoz Magazine, owner of Copro Gallery and the newly opened Gregorio Escalante Gallery. Rodrigo is a contributor to the Huffington Post, the Los Angeles Review of Books and Cartwheel Art, and the author of Urban Politics: The Political Culture of Sur 13 Gangs.
Cartwheel Art is a sponsor of the film and Lisa Derrick, Cartwheel Art Magazine editorial director, is the associate producer.
More on Dark Progressivism can be found on the Cartwheel Art Magazine Save the Date here.

Plus.....
BONUS: Arts District Neighborhood and Mural Tour with Steve Groduy and Cindy Schwarzstein:
Ticket Price: $25.00 (or discounted to $35.00 if purchasing both pre-screening/Q&A ticket and tour ticket) // Time: 3:30pm - 5:30pm // Location: We will meet outside at The Container Yard
For those that would like to continue celebraring World Art Day with us, Cartwheel Art Tours has designed a special tour to tie-in the Dark Progressivism film, wuth co-host and author of Graffiti LA. Steve Grody, who was also in the film, will show us murals and street art, some by artists in the film as he expands further into the background and diversity of letterings and styles with the graffiti art, that we wil be viewing.
Cindy Schwarzstein, Cartwheel Art founder, who reisides in the Arts District and is also on the neighborhood council, will provide an insider perspective of this area that was once a gritty section filled with disused warehouses, train tracks and manufacturing plants by the LA River, to what is now becoming one of Los Angeles' most unique, dynamic, art-centric and rapidly changing neighborhoods.
It's on this tour where you will learn about the history, new developments and unique artisan businesses in the neighborhood. Cindy will also be introducing the 40 galleries, art centers and museums that now call the Arts District and adjacent industrial neighborhoods their home.
More details about the tour are as follows:
DISCOVER: Murals and street art/graffiti in the DTLA Arts District with Steve Grody, who was also a resident of the Arts District for 27 years and was part of MOCA's Art in the Streets 2011 exhibition. Steve will speak to the group about graffiti lettering and styles, and the difference between gang writing and the types of street art and murals. .
In addition to viewing murals and art in The Container Yard by Dark Progressivism artists Big Sleeps, Defer, Heaven and Prime--for those that are with us duirng the film pre-screening--we will view the work of Skill, who is also in the film, and painted in the UTI Crew's Hall of Fame Yard..
Other murals viewed on our urban walking adventure, will include those at Hauser, Wirth & Schimmel, where Steve Grody worked with them to identify the artists on their walls. (See more about Hauser, WIrth and Schimmel here from Cartwheel Art, here from Cindy Schwarztein, and here from Steve Grody).
There will also be murals viewed by artists: Kim West, How & Nosm, Dabs & Myla, JR, Tristan Eaton, Shepard Fairey, RISK, Damon Martin and more.
EXPLORE: the Arts District, home to over 30 galleries, (some in adjacent industrial neighborhoods), plus major art centers and museums, along with breweries, distilleries, coffee roasters, cafes and restaurants, and other specialty, artisan businesses and boutiques.
It's at Art Share LA, where we will view the exhibition Faces in the Crowd. The exhibition, created for World Art Day, explores the human face and how it's been the site of mystery, symbolism, memory, aspirations and longing negotiated between representation of truth and interpretation of style.
EXPERIENCE:
Angel City Brewery, will provide to us a tour of the historic former John A. Roebling's Sons Company Warehouse, now housed by Angel City Brewery. It is on the tour, where we will learn about the historic decorative tiles by Ernest Batchelder and see the banister made with the suspenion cables that were originally prodcued in the warhouse douring its earlier incarnation. There will also be a tasting of Angel City Brewery's hand-crafted beer. Guests of the World Art events with Cartwheel Art Tours in the DTLA Arts District will receive 10% discount at Shreebs Coffee during the day. The code will be sent by email the night before the event.
Notes for the event at The Container Yard and tour:
- Shreebs Coffee is offering a 10% discount to ticket holders. Code will be in an email before tour.
– Please dress for the weather and wear comfortable walking shoes.
– Ages 12 and up. All minors must be accompanied by an adult.
– Street parking is available, please read signs carefully and park at your own discretion.
– Proceeds goes to Dark Progressivism to support in fundraising for the film, and to speakers and hosts on the tour.
- Ages 21 and up for the tour and tasting at Angel City Brewery
– Photography is encouraged! Tag the following:
Cartwheel Art: @cartwheel_art #cartwheelarttours
Dark Progressivism: @darkprogressivism #DarkProgressivism
Steve Grody: @steve_grody #SteveGrody #GraffitiLA
The Container Yard: @thecontaineryard #TCY
Angel City Brewery: @angelcitybeer #AngelCityBrewery
Shreebs Coffee: @shreebscoffee
Art Share LA: @artshare_la
Advance Tickets Only. All Sales FinaL