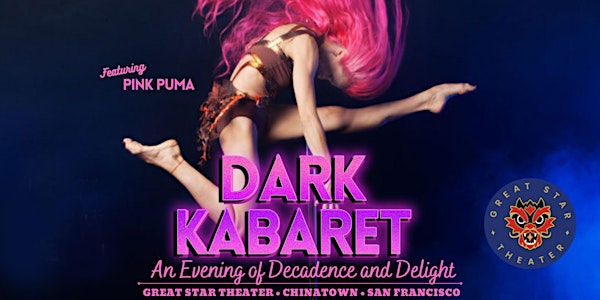 Multiple dates
Dark Kabaret
Timeless and timely, Dark Kabaret is the sweet nexus of magic, comedy, music, and diverse entertainment. Anything can happen!
Date and time
November 18, 2022 · 8pm - November 26, 2022 · 11pm PST
Location
Great Star Theater 636 Jackson Street San Francisco, CA 94133 United States
Refund Policy
Refunds up to 1 day before event
Eventbrite's fee is nonrefundable.
About this event
Discover something new. Dark Kabaret is San Francisco's showcase for the world's finest variety artists. It's a decadent evening in a hundred year old Chinese Opera house as mysterious and magical as the show.
Your host, Paul Nathan (HBO, MTV, Star Trek Voyager), welcomes you to an evening of unbridled passion, music, humor, and artistry. Your host travels the world performing from Berlin to Broadway, gathering together top artists to share with you. Eric McFadden provides a dark, sexy soundscape as each artist inspires, delights, and thrills.
Doors at 7
Band starts playing at: 7:30
Show at 8pm.
Dress up pretty.
About Dark Kabaret
This San Francisco only event comes once a year. The perfect mixture of sumptuous champagne, an array of beautiful gowns, gentlemen in their finest frocks. Dark Kabaret is the place to bring a first date or to take your BFFs for a perfect night out. Timeless and timely, Dark Kabaret is the sweet intersection of magic, comedy, music, and erotic entertainment—all in one beautiful room for your pleasure. Get your tickets now as the show does sell out.
This year's lineup includes artists from all over the world. Below are a few of the artist sharing the stage this year. There are more to come and always some surprises.
Sadie Angel
We have just added Sadie Angel. Yes that is her doing a single arm stand while shooting a bow and arrow upside down with her feet. Yes she really does that. Yes it will be in the show, only better because the music will be Eric McFadden live. You will be blown away.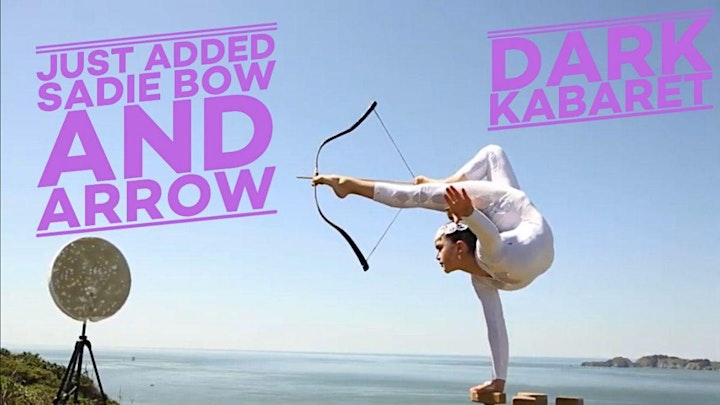 This year's Kabaret will be very different.
Here's just some of the lineup.
Shadow Dance and Magic - Cast
Acrobatic Bow and Arrow - Sadie Angel
Rhumba Rhumba - Belicia & Josh
Cafe du Flamb
Aerial Silks - Pink Puma
Frank Olivier - Tricks to Happiness
Dream a Little Dream with The Beautiful Jewels
Rosemary Le shares some Laser Mind Control
Eric McFadden plays Freaks Like us and so much more.
Kate Vargas sings Songs from Rumpumpo.
More...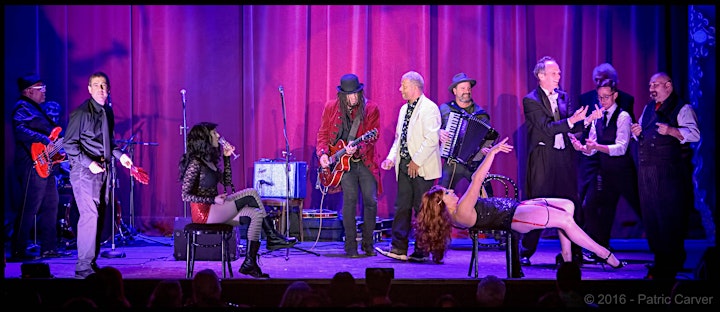 Pink Puma
Her physicality and grace are like nothing you have ever seen. Watching her it's easy to forget just how dangerous it is to do tricks twenty feet in the air. She makes the most challenging tricks look like floating in a quiet grotto. Last year Pink Puma blew us all away with her physicality and grace but we only had her for one weekend. This year Pink Puma is bringing her specialty to us. Promising a nexus of masterful control, creativity, and fearless athleticism. Like you, we can't wait to see what she brings.
Dafe du Flambè
Your host, Paul and Frank Olivier will be bringing Cafe Du Flambe. It's one of our favorite bits to perform and one of our guests favorite acts to share.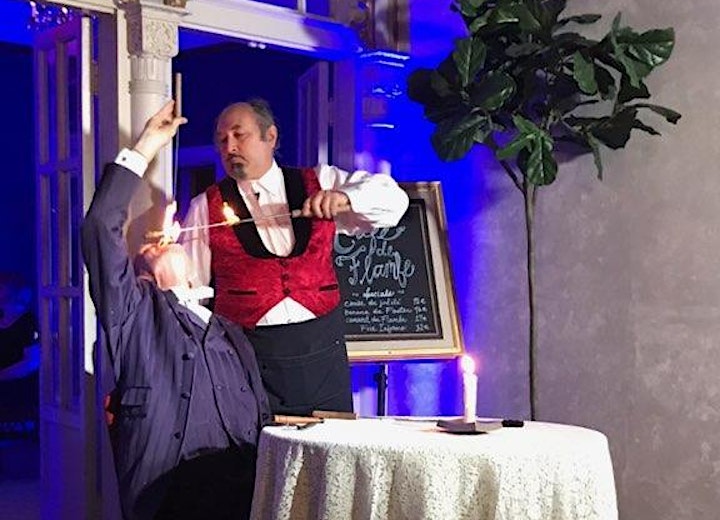 The Beautiful Jewels
Jewels is flying in from Germany just to be with us. Her artistry is not just elegant but whimsical as well. We all dream. We dream about work and play and life and things we imagine. For Dark Kabaret Jewels invites us to share a dream she had about work. Of course she works in the circus, so her dreams are a little bit different.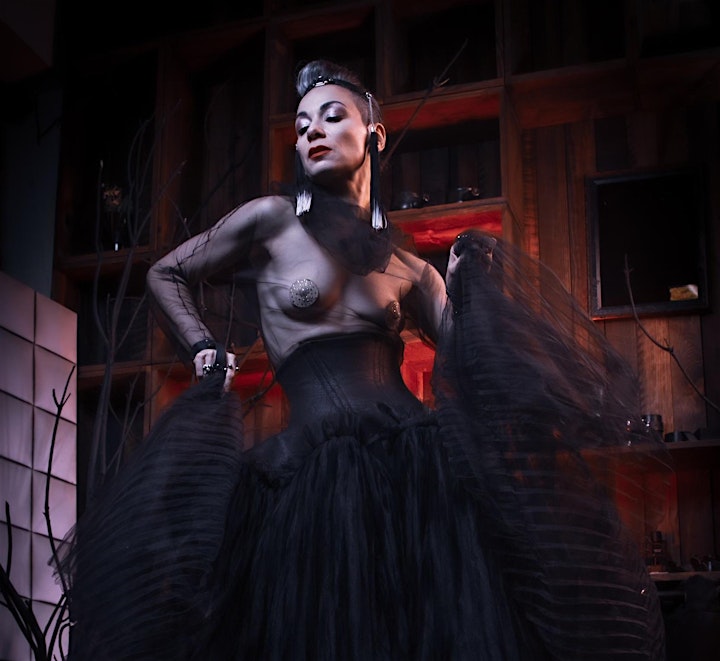 Frank Olivier
Frankie is a creative force of nature. We are all just lucky that he uses his power for good and not for something evil like lawering or tech... No one owns the stage like Frank and no one is more fun to share the stage with. Frank says he's got something special for us and I believe him. We are all going to have a blast with Funny Frank.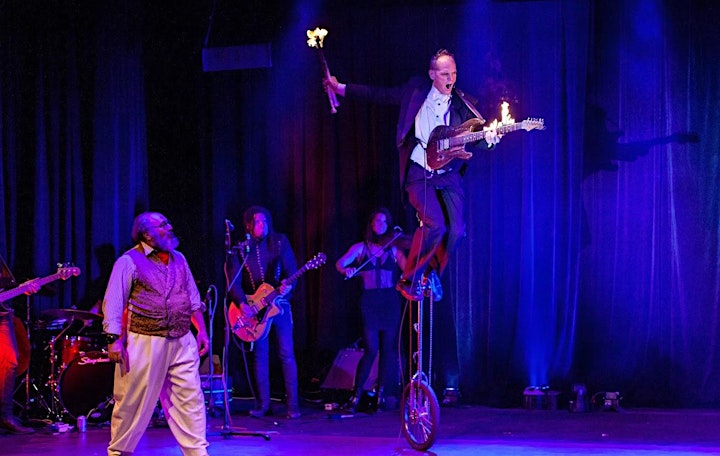 Rosemary Le
If have seen Rosemary Le in one of our shows then you may know that she is an evil scientist by day working for a tech company to use lasers for mind control experiments. (All true)
The experiments are working better than anyone ever imagined. What her bosses don't know is that Rosemary has got herself an evil lair in the fly loft above the stage at Dark Kabaret where she has perfected her invention
So if you feel yourself start to fall in love with our lithe, spinning, scientist then it may be her blazing talent. Or it could be the way she effortlessly moves from one impossible position to the next, seemingly without a care in the world. Or it just might be that you have fallen victim to one her most powerful Mind Control Lasers. Lookout or she will make willing servants of us all.
(hint) Ask the staff about aluminum hat making supplies. Your only defense is to dawn your home made aluminum helmet and hope fo the best. Good luck my friends... It's too late for us... We're hooked for life.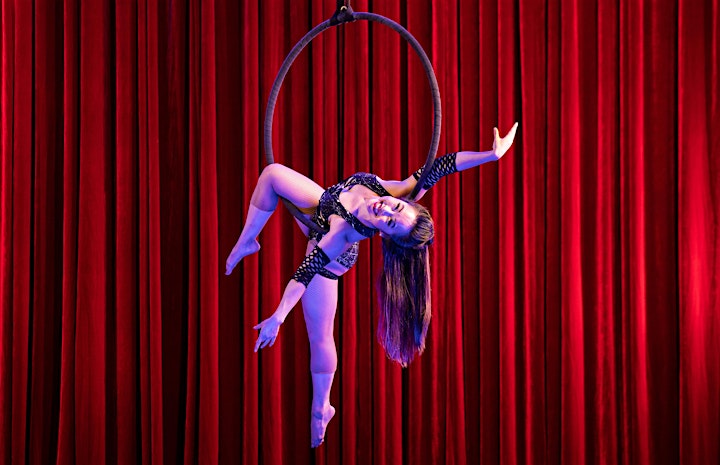 Eric McFadden
Eric's music transports you to our world. There is no defense. The sounds imbue you with primal feelings. Haunting thoughts come unbidden as Eric's gravel smooth poetry and guitar speak directly to your soul. Step right up my friends... Your at the circus now. A very weird, dark circus. Welcopme to Dark Kabaret - Anything can happen here.
It's a delicious conversation that is a joy to participate in and something special to experience in the crowd. The clip below isn't from Dark Kabaret but it should give you an idea of Eric's artful mastery of the guitar and his charismatic electricity on stage.
Kate Vargas
Kate weaves a musical spell that will leave you in thrall. She's only there the first weekend though so if you want that Vargas Effect then you got to get to it.
COVID-19 Policy
Following local health orders, masks and vaccines are no longer required, although they are still encouraged. We have a brand new HEPA air filters running constantly cleaning the air and we regularly disinfect the various surfaces in the theater. By purchasing tickets to an event, you agree to comply with any restrictions which may end up being in place. Refunds are available if you if you are sick. Thank you for your understanding as we do our best to provide the best experience to all.

Our audience is everything. You are as much a part of each show as we are. We invite you to dress up, and be a part of the the party. Feel free to send us questions comments, or just a hello. Dark Kabaret is all of our party.
About the organizer
The Great Star Theater is a historic 500-seat live event venue built in 1925 that has hosted countless Chinese operas, classic Hong Kong movies, and traditional Asian stage plays. More recently it has been a home for the local arts community hosting events like Dark Kabaret, Misfit Cabaret, Vespertine Circus, film festivals, and so much more. Come dress up and enjoy the magic, history, and excitement of the Great Star Theater!