Description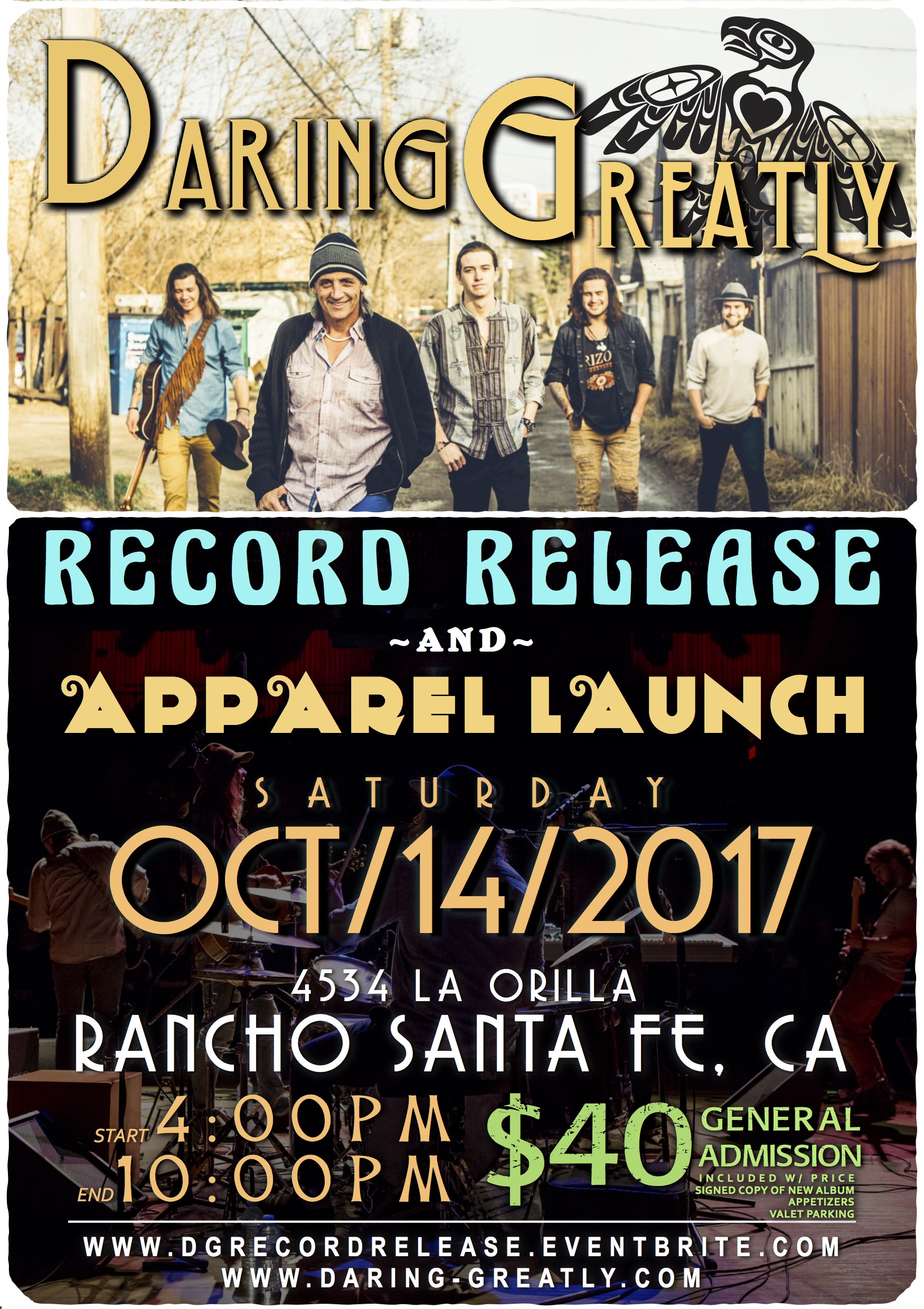 The next chapter begins;
Daring Greatly has completed their 2nd full-length album, packed with 10 brand-new, rock'n original tunes!
Join us Saturday, October 14th to celebrate the official launch of the album and witness the world premiere of the first-ever Daring Greatly Apparel Line.
~ Cash Bar on site // Valet Parking ~
Featuring special guests: Brian Simpson as Event Host & Comedian
---
Schedule of Events:
Guests to begin arriving: 4PM

Sunset DG Apparel Debut & Fashion show: 5:30pm-6:30pm

Daring Greatly performs: 7:00pm-10:00pm
**Time for meet & greets, autographs and photographs will be alotted in between fashion show and in between 1st and 2nd sets of the concert
---
$40 GENERAL ADMISSION INCLUDES:
Entry into the DG Apparel fashion show/evening concert

1 signed copy of the new album!

Valet Parking

Appetizers available on site
---
ABOUT DARING GREATLY APPAREL: Daring Greatly Apparel is a community focused collection of multiple partners, in an organization who's vision is to give what we wear, along with everything we do, more meaning.
"Wearable Art" is a line of one of a kind, re-designed and re-purposed items. It features clothing items sliced and diced articles of clothing reincarnated to make a new wearable art piece. It enables designers to step out of the constraints of 'fashion' and see the body as a blank canvas for any idea that comes to them. The energy around each item, whether it is a story of where the original pieces came from, to the partner that provided the labor to put the items together, to the designer who had the vision to create a new design from multiple pieces- creates a greater energy from the experience of wearing these items.

"Daring Greatly Band Merchandise"

is our touring line of clothing and accessories that capture the live music experience and connection. Again, always open to partners who bring greater energy, greater benefit, and greater growth.
---
ABOUT THE DARING GREATLY COMMUNITY: Daring Greatly is a family band who's ART will continue to come from a non-commercial perspective. The "magic" that is created by this band comes from a plethora of factors including fearless expression from millennials, exceptional musicianship, an awareness and interest in the TRUTH, a sincere interest in creating expressive art that nurtures a deeper connection between the artist and the audience, a transparent and vulnerable approach to every aspect of the journey, a collection of meaningful messages, and a bigger vision and purpose than ourselves.
With the industry as it is, Daring Greatly band has made the conscious decision to not play the existing game, but to invent a new one. The new game is to enjoy an authentic and meaningful journey of organic growth- traveling the globe on a "One Town At A Time World Tour".
The writing of new music will continue to be inspired by what is relevant, what is the truth, and what the band members are sincerely thinking and feeling... and definitely not uninspired by the existing commercial landscape and the largely soul-less cookie cutter approach to mass appeal and distribution.
The band is committed to being a model for the change we would like to see.
LOVE | HEALTH | CONNECTION | TRUTH | PURPOSE | FREEDOM
---
WHEN Saturday, October 14, 2017 from 4:00 PM to 10:00 PM (PDT) -
WHERE: 4534 La Orilla Rancho Santa Fe, CA 92067