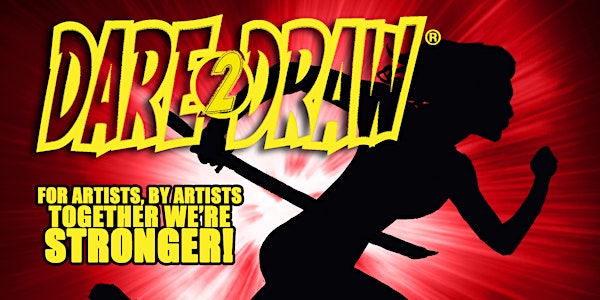 Dare2Draw with Special Guest Mentoring Artist Alitha E. Martinez!
When and where
Location
Manhattan Neighborhood Network (MNN) 537 W 59th St New York, New York 10019
Description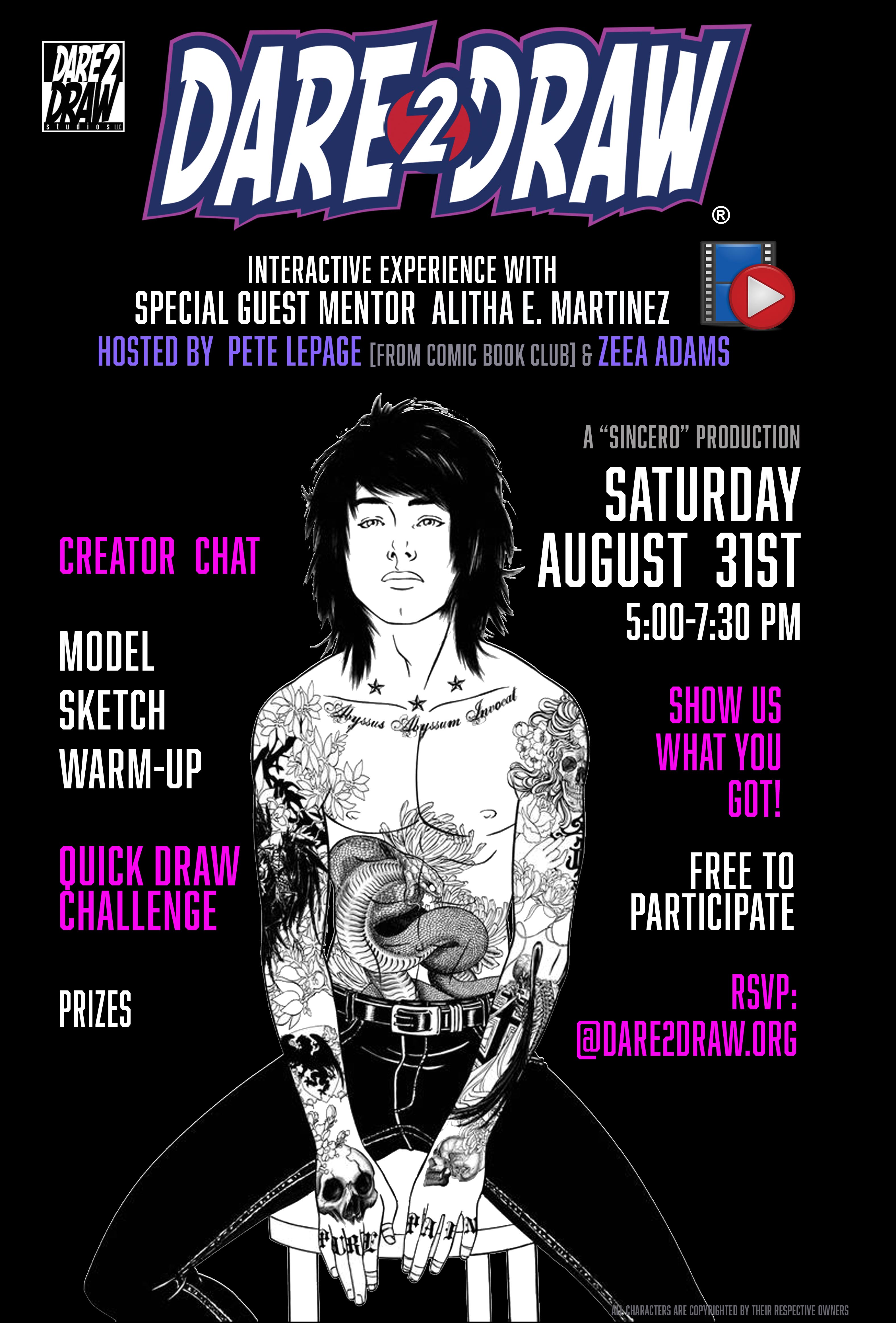 Dare2Draw Studios and the "Gotham Producers" present the interactive "Dare2Draw" in NYC - cc381SHA-256
Come Dare2Draw with us on SATURDAY, Aug. 31st, with special guest mentoring artist Alitha E. Martinez! Hosted by Pete LePage and Zeea Adams.
We're happy to bring back the classic mentoring Dare2Draw!
We'll be conducting fun, drawing warm-ups with model
A chat with our guest mentoring Artist
Our 30-min "Quick Draw" challenge
Shhh..."Quick Draw" theme revealed on @Dare2Draw

24 hrs before!
Be part of the studio audience and show everybody what you got!
All art supplies provided
Note: Please feel free to bring your drawing weapon of choice!
Our special mentoring guest is the outspoken and UBER talented Alitha E. Martinez!
For tickets, please RSVP here, for YOUR chance to participate and be part of our studio audience.

This Gotham production of the classic Dare2Draw interactive event will pull together the most exciting parts of the Dare2Draw mission and share your experience with the world - Networking, Drawing, Access to a pro mentor, Drawing from the model, Supportive drawing challenge and cool prizes!

[For exclusive *VIP TKTS, consider joining us as a Patreon team member]
Here: https://www.patreon.com/join/dare2draw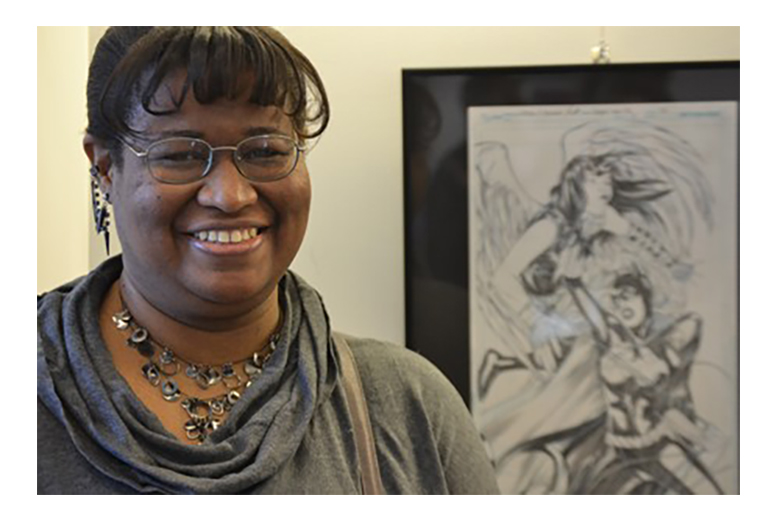 More about our mentoring guest artist Alitha E. Martinez
Alitha Evelyn Martinez - Her professional career began in 1999, penciling Iron Man for Marvel Entertainment. Since then, she has worked on titles such as X-Men; Black Sun; Marvel Age Fantastic Four; Black Panther; Voltron; NBC's Heroes; New 52 Bat Girl; Archie Comic's New Crusaders; and, currently, WWE Superstars and WWE Slam City for Paper Cutz. She has been constantly working on larger projects and graphic novels, including - Vampire My Boyfriend Bites; Kung Fu Masters; Quest for Dragon Mountain for Lerner Publications; also, Political cartooning for the New York Post. In her spare time, she works on her creator-owned titles, Yume and Ever, Foreign, and Ningyo, which she publishes through her own boutique company, Ariotstorm Productions, LLC. https://www.ariotstorm.com
Check her out on twitter and her awesome Deviant Art profile, too!
Twitter @Ariotstorm

Deviant Art - by ariotstorm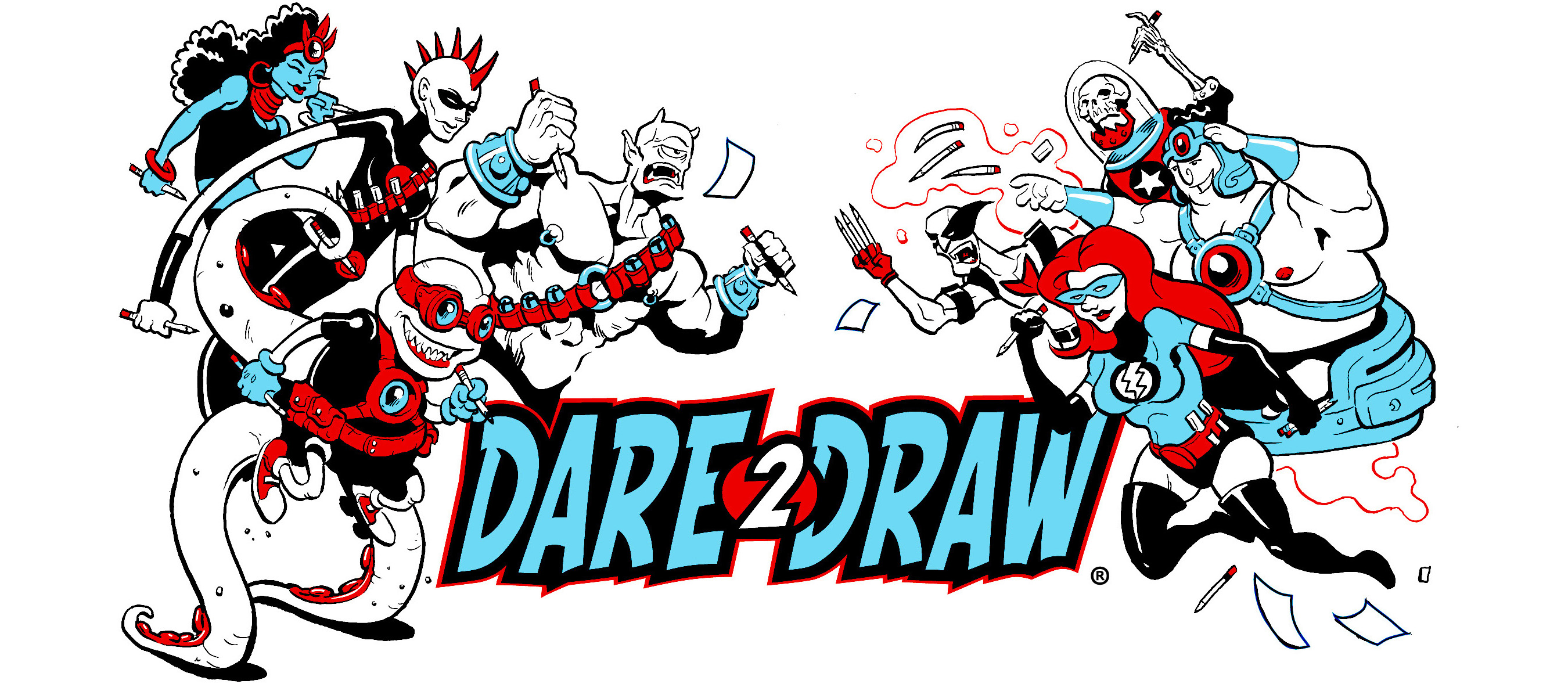 Dare2Draw Comix Pop UP Shop!
D2D Email list: http://goo.gl/pElQ9R
Big Thanks to the Will Eisner family, Dark Horse Comics, Accent UK Comics, Joseph Koch Comics Warehouse, Jay & Silent Bob's Secret Stash, Jerry's Artarama...