Bring a friend or colleague and join us for this remarkable program, Dare to Lead™, based on the work of best-selling author, Brené Brown.
About this event
AUGUST 25th, September 1st, and September 8th | 8:30am - 4:30pm PST
The Dare to Lead™ Workshop Experience. All From Your Home or Office.
In Brené Brown's Award-Winning Book, Dare to Lead, she describes the term "Leader" as "anyone who takes responsibility for finding the potential in people and processes and has the courage to develop that potential."
No matter the actual role we play in the workplace – CEO, Business Owner, Manager, Employee, we are all leaders in the workplace. We all play the important role of influencing others and our actions have a profound impact on the type of work environment we build (or perpetuate). But today, too many workplaces are overrun with dysfunction. Employees are struggling to survive in toxic, unhealthy environments and leaders are struggling to build cultures that are both positive and productive.
Overall, people lack the skills they need to navigate…people.
They avoid tough conversations, they struggle to communicate, and they don't know how to navigate their own feelings (let alone others'). It all adds up to a dysfunctional, unhealthy, and sometimes toxic work environment. No matter what our role, we're all affected but we can learn to lead better.
In this groundbreaking program, Dare to Lead™, participants learn the four skill sets needed to be better and braver in managing the "human" side of the workplace. Participants learn how to become more self-aware as leaders so they can successfully navigate communication, feelings, and challenging behaviors. This ultimately helps to create work cultures where people feel safe, seen, heard, and respected.
Led by Independent Certified Dare to Lead™ Facilitator, Amber Barnes, this full three-day program allows participants to dive deep into the Dare to Lead™ curriculum and provides direct one-on-one coaching and feedback along the way. This allows participants to really put the curriculum into practice and start developing the four skills brave leaders need to create a more healthy and productive workplace for themselves and others.
THE FOUR DARE TO LEAD™ SKILLS YOU'LL LEARN:
Rumbling with Vulnerability
Living Your Values (rather than simply professing them)
Braving Trust (And being the first to trust)
Learning to Rise

Your Dare to Lead™ Registration Includes:
Full 3-Day Workshop Experience
Direct Access to Dare to Lead™ Facilitator Amber Barnes and her team
Live coaching and feedback throughout the program
Dare to Lead hard copy or audio book
Daring Leadership Assessment
Digital Workbook and PDF Tools
Dare to Lead™ Trained Certificate (proudly display in your office)
Dare to Lead™ Trained Badge (for your resume and social media)
Replay sent to your inbox 48 hours after event completion - available to watch for 2 weeks after!
BONUS: 30 min 1:1 Coaching Session! Receive customized feedback and insights from Amber about how to roll this out and implement the tools you learned in your organization or workplace.
YOUR INVESTMENT:
3-Day Virtual Program - August 25th, September 1st, and September 8th, 8:30am - 4:30pm
Early Bird Pricing: $1599 (register by July 31st)
Regular Pricing: $1799 (register after July 31st)

This is a great option for Business Owners, CEOs, Managing Executives, and Department Leaders.
You'll Receive Everything Above PLUS:
(2) 1-Hour One-On-One Coaching Sessions
Personalized Recommendations for Implementing This Work For Your Team
Personalized Recommendations for Changing Your Workplace Culture
YOUR INVESTMENT:
3-Day Virtual Program VIP Experience - August 25th, September 1st, and September 8th, 8:30am - 4:30pm
Early Bird Pricing: $1749 (Register before July 31st)
Regular Pricing: $1999 (Register after July 31st)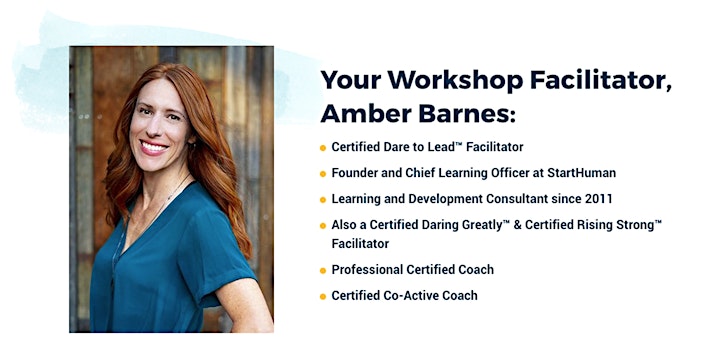 Organizer of Dare to Lead™ Program
Behind the scenes, StartHuman is a collection of avid researchers, learners, and critical thinkers who obsess over human interaction. We think deeply about what makes humans tick, what truly influences behavior, and what it means to be human in the first place. After years of education, research, and experience we have found one thing to be true—every workplace is dependent on human interaction but very few know how to do it well. With 60 years of combined experience, we are passionate about applying what we've learned to partner up with leaders and their teams to break down the barriers and bring out the best in their people. We believe that, by building a better workplace, we can build a better world.
We're known for: 
- Delivering impactful and actionable learning experiences
- Partnering to create remarkable employee experiences in the workplace
- Coaching individuals, leaders and teams