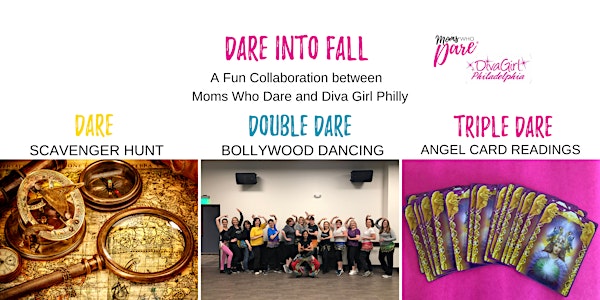 Dare Into Fall!
Jump into fall by daring yourself to join other like minded women as we challenge ourselves in a playful and spiritual way.
By Jodi Silverman, Founder of The Moms Who Dare® Community
Date and time
September 24, 2020 · 4pm - September 26, 2020 · 8am PDT
About this event
For all Moms Who Dare Double Dare Members and Diva Girl Members!
We are excited to announce a collaboration between Moms Who Dare and Diva Tribe just in time to kick off the fall season. Tickets are open for YOU, our valued members at discounted early bird pricing.
COVID19 may have forced us to cancel our full day camp retreat, BUT, Majet and Jodi put their heads together(well via zoom) and came up with a way to bring you a weekend mixed with fun, movement and spirituality.
Dare into fall by joining us for DARE DAYS OF FALL!
All events will be one hour in length via live zoom video.
How it works:
DARE: Choose 1 event
DOUBLE DARE: Choose 2 events
TRIPLE DARE: Choose all 3 events
Once you register you will recieve an email with the links to choose the events based on the number you chose.
Thursday, September 24, 2020: Virtual Live Scavenger Hunt.
7pm-9pm est
Who remembers the thrill of the hunt and the prizes you won? Experience it again. Majet and Jodi will be leading the way and yes, there will be prizes!
Friday, September 25, 2020: BollyX
4pm-5pm est
BollyX is a Bollywood-inspired dance-fitness program that combines dynamic choreography with the hottest music from around the world! The workout cycles between higher and lower-intensity & the easy dance sequences get you moving, sweating, and smiling. So get your sneakers on and your drinking water ready, this is going to be the most fun you've had working out! Ladies.....it's time to get your sexy on!
Saturday, September 26, 2020: Angel Card Reading
10am-11am est
What are angels? How can they help us? Whether you believe or not, dare to join in and learn about something new and different.
What's next?
Choose the ticket option that reflects the number of events you wish to attend.
Once you purchase your ticket, you will receive a confirmation email asking you to choose the event(s) you plan on attending. YOU MUST CHOOSE AND REGISTER.
Once you choose and register for your event(s) you will recieve the zoom link that will grant you access to that event(s).
Add your event(s) to your calendar and set a reminder alarm so you do not miss out.
NO REFUNDS
Get ready to DARE ON INTO FALL!
Jodi & Majet
About the organizer
Hi, I'm Jodi.
 I believe that "Living Your Daring Life," challenging ourselves out side of our comfort zones, is the most direct route to fulfillment.  I support women from all over the country to live their own daring lives through the Moms Who Dare Membership Community, In The Nest with Jodi Show and as a Professional Speaker. I look forward to meeting you at one of our in person or virtual events.  Until then...
Dare on!
Jodi