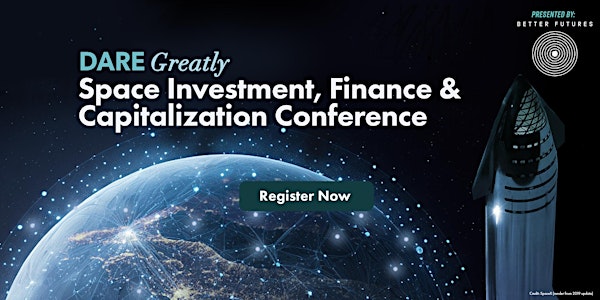 Dare Greatly: Space Investment, Finance, and Capitalization Conference
The Dare Greatly conference is a profound discussion around the investment, finance, and capitalization of the $469 billion space economy.
By Better Futures (A LiftPort Group brand)
Date and time
May 18 · 6am - May 19 · 1pm PDT
Refund Policy
Contact the organizer to request a refund.
Eventbrite's fee is nonrefundable.
About this event
The foundation of humanity's future is being built today. Over a century of ingenuity, persistence, and discovery, is culminating in what would once have been described as science fiction.
It is not fiction. It is happening now. We want you to be a part of it!
Our Dare Greatly: Space Investment, Finance, & Capitalization Conference covers the basic background, market intelligence, and functional tactics for your successful investments.
The space industry is rapidly expanding; its invested capital, (totaling $264B; 2013-2021), has grown $59B in 2021 alone! By 2040, our "cislunar econosphere" will reach $2.7 trillion. Global specialists, entrepreneurs, investors, policy makers, and market analysts will gather at our event to share insights and answer your questions. Our event is a very rare opportunity to interact with a range of experienced, credentialed professionals.
DareGreatly.space is an online, two-day conference featuring a number of the space industry's top players. Our event offers a comprehensive introduction to how the current and next-phase of development translates into opportunities for savvy investors.
This meeting provides an opportunity to:
Build professional networks.
Gain industry knowledge.
Make smarter investment decisions.
Have a global (and solar system-wide! impact.
The future for humanity is in space; we are here to talk about the space economy to get us there!
Join us at DareGreatly.space, May 18 + 19.
The What
There are many 'unknown unknowns' in the space sector: market size, technology, infrastructure, and different actors with conflicting priorities.
Find out where the smart money is invested, the pipeline of the space economy, and how the money flows the in the global space ecosystem. Specifically, understanding how sovereign wealth, VCs, angel investors, and government choose their investments in Space will provide you with valuable insight on the movers and shakers in the cislunar econosphere.
We will be diving into the technical, real life projects being funded today. This includes lunar development, the economics of launch, satellite projects, and in-space infrastructure like manufacturing outposts, tugboats and gas stations!
Navigating the potential of the space economy is a complex, multi-faceted endeavor and we will show you where to look. We will showcase exciting projects being funded right now. Billions of dollars are already earmarked for countless projects; we will give you the most up-to-date industry information.
Agenda
Space Capital Flows
Exciting projects in development
CisLunar Econosphere
Space Policy insights
Industry Analysts' perspectives
Outreach + Framework Panels
Who's this for?
People who are interested in understanding the massive funding going into the space economy. Our event will share current information to help navigate the money in the space economy.
Who's this not for?
People looking for business plan promotions
Who are not interested in making capital investments in space infrastructure, or applications.
This conference provides no financial advice and no person, or organization is soliciting investments.
This is not a business plan pitch or competition.
We want to unite and excite everyone, connect, and form a community. We've organized influential & certified specialists and insiders to educate on the current and future space investments -- and what needs to happen next.
On May 18 & 19 at the Dare Greatly: Space Investment, Finance, & Capitalization Conference, we will brief you about the cislunar econosphere and the commercialization of Space.
__________________________________________________________________
Use the code "EarlyBird" for a $50 discount until March 15th
#daregreatly #spacemoney