Description
"The Biggest entrepreneurs showcase, created by entrepreneurs for entrepreneurs."
MAD Incubator is MAD with a Mission! The mission – to create, develop and grow 1000 entrepreneurs achieving a turnover of USD 1 million a year by 2015. To achieve this mission, MAD Incubator has designed a series of entrepreneurial program to assist and grow entrepreneurs to succeed in their journey.
Among the entrepreneurial programs that have been created, D.A.R.E. BizStart Showcase is an annual premier event that focuses on business startups. Following the succession of D.A.R.E. BizStart Showcase 2011 and 2012, D.A.R.E. BizStart Showcase 2013 continues its third run with promotional roadshows in Johor, Penang, Melaka, Kuching and Miri; and culminates with two days of intensive business startup showcase with high impact activities that promotes business opportunities, learning, knowledge gathering and investment opportunities in Kuala Lumpur.
The D.A.R.E. BizStart Showcase 2013 is an event that has information and communications technology (ICT) entrepreneurs' interest at heart. The D.A.R.E. philosophy in itself encompasses the processes that are most important to any entrepreneurs who are aspiring to start their own business ventures: DREAM, ACCELERATE, REALIZE and EMPOWER. D.A.R.E. BizStart Showcase 2013 aims to promote the entrepreneurial mindset by bringing potential entrepreneurs closer to the resources they need such as collaborators, suppliers and prospects.
BizStart Showcase is poised to be the one stop platform for entrepreneurs and would-be entrepreneurs to obtain latest information, knowledge, skills, expanding their networks and looking for business opportunities.
D.A.R.E. BizStart Showcase 2013 is the largest entrepreneurial event in Malaysia with more than 150 exhibitors, 30 workshops, 50 seminars and 50 speakers speaking on various entrepreneur and business topics. D.A.R.E. BizStart Showcase 2013 is steeped in its traditional offering of workshops, exhibitions, conferences, business/experts advisories, mentoring and coaching, business showcasing, business matching, speed dating and lots more; covering topics and themes such as franchising, entrepreneurship, soft skills development, entrepreneur eco-system, digital entrepreneurship, mobile, e-commerce, ICT and lots more.
The 3rd D.A.R.E. BizStart Showcase 2013 is expected to attract more than 5000 visitors spanning the two days business showcase in Kuala Lumpur.
Event Details:
Date: 22 & 23 November 2013
Time: 9am to 7pm
Venue: MSC K-Worker Development Centre (click here for location map)
Admission Fee: Free
Organizer of D.A.R.E. BizStart Showcase 2013
Organized By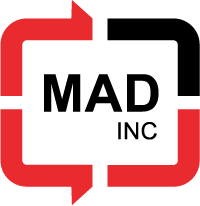 Todate, MAD has incubated more than 80 business ventures and is supporting more than 200 companies through its BizStart Program. It wants to democratize entrepreneurship by making entrepreneur assistance and incubation affordable for all entrepreneurs through MAD's high value quality programs, mentoring, coaching and handholding services, as well as business facilities, networking opportunities, training workshops, facilitation on funding access, etc.MAD Incubator is Malaysia's leading and largest private incubator. Formed in 2009, MAD Incubator is an MSC Status Accredited Incubator. MAD Incubator specializes in incubation programs from ideation to business venture and business acceleration. Its mission is to develop 1000 entrepreneurs in Malaysia achieving USD1mil by 2015 and have every entrepreneurs equipped with the tools, skills, knowledge and know-how to navigate their business challenges.