D.A.R.E. BizStart Roadshow 2012 - Kuala Lumpur

Thursday, September 27, 2012 from 9:00 AM to 6:00 PM (Malaysia Time Malaysia (Kuala Lumpur) Time)
Event Details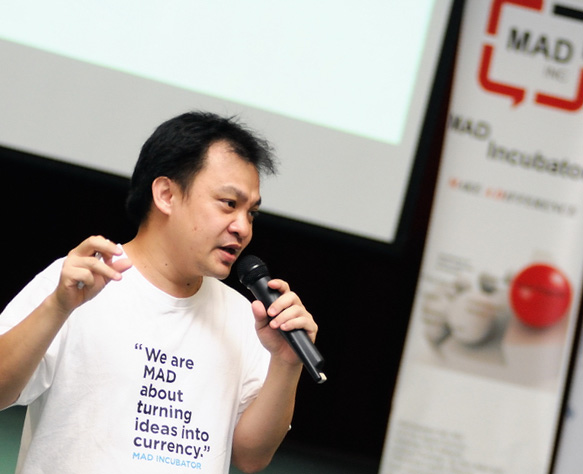 CEO of MAD Incubator - Andrew Wong
MAD Incubator is MAD with a Mission - to develop and grow 1000 entrepreneurs achieving USD 1million by 2015. To achieve this objective, MAD Incubator initiates a Premier Event called D.A.R.E. BizStart 2012 with roadshows in JB, KL, Penang and culminating with the D.A.R.E. BizStart Showcase 2012 in Kota Kinabalu, Sabah.
D.A.R.E. BizStart Showcase 2012 is the biggest Business Startup event in region. Kuala Lumpur will be the 2nd leg of the D.A.R.E. BizStart Roadshow. We bring to you a host of business, learning and networking activities starting with the theme A-Accelerate. Come and join us on a day of learning, acquiring knowledge, expanding business network and creating business opportunities.
Date: 27th September 2012
Time: 9.00am - 6.00pm
Venue: Resource Centre, Technology Park Malaysia (click here for Google Map)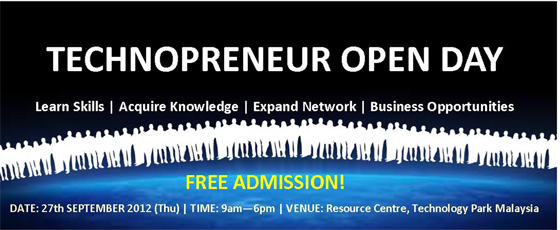 ATTENTION GOOD NEWS
We hereby inform you that Technopreneur Open Day (TOD) is BACK!!
TOD @ Technology Park Malaysia is a much anticipated event of the TOD Series as it is the first with a full day agenda that comprises of talks, seminars, experiences sharing that covers the areas of starting an mobile business, mobile marketing and raising funds for your businesses.
With 3 billion mobile phones out there...people are doing more and more things on their mobiles and tablets! Be it work, business, learn or play it is all on mobile.
Companies and organizations have to pay attention or they will be left behind! As mobile becomes an essential part of a consumer's lifestyle, choosing the right platform, right app and right content is critical for one to establish a successful, long-term mobile strategy. Gain insights from our speakers as they share their pearls of wisdom on all aspects of mobile in their realm of expertise.
Follow us on Twitter:
http://twitter.com/madincubator 
Follow us on Facebook:
http://www.facebook.com/DAREBizStart
When & Where

Kuala Lumpur




Thursday, September 27, 2012 from 9:00 AM to 6:00 PM (Malaysia Time Malaysia (Kuala Lumpur) Time)
Add to my calendar
Organizer
Organized By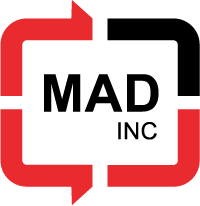 Todate, MAD has incubated more than 80 business ventures and is supporting more than 200 companies through its BizStart Program. It wants to democratize entrepreneurship by making entrepreneur assistance and incubation affordable for all entrepreneurs through MAD's high value quality programs, mentoring, coaching and handholding services, as well as business facilities, networking opportunities, training workshops, facilitation on funding access, etc.MAD Incubator is Malaysia's leading and largest private incubator. Formed in 2009, MAD Incubator is an MSC Status Accredited Incubator. MAD Incubator specializes in incubation programs from ideation to business venture and business acceleration. Its mission is to develop 1000 entrepreneurs in Malaysia achieving USD1mil by 2015 and have every entrepreneurs equipped with the tools, skills, knowledge and know-how to navigate their business challenges.