Description
DAPPER DAY® Expo April 13+14, Disneyland Hotel Exhibit Hall, Anaheim CA (Sat 11a-7p, Sun 10a-7p)
Join the biggest style celebration in California! Our famous DAPPER DAY weekend at the Disneyland Resort returns for two days of fashionable fun!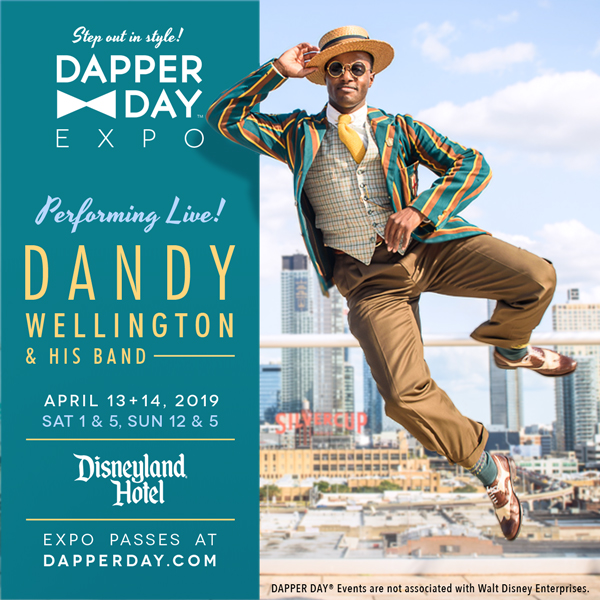 Shop our 30,000 sq ft. Expo marketplace of hand-picked new and vintage clothing and accessories vendors, including local cosmetics and grooming brands, plus barbers, jewelry, eyewear, shoes, hats, and more.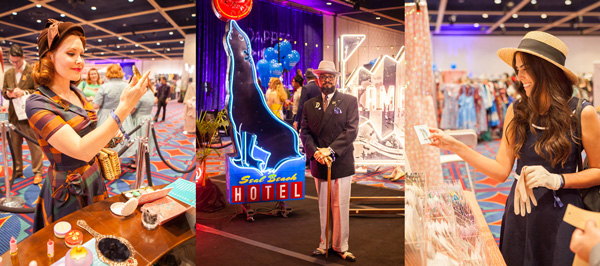 New official DAPPER DAY merchandise will also be available exclusively at the Expo!
EXPO STAGE: Join us for dancing with the return of DANDY WELLINGTON & His Band performing twice daily! Plus take in a free dance lesson and presentation before each set. Band performances at 1 and 5p Sat, 12 and 5p Sun.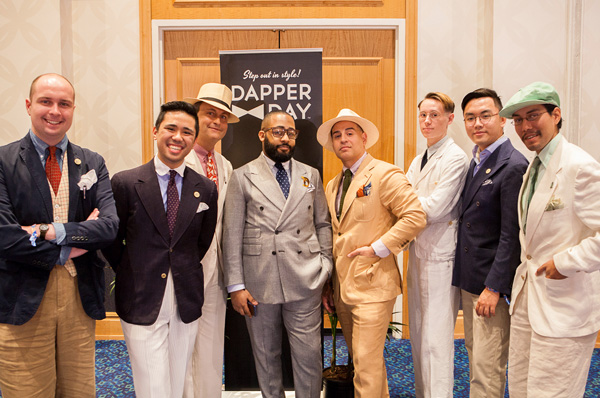 WORKSHOPS: Join us Sat, April 13 for a day of engaging style-related seminars included with Expo admission.
Join "Advanced Style" author and photographer ARI SETH COHEN with several of his subjects for a lively discussion of the outstanding style and creativity of the senior set. 1:30p, 2nd Level Disneyland Hotel Conference Center.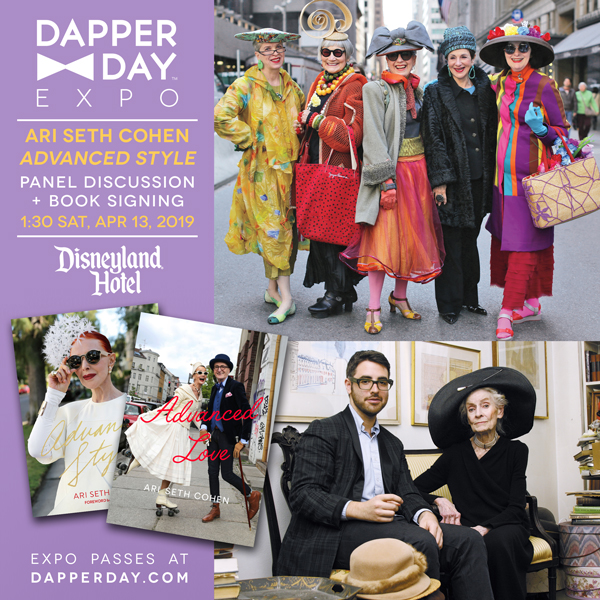 One's personal style can be a powerful expression of identity, pride, and joy. It also can be - and has been - used to challenge conventions and societal expectations.
Join "I Am Dandy" author and custom suit designer NATTY ADAMS, with DAPPER DAY founder JUSTIN J. and a panel of special guests for a lively discussion of how we may all experience style as empowerment. 3p, 2nd Level Disneyland Hotel Conference Center.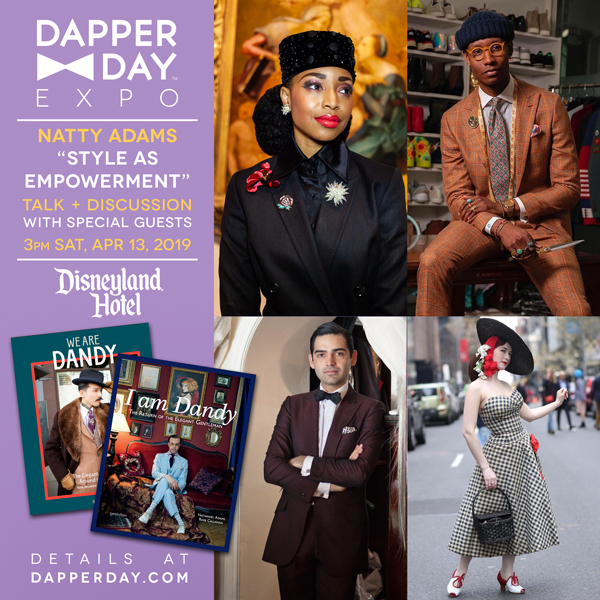 Everyone's favorite hairstylist TONY MEDINA aka "His Vintage Touch" will delight us by demonstrating how to achieve one of his signature vintage-inspired coifs. 5p, 2nd Level Disneyland Hotel Conference Center.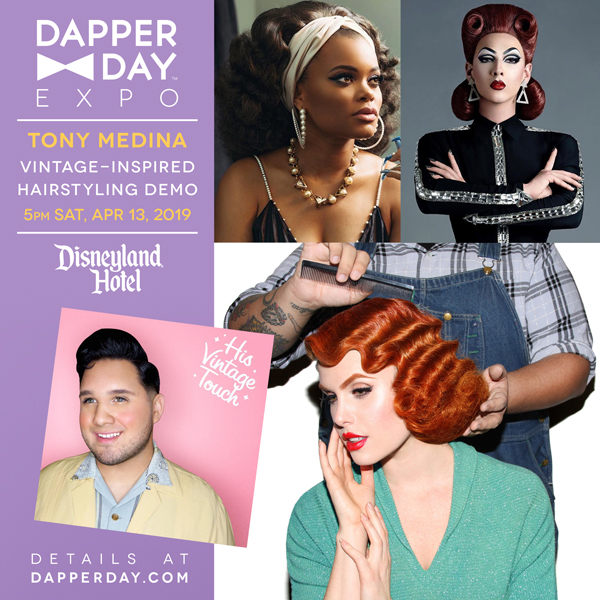 Workshops will be held Sat, April 13th on the second level of the Disneyland Hotel Conference Center, West Magic Kingdom Ballroom, and are included with Expo admission. A seminar seat is not guaranteed with Expo admission as space is limited. Seating will be on a first come, first served basis.
---
EXPO PASSES: $12.50. Expo admission is valid for both days and includes band performances, and our free DAPPER DAY button. Children 12 and under are free. (Disney park admission is not required to visit the Expo as it is inside the Disneyland Hotel, not the theme parks.) Tickets may be transferred to another guest if you are unable to attend. Simply provide them your printed ticket or receipt info. Thank you! Your admission helps fund all our events at Disney and beyond! Note: Expo passes will only be refunded in the event the Expo is cancelled.
Claim your pre-paid Eventbrite Expo Passes at our Will Call desks at Expo entry. If you don't have a printed ticket or receipt we can look up your ticket by name or email at the door. Additional tickets will also be available for purchase at the exhibit hall entrance if we are not at capacity.
Downtown Disney Perk: Show your Expo admission button at Catal, Uva Bar, Tortilla Jo's, or Naples Ristorante for a free cocktail upgrade April 13-14.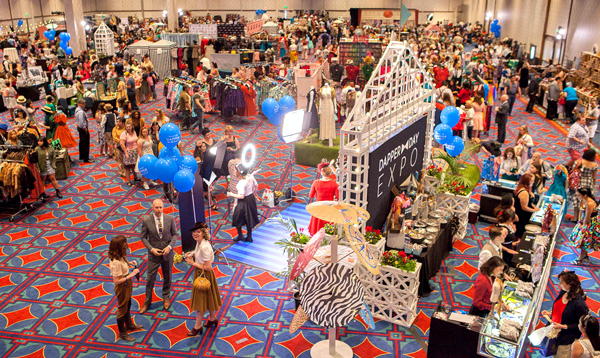 EXHIBITORS INCLUDE:
Reese's Vintage Pieces - Excellent selection of early/mid-century menswear
Besame - "Modern recreations of classic luxury cosmetics from the 1020's-50's."
Glam Factory - "Top notch vintage for guys and gals!"
Telegraph Barber - Classic men's grooming services on-site
Jason Madsen's Tin Type Booth - Creating true tintypes on-site
What Katie Did - Vintage-inspired lingerie from the UK
Re-Mix Footwear - Reproduction vintage shoes for women & men
Suavecito - Pomade and grooming
Hot Couture - "Unique vintage pieces for men & women."
Natty Adams - Made-to-order suiting and men's accessories
Pamela's Vintage Millinery - For men & women
Swanky's Vintage Clothing - Rockabilly-Style vintage for men & women
A Classic Paradise - Men's & Women's Tropical-inspired reproduction vintage
A Walk Through Time Vintage - Men's & Women's vintage clothing
Atelier Mela - Handmade headwear for men and women
Audrey K Boutique - Eclectic mix of vintage-inspired fashions and fun gifts
Bettie Page - Women's reproduction vintage
Embers Cinders - True vintage glam fashions
And many many more like...
The Dapper Hanger: A new addition to our Expo! Shop the closets of our Dapper Day family of friends in this booth overflowing with consignment fashions and accessories for men and women.
---
DISNEY PARK PASSES: Joining our Expo? We have special convention-rate park passes available in advance exclusively for our newsletter subscribers. Select the 1-park, 1-day, after-4p "partial day" entry ticket for the most affordable option. Sign up here and watch for our next email.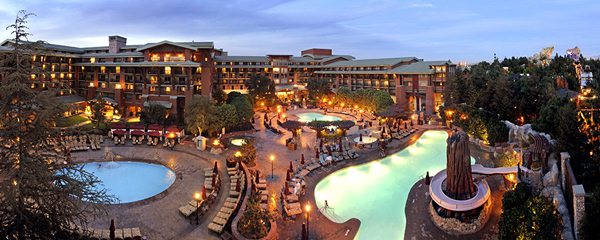 HOTELS: Stay on-site at any of Disney's three hotels with our special rates. Join our email newsletter and look for booking info in our next email.
EXPO PARKING: Best short-term Expo parking is in the Downtown Disney lot, or if also visiting the theme parks, use the Mickey & Friends Parking Structure. Disneyland Resort Parking Info. Ride sharing services are suggested as Disney parking lots may be extremely busy on Sunday in particular.
• Ride our free DAPPER DAY Expo Shuttle running continuously both days (11a-7p Sat, 10a-7p, Sun), between Disney's Grand Californian Hotel and The Disneyland Hotel Exhibit Hall.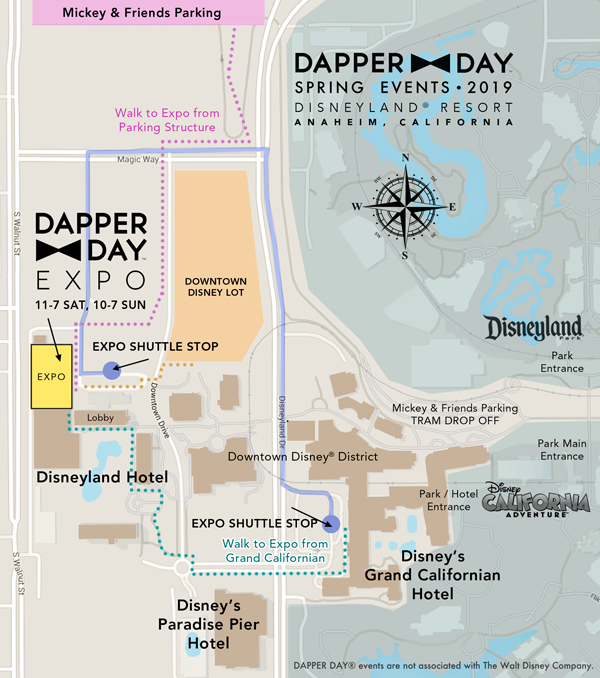 QUESTIONS? Visit our FAQ on DapperDay.com
(Entertainment, appearances, hours, and Shuttle details subject to change).
---
DAPPER DAY ONLINE SHOP: Get ready for the event!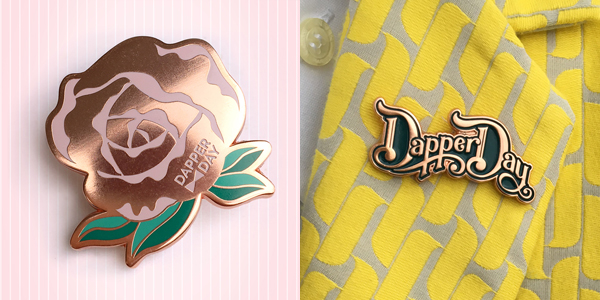 Shop online for our exclusive pins, parasols, bags, fans, silk scarves, pocket squares, and other accessories.

---
• Join our DAPPER DAY Spring Outing to Disneyland, Sunday, April 14th!
Dress to impress while visiting both parks of the Disneyland Resort with thousands of other elegant guests! Dress up a little, or a lot—we celebrate fun, refined fashions from vintage classics to chic, contemporary looks.
Visit DAPPERDAY.com for info about our other events.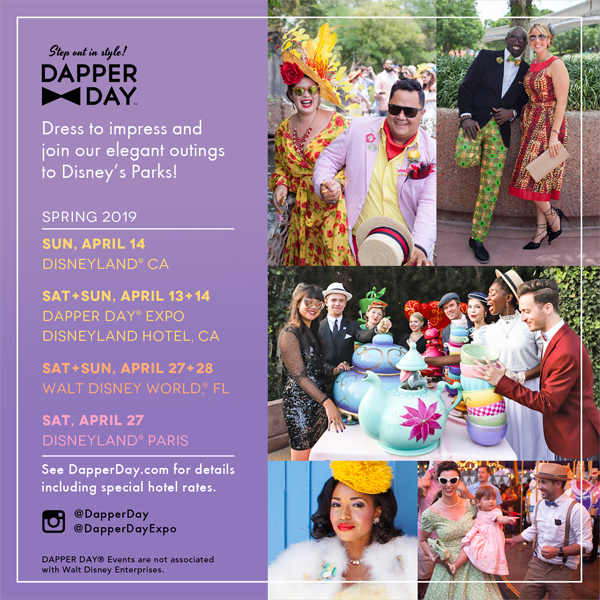 I'm so happy you enjoy what we do! I look forward to seeing you soon! -J
[ DAPPER DAY® Events are not associated with Walt Disney Enterprises. Disney properties / Resort photos ©Disney ]