Description
As of 10:00 am, May 18, Online tickets sales have closed. We have approximately 33 tickets left for sale at the door, which we sell on a first-come, first-served basis, beginning at 5:30 pm. See you there!
The DaPonte String Quartet invite you to enjoy an Evening of Piano Quintets and help us celebrate 25 years of world-class chamber music. Our 25th Anniversary Concert in Bowdoin College's Studzinski Recital Hall will feature a special guest, the renowned pianist Awadagin Pratt. Pratt has been a featured soloist at Lincoln Center, "Live at the Kennedy Center," the White House and even Sesame Street. We are delighted that he will play with us to mark this special occasion.
The program includes:
Johannes Brahms, Quintet, opus 34 Antonin Dvorak, Quintet in A major, opus 81
Immediately following, at 8:15 pm, join us for a special "Meet the Artists" reception at the Brunswick Inn, including champagne, caviar and refreshments. The Inn is an 8-minute walk from the concert hall, located at 165 Park Row in Brunswick. Limited seating.
Choose from the following ticket options:
VIP Concert & Reception Ticket includes: reserved up-front seating in Studzinski Hall; Brunswick Inn "meet the artists" post-concert reception; and tax-deductible "Happy Anniversary" gift to the Quartet. $125

Concert & Reception Ticket includes: general admission to Studzinski Hall and Brunswick Inn "meet the artists" post-concert reception. $75

Concert Only Ticket includes general admission seating to Studzinski Hall. $25

Student Concert Ticket includes general admission seating to Studzinski Hall, must show student ID at the door. Free

Giving an Anniversary Gift provides an opportunity for you to make a tax-deductible donation to the Quartet in any amount in honor of their 25th anniversary
FAQs
I don't like giving my credit card to online platforms like this, is there another way of purchasing a ticket?
We strongly urge you to buy tickets through Eventbrite, but you also may send a check for tickets up to five days before the concert as follows:
Select Ticket Option ($25 = concert only; $75 = concert & reception; $125 = VIP ticket). Make check to FDSQ. Include your EMAIL and POSTAL address with the check. Mail to FDSQ, P.O. Box 401, Damariscotta 04543.
How can I contact the organizer with any questions?
Amy MacDonald, Executive Director
amy@daponte.org
phone: (207) 781-5526

Directions and Parking
Studzinski Hall is located on the Bowdoin campus in Brunswick. We suggest arriving ahead of time to find parking and then have ample time to walk to the Recital Hall on campus. This map has suggested parking areas circled in red, handi-cap spaces circled in yellow. There may be other events happening on campus, so please give yourself extra time before the concert to find parking.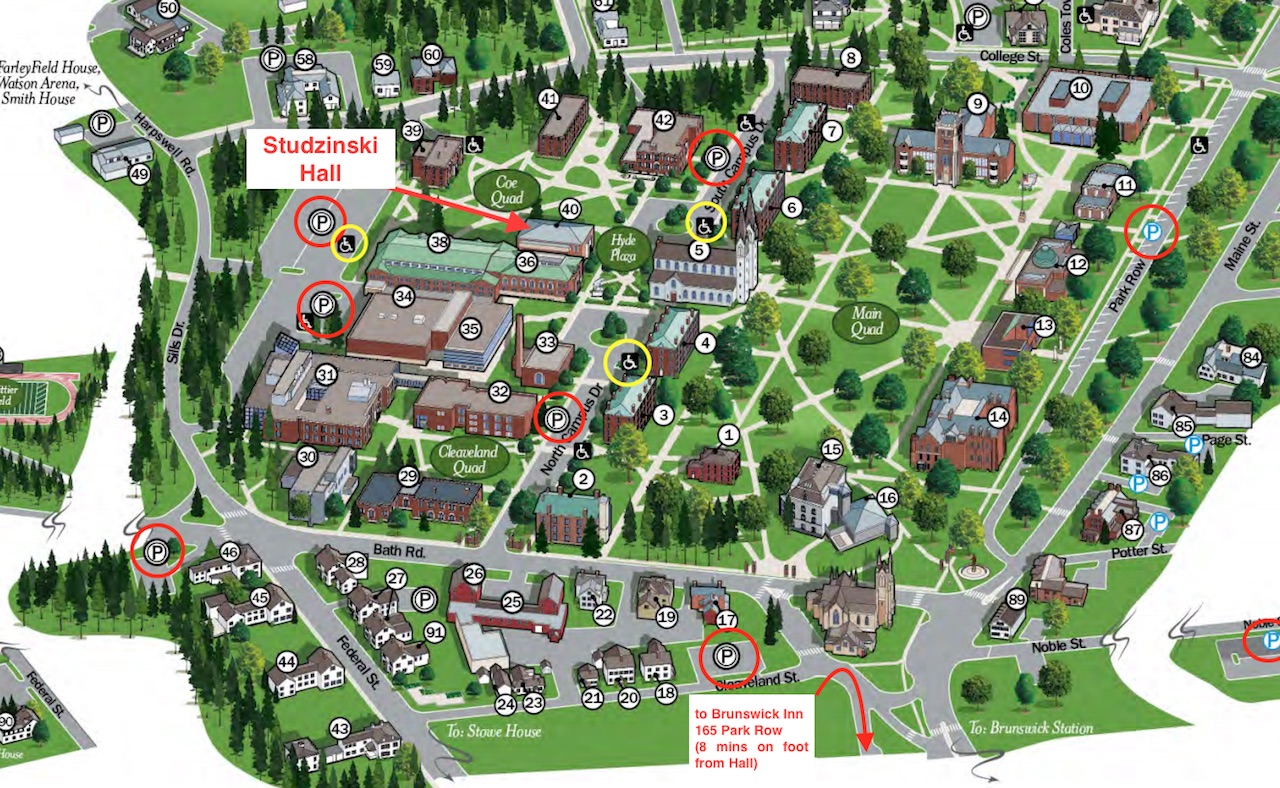 What's the refund policy?
All tickets are non-refundable but may be exchanged for other concerts.