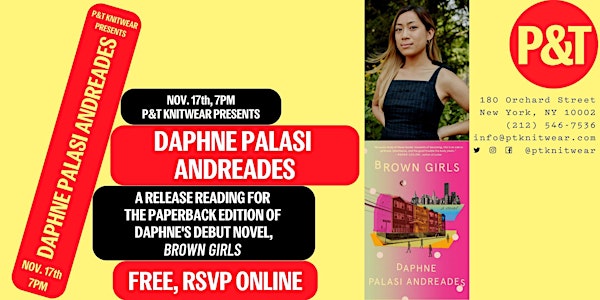 Daphne Palasi Andreades presents BROWN GIRLS
A reading & discussion to celebrate the paperback release of Daphne's debut novel, BROWN GIRLS
When and where
Location
P&T Knitwear Books & Podcasts 180 Orchard Street New York, NY 10002
About this event
P&T Knitwear is pleased to welcome Daphne Palasi Andreades to celebrate the paperback release of her debut novel, Brown Girls (Random House)! A finalist for the New American Voices Award and the Center for Fiction First Novel Award, as well as a New York Times Editors Choice and an Indie Next & Indies Introduce pick, Brown Girls is a "boisterous and infectious debut novel" (The Guardian) about a group of friends and their immigrant families from Queens, New York—a tenderly observed, fiercely poetic love letter to a modern generation of brown girls.
Daphne will be joined in conversation by Marie Pantojan, Senior Editor at Random House.
AVAILABLE TO SHIP MOST PLACES!
PRAISE FOR BROWN GIRLS & DAPHNE PALASI ANDREADES
"This book's a gift—a smooth subway seat on a crowded Queens local bound to everywhere and offered to those people, places, and dreams that forever keep and feed us." — Paul Beatty, Man Booker Prize–winning author of The Sellout
"A masterful triumph. Every page captures moments of wonder and hard truths about brown girls coming of age, grappling with conflicting influences, loss, gender, sexuality, and being second-generation immigrants in America." — Nicole Dennis-Benn, author of Patsy and Here Comes the Sun 
"Seething with raw, exuberant life, Brown Girls is an epic told in the register of the yearning, vivid experiences of its characters. It's hard to think of another book with more spirit or a keener eye." — Alexandra Kleeman, author of Something New Under the Sun
"An acute study of those tender moments of becoming. This is an ode to girlhood, inheritance, and the good trouble the body yields." — Raven Leilani, bestselling author of Luster
"Brown Girls is alive with the complicated yet vast love of immigrant mothers, American daughters, and childhood friends. I treasure this book's artistic daring, its pathos, and its marvelous playfulness." — Megha Majumdar, bestselling author of A Burning
A "Most Anticipated" selection by The New York Times, The Guardian, Chicago Review of Books, Entertainment Weekly, BET, Nylon, POPSUGAR, Electric Literature, The Rumpus, The Millions, Refinery29, Stylist, iNews, & more
AVAILABLE TO SHIP MOST PLACES!
Welcome to Queens, New York, where streets echo with languages from all over the globe, subways rumble above dollar stores, trees bloom and topple over sidewalks, and the funky scent of the Atlantic Ocean wafts in from Rockaway Beach. Within one of New York City's most vibrant and eclectic boroughs, young women of color like Nadira, Gabby, Naz, Trish, Angelique, and countless others, attempt to reconcile their immigrant backgrounds with the American culture in which they come of age. Here, they become friends for life—or so they vow.
Exuberant and wild, together they roam The City That Never Sleeps, sing Mariah Carey at the tops of their lungs, yearn for crushes who pay them no mind—and break the hearts of those who do—all while trying to heed their mothers' commands to be obedient daughters. But as they age, their paths diverge and rifts form between them, as some choose to remain on familiar streets, while others find themselves ascending in the world, beckoned by existences foreign and seemingly at odds with their humble roots.
A blazingly original debut novel told by a chorus of unforgettable voices, Brown Girls illustrates a collective portrait of childhood, adulthood, and beyond, and is a striking exploration of female friendship, a powerful depiction of women of color attempting to forge their place in the world today. For even as the conflicting desires of ambition and loyalty, freedom and commitment, adventure and stability risk dividing them, it is to one another—and to Queens—that the girls ultimately return.
AVAILABLE TO SHIP MOST PLACES!
This is a free in-store event with limited amphitheater-style seating
All guests must be vaccinated to attend, and must provide proof of vaccination in order to enter event. We encourage all guests to wear masks.
The talk will be followed by a book signing. Books signed at P&T Knitwear events must be purchased from P&T Knitwear. If you would like a signed copy and cannot attend the event, we're happy to take your pre-order. We ship most places!
ABOUT THE AUTHOR
Daphne Palasi Andreades was born and raised in Queens, New York. Her debut novel, Brown Girls, was published January 2022 by Random PHouse, and was selected as a New York Times Editors' Choice book, a finalist for the New American Voices Award, a finalist for The Center for Fiction First Novel Prize, and an Indie Next Pick by booksellers across the U.S. Internationally, Brown Girls is available in the UK and Commonwealth, and is forthcoming in France and Germany. She is the recipient of an O. Henry Prize and scholarships to Bread Loaf, Sewanee, and more. Daphne is a graduate of Columbia University's MFA Fiction program. She is at work on her second novel. 
ABOUT THE MODERATOR
Marie Pantojan is a Senior Editor at Random House who acquires across a wide range of serious and narrative nonfiction, and select literary fiction. Across these categories, she looks for stories that are thoughtful, intellectually engaging, and beautifully told. Before joining the imprint in 2019, Marie worked at Liveright/W. W. Norton, which she joined after nearly five years in academia. At Liveright, she published and edited authors such as Kerri K. Greenidge, Yasmine Seale, Cho Nam-joo, Eric Jay Dolin, and others; and worked with authors including Jill Lepore, Max Boot, Richard Rothstein, Jack Davis, and more. At Random House, Marie edits writers such as Daphne Palasi Andreades, Karen Cheung, Joy Buolamwini, Judd Apatow, Osita Nwanevu, and Cristina Rivera Garza. She is a mentor with the Representation Matters Mentorship Program and a member of POC in Publishing. She lives in Queens, New York.