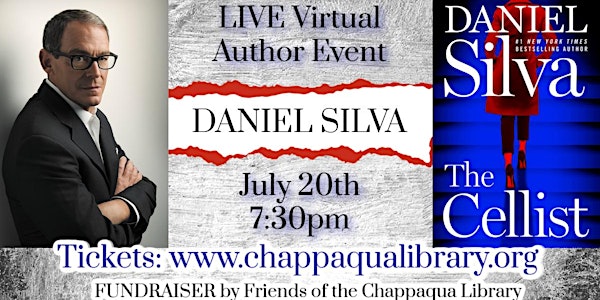 Daniel Silva Book Event & Fundraiser
Bestselling author Daniel Silva discusses "The Cellist," his newest Gabriel Allon thriller full of espionage and suspense.
About this event
Master of international intrigue Daniel Silva follows up his acclaimed #1 New York Times bestsellers The Order, The New Girl, and The Other Woman with this riveting, action-packed tale of espionage and suspense featuring art restorer and spy Gabriel Allon.
The fatal poisoning of a Russian billionaire sends Gabriel Allon on a dangerous journey across Europe and into the orbit of a musical virtuoso who may hold the key to the truth about his friend's death. The plot Allon uncovers leads to secret channels of money and influence that go to the very heart of Western democracy and threaten the stability of the global order.
Library Board President Ronni Diamondstein will be moderating the event. This event is a fundraiser through Friends of the Chappaqua LIbrary to support future programming. The Chappaqua Library, Friends of the Chappaqua Library and Scattered Books thanks you sincerely for your participation and support.