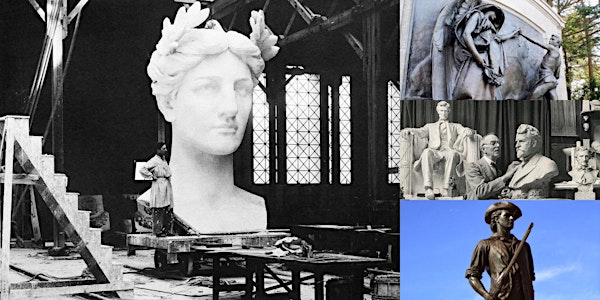 'Daniel Chester French: Masterpieces of the American Sculptor' Webinar
Can't make it live? Register and get access to the full replay for one week! New York Adventure Club | www.AdventureClub.com
About this event
While Daniel Chester French was born into a wealthy family with ancestors who came to America back in 1630, his career success was not guaranteed — after all, he decided to drop out of Massachusetts Institute of Technology (MIT) and move back to his family's Concord, Massachusetts farm in 1868. How exactly would he go on to become one of the country's premier sculptors of the late 19th and early 20th centuries? And how did he get the opportunity to sculpt the Lincoln Memorial, arguably the most exceptional sculpture in the United States? It's time to explore the legacy of one of the Gilded Age's most notable sculptors.
Join New York Adventure Club as we explore the masterpieces sculpted by Daniel Chester French, one of the leading sculptors of the American Renaissance period between the late 19th and early 20th centuries, from his first major work at the Chicago World's Columbian Expo in 1893 to the Lincoln Memorial in Washington, D.C.
Led by Sylvia Laudien-Meo — art historian, museum educator, and NYC tour guide — this digital showcase of Daniel Chester French's career will include:
A brief overview of French's early years including why he pivoted from the sciences to art after two semesters at MIT
His first major success at the World's Columbian Exposition in Chicago 1893, for which he created the 24-foot-tall gilded Statue of the Republic
A survey of his major memorials, which increasingly became his specialty, such as the Milmore and Melvin Memorials
A discussion of architectural commissions throughout the country, including the U.S. Customs House in NYC (the Four Continents) and the Manhattan Bridge (Brooklyn and Manhattan)
A look at his portraits in stone, including the monumental Lincoln Memorial and busts for Bronx Community College's Hall of Fame (formerly N.Y.U)
Stories of his most notable collaborations, from the famous artist model Audrey Munson to the Piccirilli Brothers
Afterward, we'll have a Q&A with Sylvia — any and all questions about Daniel Chester French are welcomed and encouraged!
Can't make it live? Don't worry, you'll have access to the full replay for one week!
See you there, virtually!
*Immediately upon registering, you will receive a separate, automated email containing the link to join this webinar
**For the best possible viewing experience, please ensure you're using the latest version of your internet browser — Google Chrome is the most compatible. Exact technical requirements and a webinar user guide will be shared in the automated confirmation email upon registration.
**A full replay of the experience will be available to all registered guests for up to a week
About Sylvia
Sylvia Laudien-Meo is a freelance Art Historian who works in and around the city in various capacities, specializing on Modern and Contemporary art, with a strong focus on Public Art. She teaches art history at Fairleigh Dickinson University and has been working as a museum educator at MoMA, the Guggenheim and the Jewish Museum for over many years, engaging visitors in conversation based, interactive art experiences of permanent collections and changing exhibitions.
For the Municipal Art Society, UFT, Brandeis Univ., and private clients, she has been touring the city for over 20 years, exploring art and architecture, parks, neighborhoods and history. Working in various different capacities gives her a unique opportunity to make intriguing connections and weave together the complex perspectives that make out the tapestry of our fascinating city.
SLM holds a Masters Degree in Art History (with minors in History and American Studies) from the Joh. Gutenberg University in Mainz, Germany, as well as a Tourism degree from the EST in Paris France.
Testimonials
"I had NO IDEA who French was, figured out he did the Lincoln Memorial, but imagine my SHOCK when I saw THE HORSES every child in Minneapolis/St Paul visits on a field trip to the St. Capitol! And his statues from the capitol rotunda. So cool! I MUST revisit now that I am educated. LOVE HIS WORK. THANKS." -Vicki
"Sylvia is an excellent presenter, her presentations are always so well researched & I always learn so much!" -Mary
"I've been giving tours at Chesterwood for 14 years and still learned some new things." -Louise
"I like that at the start, Sylvia encouraged audience participation. She did a great job of explaining comparisons between Chester's different sculpture and between his and other sculptures. It was great that she pointed out the details of the many of the sculptures, especially the continents at the Customs House. I have enjoyed your prior talks and look forward to future ones." -Peter
"I enjoyed the amazing presentation. Interesting and fun to listen to Sylvia's presentation knowledge flows from her makes the lecture so enjoyable. I'm in" -Sean
"Bravo Again Sylvie!" -Kenmore
Disclaimer
By attending a New York Adventure Club experience, you accept our terms of service.
Categories: Virtual, Art & Entertainment